Learning to Walk, Altruistically
---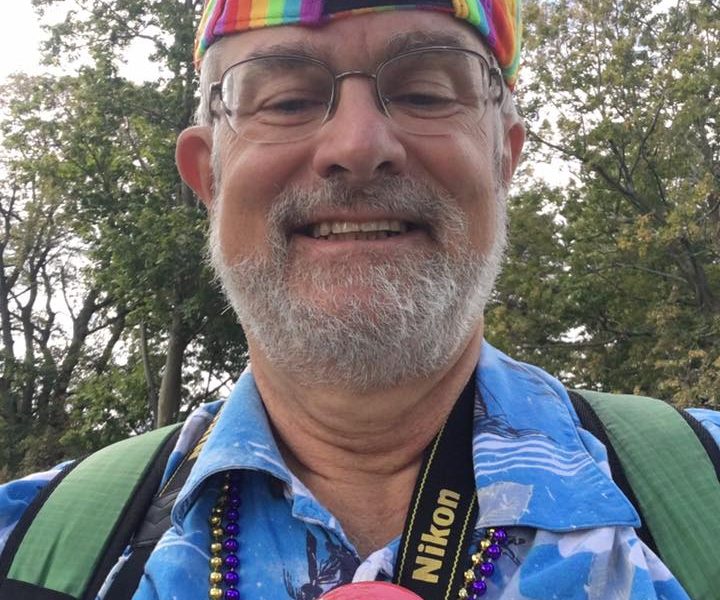 I've never been much of a marcher.
Sure, I like to WALK. I've even been known to HIKE. In extreme situations, such as when meeting with one student made me late to teach a whole classroom of them, I might even RUN. But this business of massing with other humans to march has, for various reasons, failed to call my name.
Don't get me wrong. I've always admired the people who do that – at least, the ones on my side, and even the ones who aren't. For one thing, they clearly get up earlier on a Saturday morning than I do. They are better at the arts and crafts aspect of the banner and costume-making process.
They know where to park.
On a much deeper level, I've always admired marchers for the way they value the communal connection of walking side by side with fellow believers, and the faith they place in the power of public statement, even when the protested injustice does not disappear overnight. My call to community participation has been more result-oriented. For years, it was Habitat for Humanity, which gives volunteers the gratification of a physically tangible product, a home for someone who needs one. Now it's tutoring with African Community Education, where I can at least see that kid has finished his/her homework. I know it's self-indulgent – the pleasure of the tangible result is an altruistic form of immediate gratification, after all – but, well, there it is. Another of the many holes in my spiritual repertoire.
Marching, though, is something I've been sneaking up on. I almost pulled it off last year in San Francisco. Working on a research project, I returned there to attend the Pride Sunday service at Glide Memorial Methodist Church –which, among its almost 30 ministries, has deep roots in the LGBTQ community. I rode the buoyant emotion of Glide's blend of pass-the-mike personal testimonials and soulful gospel and R&B music, the congregation holding hands and swaying during a prayer that explored the grief of its members after the Orlando shootings less than two weeks earlier. On our behalf, the young man leading the prayer expressed to God and us his sadness about anything that heightens people's "sense of vulnerability" – and, near prayer's end, declared, "So, Lord, we're going to celebrate you like we do here … We're going to get out there and march …!"
And at service's end, we did just that.
Well, OK, they did. I blew it by going back to the hotel to check out, only to succumb to the temptation of the computer – my intellectual need to pour out of mind all the book-related observations from the service, writing myself further away from the immediacy of the communal experience with every step. By the time I got down to the route, it was too late to reach the assembly area; instead, I was stuck behind the barrierse, taking notes and photos as the very people I'd just hugged at church happily walked by. Once again I was the stereotypical scholar, one step removed from the action – stuck on the curb.
But then, as is so often the case with us profs, I was saved by our students. Members of Cinzia Pica-Smith's Principles of Case Management course designed a thoroughly researched, smartly crafted and deeply moving Refugee Walk around campus, with each educational stop reflecting a phase in a refugee's journey. But this was simply a stroll around my own campus – and, one might argue, part of my job.
So last Saturday in Worcester, I set out to remedy the situation once and for all, with help from the Worcester Pride Parade. I overcame the practical obstacles that I might normally serve as excuses to stay home and watch football. It turned out that I did have at least one shirt colorful enough to be Pride-worthy. I trusted that of someone would be selling on-site merchandise – I wound up with the Southerner-appropriate "Y'all means all" button – to make up for the distinct lack of rainbow clothing in my closet. I also chose to believe I'd find a group to insinuate myself with even though I was going alone – it turned out I had friends in three different groups that were marching – and that the eternal question that defines our lives in Worcester ("Where to park?") would work itself out.
And, of course, it did. I made it to the staging area near Institute Park plenty early. There I mingled with a broad range of people from different eras and zones of my life, drawn to the parade by a variety of institutions and causes – united by the need, in these often intolerant times, to make a stand for kindness and inclusiveness, for love and grace, for a commitment to open-heartedness and open-mindedness that transcends human reflexes to the contrary. We even had the audacity – even in our altruism – to have a good time, to remind one another of everything we still have to celebrate, and must keep celebrating.
Meanwhile, much as I had last year in San Francisco, spectators gathered along the route – in front of churches and one restaurant/bar that I attend more often than church – and cheered. I saw students and ex-students. Several times, the formal handshake was discarded for the hug. Despite my 6-foot-5 height, I was suddenly eye-level – for they were on the curb and, for once, I was not.
Mike Land is an English professor at Assumption College. He is the Academic Advisor for Le Provocateur.
0 comments