A Hound's experience in Washington D.C.
---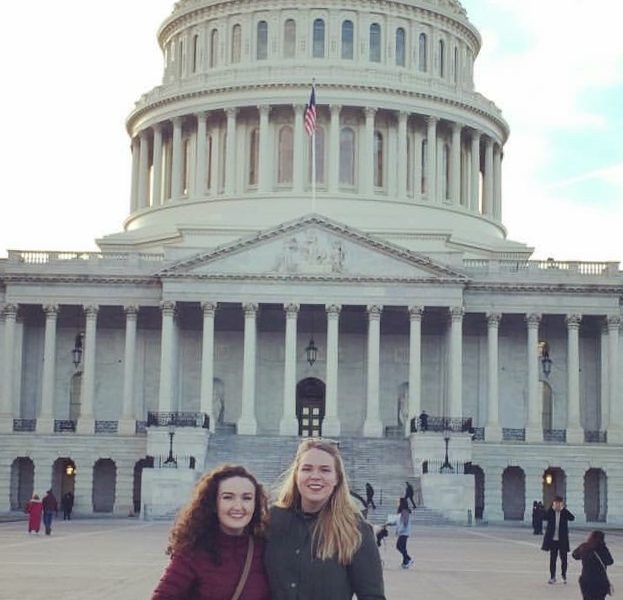 There's no way I'm going to properly portray my time in D.C. in this tiny article. In my first draft, I wrote about all the fancy things I did and all the prestigious people I met. But, that's not what I cared about most. Yes, I learned so much and had amazing opportunities interning at United Way and creating a new portion of their website. I made friends with students from Japan and now I'm technically an ambassador to Japan by participating in the Building the TOMODACHI Generation Morgan Stanley Ambassadors Program. I made connections with really cool people in the State Department. I organized a fundraiser for The Emerge Project (www.emerge-project.org, look it up, it's dope,) and so much more. All of that was wonderful, but what made my time in D.C. truly remarkable was getting to know myself better in one of the best cities in the world.
I am somewhat shy, and I did not know a single person that would be at The Washington Center. There were times when I got lonely and homesick, (remedied by watching clips of the Red Sox in the 2004 World Series and FaceTime,) but that's when the most growth happened. As much as the phrase used to bother me, I had to "get comfortable with being uncomfortable." I felt awkward talking to people I didn't know, but I did it anyway, and made some great friends. I didn't have my car, so I had to learn my way around the metro, (where I spent so much of my time half asleep and somehow miraculously woke up at the correct stop every time.) There was no dining hall in our apartment building, so I finally had to learn how to sustainably cook for myself. My awesome roommates Emily, Mayela, and Ophelie were huge helps with this and so patient when it was my turn to make dinner, risking their lives to eat my chicken.
My favorite thing about TWC, and D.C. in general, was the diversity. At one gathering in my apartment, we joked that it was like a United Nations assembly with students from all over the world. Most of my friends that I met in D.C. are from the state of Sonora, Mexico. There was a group of 50 students from there, and my roommate, Mayela was one of them. I learned so much from them. They let me practice my Spanish with them while they perfected their English with me. I taught them the Cotton Eye Joe and the Cupid Shuffle (which they quickly upstaged me at) while they taught me all different kinds of Latin dances. It was gleefully ironic to be impressed every day by the population Trump has been berating for months. Along with the other students I met in D.C., they are some of the most brilliant and determined people I know. It was a great feeling and extremely motivating to be surrounded by people with very similar interests to my own.
We did a lot of exploring in D.C. It was incredible to live among the history of the city. I wanted to find a new church to go to down there, and I found Saint Augustine's, a Roman Catholic church founded by emancipated Black Catholics in 1876. They were the liveliest and most beautiful masses I've ever attended. Saint Augustine's gospel choir is so gifted that they performed for Pope Francis at the White House when he visited in 2015. We also spent a lot of time wandering around the National Mall area. My favorite places to visit were the US Botanical Gardens, the National Gallery of Art, the Lincoln Monument, and a spot right in front of the Capitol Building with a breath-taking view of the rest of the Mall. I even had the chance to visit the stunning National Museum of African American History and Culture. Upon leaving, I walked into a "No DAPL" protest put on by residents of the Standing Rock reservation after their on-location protest was disbanded. The protesters set up a myriad of tipis on the lawn in front of the Washington Monument in a provoking display. It was moving to witness their passion and take part in the protest.
It was my second day in D.C. when Trump first attempted to issue a travel ban on people from certain countries in the Middle East. It was my third day there when my roommates and I were outside the White House with hundreds of people of various backgrounds singing the hymn, "All Are Welcome." In D.C., especially in the beginning of Trump's presidency, there was a sense of urgency. It felt like we were a part of history. Sure, I'm a broke college student who can't make any large contribution to society, yet. But, these experiences were a culmination of what millennial bashers hate about us- a desire to be a part of something greater than us, and a hope that we can actually make a difference. It's this time spent in D.C. leaving my comfort zone and learning new things that has led me to want to run for office someday.
When the presidential election result was officially announced on that fateful day in November, I had a broad range of emotions as a somewhat socially aware, young, female, student about to spend the spring 2017 semester interning in our nation's capital. The only three positive thoughts I had were as follows. One, there must be some semblance of decency left to find somewhere in this country. Two, though things are likely to get worse, at least this horror show of an election cycle is over.And three, living in DC during the first few months of 45's historic presidency will likely be something to write home about; and it certainly was.
Sarah Clancy, a senior, studies political science and global studies. She is a staff writer for Le Provocateur.
5 comments