All is full of love: Bjork's Homogenic at 20
---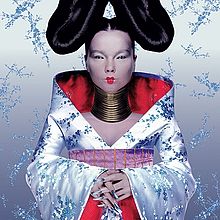 "I thought I could organize freedom/ How Scandinavian of me"
For Iceland; for the proud hunter; for Isobel, the Bachelorette; for the lovers on snowcapped mountains; for the unraveled; and for the reborn: Björk calls them home on Homogenic. Across frozen tundra, the alien blue light shines bright and beckons to a holy place, the light that shone brightest on Björk's futuristic masterpiece.
"This state of emergency/ How beautiful to be/ State of emergency/ Is where I want to be"
The aesthetic prescience Björk harnessed 20 years ago to create Homogenic is nothing short of astounding. Homogenic's seismic, churning electronic soundscapes and heavenly, fluttering strings sound no less urgent or beautiful now than in 1997. Björk birthed oceans with the ideas she crafted on this album, her best, most innovative and arguably most influential work.
"While you are away/ My heart comes undone/ Slowly unravels/ In a ball of yarn"
Homogenic is the uncompromised, aggressive crystallization of Björk the iconoclast she started on Debut and amplified on Post. On those albums, she was a pop star for the world. On Homogenic, she became a pop star for the boundless universe—and the unknown. Björk, as some cosmic orchestrator, seamlessly weaves the primordial with the ethereal, the physical with ineffable, the discoverable with the unknown.
"I'm a fountain of blood/ In the shape of a girl/ You're the bird on the brim/ Hypnotized by the whirl/ Drink me, make me feel real"
It's the squelching alien siren announcing "Hunter" that clangs against the metallic din of drums. Coaxed between the elliptical string melody traipsing through "Jóga" summons the beasts of sins and angels of desires. Suffocating in the plume of smoke descending from the volcano in hell in "Bachelorette"'s deep-seated rage. Obliterated by the "Pluto"'s frozen onslaught.
"I weave for you/ The marvelous web/ Glow-in-the-dark threads/ All neon like"
Homogenic, miraculously, is still the future. Listening to Homogenic is looking into a crystal ball and seeing an alien utopia unrecognizable from the present. Its significance can hardly be understated: the natural metallic echoes of Homogenic resound in most pop albums that fuse cutting-edge aesthetics with pure emotion.
"I'm so bored with cowards/ That say they want/ Then they can't handle/ You can't handle love"
The songs on Homogenic come from places untouchable and unknowable. Both paralyzing and limitless, Homogenic introduces listeners to the possibilities that come from a complete purging of mind, body and soul. It is anything but selfish. Homogenic is unidentifiable by any means but through its own existence, inhabiting a crystal plane of its own transcendence.
"How could I be so immature/ To think he could replace/ The missing elements in me?/ How extremely lazy of me"
But it's the Björk's vulnerable humanity on Homogenic that makes it worth living for. Behind the glass is a mystic bleeding heart. One that's fallible and weak and resilient and knowing and patient. Björk is the embodiment of all that is sacred about the human condition.
"I want to be on a mountain top/ With a radio and good batteries/ And play a joyous tune and/ Free the human race/ From suffering"
It's a myth, a regeneration, a rebirth, a creation of a universe all its own. Homogenic rewrote its rules for an enlightened path. It's been soaked in liquid mercury, combusted into billions of new neurons and pathways, the mastermind of a world free of impurity. She climbed the mountain and never came down.
"Excuse me/ But I just have to/ Explode/ Explode this body/ Off me"
Homogenic is home.
"All is full of love/ You just ain't receiving/ All is full of love/ Your phone is off the hook/ All is full of love/ Your doors are all shut/ All is full of love"
Luke Maguire, a junior, studies English. He is the Arts & Entertainment editor of Le Provocateur.
1 comment