Kneeling sends the wrong message
---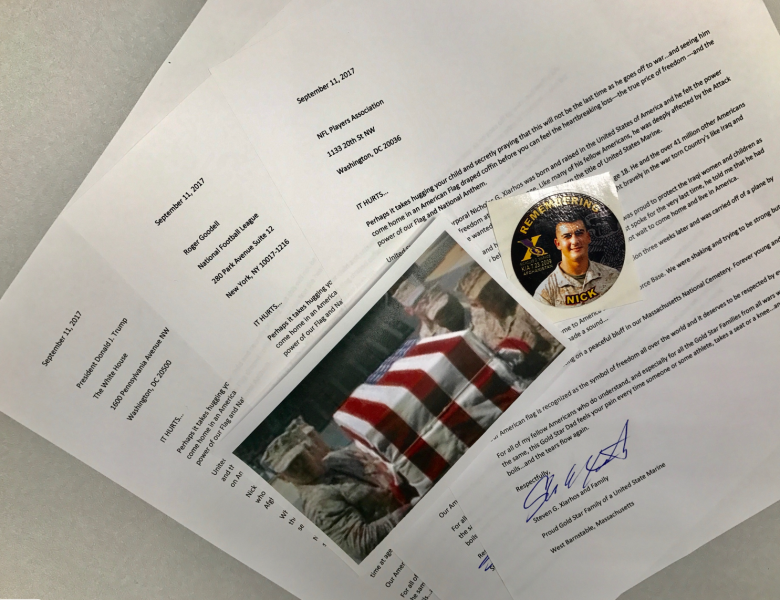 The definition of betrayal according to Google is "the action of betraying one's country, a group, or a person; treachery." Betrayal is the word I would use to best describe the act of kneeling during our National Anthem. The thought of kneeling during the National Anthem was made public by Colin Kaepernick in August of 2016. After the end of last year's football season, kneeling was forgotten, but recent choices made by our President, Donald Trump, have brought back the kneeling. Kaepernick was kneeling for Black Lives Matter; however, today, people are kneeling for their own political beliefs and the unwillingness to stand with our President.
You do not have to like President Trump, but you have to respect the United States of America. The American Flag and the National Anthem are symbols of our nation, not political statements. They represent how we became, how we are, and how we will be in years to come. We continue to live in the land of the free because of the people that give their lives for us, not because of who our President is or what we believe he represents. I spoke with Steven Xiarhos, Deputy Chief of the Yarmouth Police Department, and a Gold Star Father. Steven lost his son, Nick Xiarhos, a marine deployed in Afghanistan, fighting for the country he believed in.
"Our American flag is recognized as the symbol of freedom all over the world and it deserves to be respected by everyone. Those who would disrespect our flag have never been handed a folded one…I have," Steven Xiarhos writes in his letters to President Trump, Commissioner Goodell and the NFL's Player Association.
Xiarhos spoke outside of Gillette Stadium during the first week of October, summing up what he wrote to Trump, Goodell and the Association [see photo]. He spoke about the disrespect seen from those who kneel during our anthem, and what it looks like to others.
"Those that believe the flag represents oppression should remember all the Americans who fought to eliminate bigotry, racism, sexism, imperialism, communism and terrorism." The message he wants us all to understand is that you are betraying our nation and those that fought for your life and your rights when you kneel during the National Anthem.
You aren't protesting the President when you kneel, you are adding to the hate in the world and you are dividing the country. America needs to be united in a time like today. Our country was built upon values that our founding fathers sought for us to have and to keep. Currently, with the tension, we are losing those values. It doesn't matter what gender, religion, race, or orientation you are, we are one nation and we need to act like it by keeping the values of they left for us and being responsible Americans. We are all Americans, despite our political, social, and economic beliefs. We all need to do right by each other, respect each other and those who fight for our rights, and stand together. When I met and spoke with Steven Xiarhos at a road race that I sang the National Anthem for on Saturday, I couldn't agree more with what he said, "You have the absolute right to protest, but don't do it during the National Anthem."
Renee Leavitt, a sophomore, studies political science and theology. She is a staff writer for Le Provocateur.
51 comments