Portugal. The Man brings the house down on Woodstock
---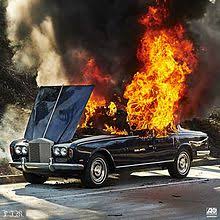 Although released back in June, Portugal. The Man's album Woodstock has an unmistakable fall vibe. It is the type of album perfect for popping in your Walkman, putting on your headphones and walking the streets of Assumption College with your black Doctor Martin's crunching the falling leaves with every step you take. If you're feeling particularly angsty, you might also consider wearing a leather jacket and smoking a cigarette as if they are in a '90s music video, but I'm not making any suggestions here. This is the type of album you might listen to if The Smiths are depressing you too much and you need something that matches your '90s aesthetic without making you feel like crawling into your bed while clutching your cassette player as you stare at a blank wall.
Portugal. The Man's most popular song from the new album, "Feel It Still" peaked at number one on the Billboard Alternative Songs chart.
If you're into the alternative music scene, you may be familiar with "Feel It Still." If you watch live television without fast-forwarding through the commercials, you'd probably also recognize it from the Vitamin Water commercial where an entire gym breaks out into a flash mob like you have never seen before, dancing as they jog on treadmills.
Woodstock has the type of vocals and instrumentals that you would expect to hear as you walk into a smoky live music bar in New York City. Girls in black velvet dresses and pixie cuts would be standing by the stage with their eyes closed, bobbing their heads back and forth as John Gourley (vocals and guitar) stands at the front of the stage playing "So Young."
As for the rest of the songs on the album, "Number One" has a distinctive '60s ambiance. Portugal. The Man takes us on a trip back in time, the low-quality beginning sounding as if it's an old recording of a live performance at the 1969 Woodstock Music Festival. The beat then drops and the band breaks into a better-quality sound, featuring vocalist Richie Haven belting out the lyrics "Sometimes I feel like a motherless child."
Other notable tracks include "Easy Tiger," "Rich Friends," "Keep On," "So Young" and "Tidal Wave." As the album only consists of 10 songs, I am aware I just listed more than half of the tracks on it, but I cannot contain my enthusiasm for the vintage feel of this album.
Although I fear the day that this album will come into the mainstream and be worn-out by every radio station playing alternative rock, I wouldn't really be surprised if it did.
Good alternative music has been rising again over the past several years, taking us out of the dark days of 2004 pop where '90s music was basically our only choice if we just weren't that into Usher's "Yeah!" Portugal. The Man's Woodstock is the poster child for this rising modern alternative era.
This is the type of modern alternative rock music that anyone who's music collection consists of practically nothing from the past two decades has been waiting for. Personally, I am just glad that my vinyl collection is finally beginning to consist of a decent number of albums that came out past 1999. You can bet I will be the first one to pick up a copy of Woodstock when it's released on vinyl. I encourage you all to join me in streaming it on Spotify or your preferred music platform until then.
Celia Smith, a junior, studies art, English, and psychology. She is a staff writer for Le Provocateur.
36 comments