Senior Day Triumph
---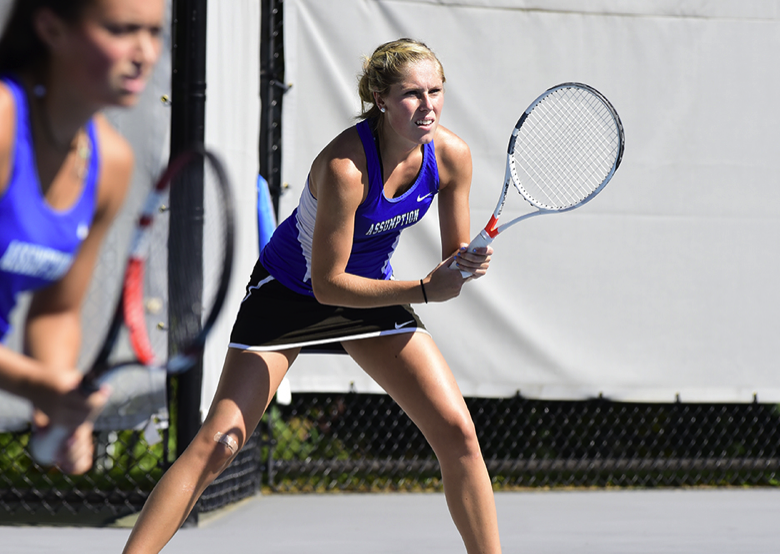 It was a triumph of a win for Assumption College's Women's Tennis team when they faced New Haven on a dark cloudy afternoon, and became an even more exciting win for the team as they also happened to be celebrating their senior day, honoring Senior Cassie Burbine and Shannon Tarpey just before their match. Cassie Burbine shattered the competition every time she stepped onto the court, as she teamed up with greyhound first-year Julia Chappell in the doubles matches, improving to an astonishing 10-2 on the season.
Cassie Burbine did not let the excitement of her own senior day celebrations get in the way of her playing. Bringing everything she had onto the court, she showed New Haven's girls Lilia Rodriguez and Stephanie Gonzalez she was no one to mess with. As her doubles match with Chappell went back and forth they did not lose confidence for a second. When New Haven won a point the Assumption girls showed no fear, quickly gaining ground and pulling ahead. Sophomore Maria Monje and freshman Valeria Sanchez won No. 2 doubles with another astonishing score of 8-1 against New Haven's Angela Mercurio and Lauryn Burridge. Sophomore Camille Latoni and Senior Tarpey wrapped up the No. 3 win in doubles with a 8-2 victory. Senior Tarpey remained calm and collected with her team member, Latoni, as they wrapped up another win for the Greyhounds within the doubles matches.
Chappel and Latoni went even further with their astonishing records and their hot leads, winning in straight sets of 6-0 and 6-0 out of the second and sixth flight. Junior, Paige Benoit was not too far behind with a 6-4 6-0 win at No. 3 singles. These two girls showed that they can hold their own on this talented team of girls. Wrapping up the win for the Greyhounds, Monje and Sanchez's singles matches led Assumption to the final win. Monje defeated Angela Mercurio 6-2, not becoming shaken when she lost ground but quickly pulling it back together to take the win, earning the second set 6-0 and a win at No. 4 singles. Sanchez followed right behind her, beating Ashley Varrone 6-1, holding a strong lead and control of the game. Sanchez then took a 6-2 win out of the fifth flight.
The greyhounds pulled in win after win on this cloudy afternoon bringing much more celebration and excitement to their Senior Day, honoring the team's two seniors. All the girls joined in cheering and celebrating for the wins they had all taken part in.
Caroline Gilbody, a junior, studies photography and management. She is a staff writer for Le Provocateur.
0 comments