What's he "putin" up there?
---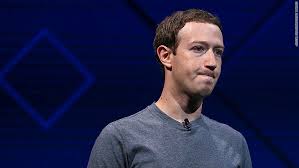 The CEO of Facebook, Mark Zuckerberg, has announced new measures to combat Russian interference in the US political landscape following reports that Russians used Facebook to target key voting blocs in America during the 2016 election. Under increasing pressure from many concerned officials, Zuckerberg has agreed to turn over 3,000 Russian-linked Facebook ads to the House and Senate intelligence and judiciary committees. Zuckerberg, in a Facebook live broadcast, stated his opposition to the Russian undermining of the election and said he wishes to protect the integrity of democracy.
Facebook had initially denied any significant effect on the outcome of the 2016 election by third parties on its platforms, but since then the site has taken steps towards eliminating the amount of fake news and Russian-bought ads. Facebook reported that 10 million people saw the ads, though there are estimates as high as double that number as some speculate the company had known about Russian activities on the sight even prior to the US election. Many on Capitol Hill expressed concerns over the tech company's role in the election after it was discovered that portions of the Russian government had bought $100,000 worth of ads during key points in the US election.
While written by Americans, Russian agents played a direct role in the organization of propaganda in contested states like Wisconsin and Michigan amongst key voting blocs. Ads apparently referenced both sides of the political spectrum, with content groups focusing on the interests of gun owners, gay rights, and BLM groups. An expert opinion on the indiscriminate expanse of Russian Facebook groups and ads is thought to have been a ploy to make the American political sphere seem frayed and chaotic rather than merely work towards damaging or benefitting either political party. Another opinion states that Russian agents were attempting to artificially create grass-roots movements, a practice known as Astroturfing, to make further meddling in American political affairs easier.
 Recent reports by CNN even state that Russians used Pokémon Go to sow dissent in the US political sphere through the "Don't Shoot Us" campaign, which advertised itself as a leg of the Black Lives Matter movement. Facebook promises to take further measures to prevent misinformation from being available on its platform, as shown by recent measures that blocked many fake news sites, and warned users on how to spot misinformation. In addition to sending congressional committees the ads shown on their site, Facebook will testify to Congress on Russian interference in the 2016 election.
Noah Trudel, a first-year, studies psychology. He is a staff writer for Le Provocateur.
0 comments