#Me Too
---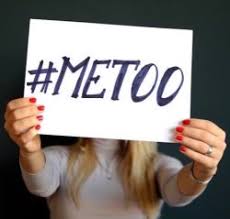 I was in the library on a Sunday night scrolling through Facebook and avoiding homework when I saw it: "Me too. If all the women who have been sexually harassed or assaulted wrote 'Me too' as a status, we might give people a sense of the magnitude of the problem. Please copy/paste" Someone I knew in high school had posted it. I immediately scrolled further to see if other people had begun joining in, but there were no others like it.
Still, with just that one post, I had a feeling that maybe I'm not as alone as I thought I was. I also had a sliver of hope that this could be a way to bring the conversation about sexual violence out of the shadows, so I posted it too. And when I woke up the next morning, I found that dozens of other people I know on Facebook and Twitter, and hundreds more that I do not, had done the same.
The "Me Too" movement was not started that Sunday night, but over ten years ago by activist Tarana Burke. As a youth camp director in 1996 for young girls in Brooklyn, Burke had encountered many young women and girls who shared their experience of sexual violence with her. A survivor of sexual assault herself, in those moments, Burke did not know how to best support these girls as she was working on healing herself. It was from this need that the "Me Too" movement was born. Burke wanted to bring healing to other survivors, mainly young women of color. She found that what she calls her "empowerment through empathy" method created a community of survivors supporting one another.
"On one side, it's a bold declarative statement that 'I'm not ashamed' and 'I'm not alone.' On the other side, it's a statement from survivor to survivor that says 'I see you, I hear you, I understand you and I'm here for you or I get it,'" she told CNN.
The movement was brought to the forefront of the national conversation about sexual violence as more and more actresses shared their stories of sexual harassment, assault and rape at the hands of famed Hollywood producer Harvey Weinstein. In just the first day of the movement's spotlight on the international stage, Twitter reported that about one million users had used the hashtag just by midday. Burke recognizes that sharing is not for everyone, but wants to provide a space for those who feel like they need to share to be able to do that. The hope is that this movement will shine a light on a topic that has been kept in the shadows for too long. The sense of blame and shame that society has instilled in survivors is the greatest threat to their healing and the greatest protection of their attackers.  
She says, "for women who feel like their stories aren't as important, or aren't important enough to say 'me too'… [I'd say that] there's no story that's unimportant, there's no person whose experience shouldn't be validated," (Mic). It's important to note however, that the scope of sexual violence reaches farther than women. In speaking with Marie Vazquez, Assumption's Campus Advocate, we both agreed that the movement's focus on women is important, but can also erase the experiences of those who may not identify as women, who have also experienced sexual violence. For example, one of every two people who are transgender is a survivor of sexual violence. And of the greater population of survivors, 10 percent are men (RAINN). The focus on women is important, but it can also be limiting.
Another criticism is that the movement places the responsibility on the survivors to bring awareness to the issue. For those, like myself, who felt comfortable sharing, there are countless others who simply can't for various valid reasons.
When speaking to CNN, Burke said, "I think the viral moment is great but the amplification of that — I worry about disclosing their status as survivors en masse on social media and not having space to process. I worry about survivors coming on to social media and being bombarded with messages of 'me too,'" she said.
Posting #MeToo can be liberating for survivors, but there needs to be follow-up support and recognition that there are more survivors out there who understandably may not have felt comfortable sharing. There is no one way to heal, and especially with something as personal as sexual violence, healing looks different for everyone. And it is certainly not the responsibility of survivors to educate others on this topic, unless they genuinely want to.
I hope that when the trendiness of the hashtag dies down, there will be action taken to combat sexual violence. While not all survivors are one gender, almost all perpetrators are male. It is the responsibility of all of us, namely men, to call out inappropriate behavior or conversation when we see it. It is important that survivors' stories are listened to, and believed. It is important for society to recognize the responsibility of protection from sexual violence is not on the potential victims, but on the perpetrators and those who know them. Many people say they know someone who has been assaulted, but no one seems to know a perpetrator. We need to do a better job of recognizing that there are seemingly "good" people who have assaulted or harassed others and hold them accountable.
For those seeking support, Marie is an incredible source. You can reach her at (508)-767-7641 or m.vazquez@assumption.edu. Please remember that it is not your fault, and you are not alone.
Sarah Clancy, a senior, studies global studies and political science. She is a staff writer for Le Provocateur.
0 comments