MisterWives bring the hits to the House of Blues
---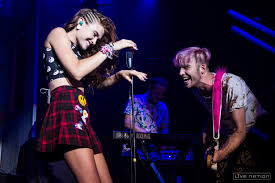 Dressed in checkerboard joggers, a black mesh shirt and glittering sneakers, Mandy Lee, the lead singer of the indie-pop band MisterWives jumps to a platform at the front of the stage, standing over the 2,500 fans in attendance to their Connect The Dots Tour. "Let this be a reminder to love yourself on your worst days, your best days, and on every day in between," stated Lee. After much applause from the crowd, the band breaks out into one of their songs, "Out of Tune Piano."
On Friday, October 20, at the House of Blues in Boston, MisterWives, Vinyl Theater and Smallpools put on a show that will be hard to forget. Indie rock band, Vinyl Theater, kicked off the night, with lead singer and guitarist Keegan Calmes, keyboardist Chris Senner and drummer Nick Cesarz. Performing songs such as, "Breaking Up My Bones," "My Fault," "New Machines," "Day In Day Out," "The Island" and "Me Myself and I," Vinyl Theater brought great sound to the beginning of the concert. They even surprised fans with a cover of Eminem's "Lose Yourself," which had everyone singing along.
Up next was the indie-pop band Smallpools. Lead singer Sean Scanlon, guitarist Mike Kamerman and drummer Beau Kuther, brought an electric and upbeat sound to the stage. They opened with "Killer Whale," and sang other crowd favorites such as, "American Love," "Passenger Side," "Million Bucks" and their top hit, "Dreaming." Smallpools had everyone on their feet throughout their setlist and definitely came to Boston ready to showcase their talent.
With much anticipation, MisterWives finally took the stage. Drummer Etienne Bowler, bass guitarist William Hehir, guitarist Marc Campbell, multi-instrumentalist Jesse Blum and saxophonist Mike Murphy entered the stage wearing all white, with colorful shapes painted on their shirts and pants. Among the ecstatic cries from the crowd, Lee finally joined her band mates in her own unique concert attire. The band opened with one of their many hits, "Machine." Keeping up the energy, they sang "Chasing This," really getting the crowd on their feet and even dancing. After introducing the band, Lee mentioned the next song was near and dear to her heart. "Drummer Boy" tells about Lee's love with her now fiancé, who is the drummer of the band. They continued to keep the crowd alive with other favorites such as, "Only Human" and "Out of Tune Piano."
Lee then announced it was time to slow things down for just one song, in which the band performed a beautiful mash up of "Vagabond" and "Revolution." The crowd put their hands up and waved back and forth to the steady rhythms. Some fans held up their phones, as their flashlights lit up the venue. As promised, the band brought the energy back with a mash up cover of "Ride" and "Heavydirtysoul," by Twenty One Pilots. This pleased the crowd, as most were very familiar with the group Twenty One Pilots. With this cover, MisterWives was able to prove that no matter the style of the music, they can put their own creative spin on it and turn it into something amazing.
MisterWives then went back to their own music, performing "Coloring Outside the Lines." Being one of the more popular songs off their newest album, Connect The Dots, MisterWives brought these inspirational lyrics to their audiences ears; "Say what we wanna, do, make it all come, true, because nothing is impossible with you." The band then performed a mash up of their songs, "Not Your Way, Best I Can Do" and "Oceans" from their past album, Our Own House. This brought a feeling of nostalgia, as MisterWives took the crowd back to their earlier days when they released Our Own House as their first major album. After this performance, MisterWives sang their newest single, which had been released on radio stations the morning of the show. Fans were thrilled to hear the new song and broke out in applause when Lee announced they had been working on new music.
After their newest track, MisterWives performed the song everyone had been waiting for, "Reflections." The band had every single audience member dancing and singing along. Through the flashing neon lights, Lee could be seen jumping and dancing as well, with a huge smile spread across her face. "Oh Love" was next, as MisterWives jumped back to the tracks of their newest album. Followed by "Oh Love," was yet another popular hit off their newest album, "Let the Light In."
As the show came to a close, MisterWives performed "Imagination Infatuation," another song from Our Own House that got the crowd excited. As the song ended and MisterWives exited the stage, the crowd screamed and became anxious for an encore. Not long after, MisterWives came back on stage for one last song, "Our Own House." The crowd roared with applause and sang along to every lyric, as rainbow confetti filled the air during the final chorus of the song. "Thank you Boston! We are MisterWives and we freaking love you guys!" With these final words from Lee, the band took their bows and exited off the stage. It is clear to see that anyone who was in attendance to the Connect The Dots Tour could not have been disappointed after the talented performances by each band, especially MisterWives. They came to impress, and impress they did.
Katarina Lewczyk, a senior, studies graphic design and English. She is a staff writer for  Le Provocateur.
0 comments