Muliticultural night a success
---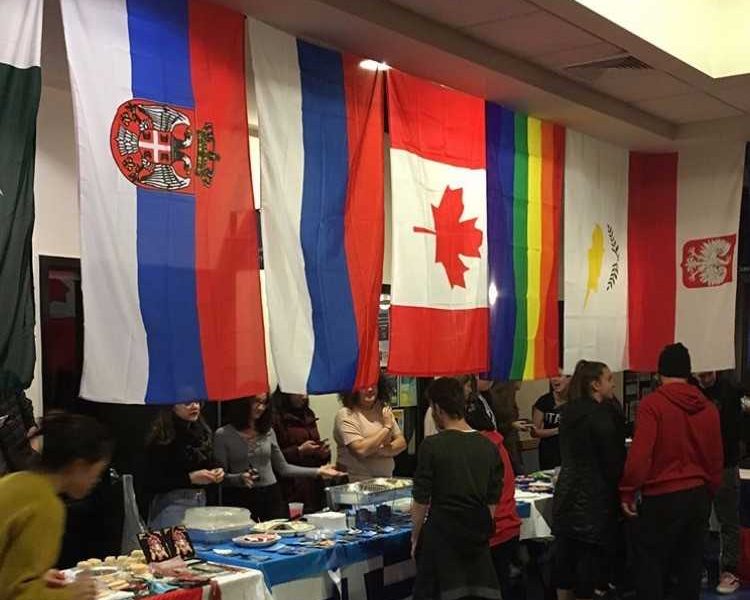 This year's Multicultural Night was truly a success. The air was full of the scents of food from around the world and many hungry students came walking into the Hagan Campus Center this past Thursday. Dishes adorned the tables with flags of the countries being represented, and more flags were displayed from the ceiling, showing places from all around the world. Jazz music and a live band played while students from Assumption and other neighboring schools attended and walked around to get a taste of the culture. Displayed were fried rice from China, grape leafs from Lebanon, fried plantains and sausage from the Dominican Republic and so much more.
Edil Yassin, one of the event coordinators and part of the ALANA group said that this is her first year running something like this "it was definitely stressful and I didn't know what I was in for but in the end, it was a great turn out and everybody loved it."
It was not just Assumption students that attended the event. Kashe Williams a senior from Worcester State stated that "there were a lot of interesting foods there and the music was in fact really good too."
"The food was really good I enjoyed all the variety and the live band was really good, said Danny Hendrickson who also visited from Worcester State University "It created an awesome atmosphere for a great event."
Along with the food were facts of each country which informed students of the background of the country they were visiting and the hosts Kara O' Connell and Ian Burns kept the night rolling raffling off baskets that contained Assumption gear with assorted hot chocolate kits and demonstrated of a few dances from which include Bachata and a Lebanese dance often taught at festivals.
Nisreen Yatim also an event coordinator thought the event went quite well and to her liking "There were foods from all around the world and I'm really happy that so many people got to have the experience that the event is meant to give."
Iva Juka, an Albanian student who attends Assumption College, exclaimed her interest in the multicultural night. She stated, "Multicultural night was a very essential night in my perspective for all ethnicities and cultures to get together and share their different traditions in music and food. It was very heartwarming to see everyone getting along, this just shows the diversity that Assumption College has. My favorite food was the grape leaves (because they are commonly known in my culture). "
Jordan Edouard, an Assumption student who was in charge of the table that represented Haiti also thought it was a success. "There is so much good food!" she exclaimed excited visiting each table to see what they had to offer. The live band kept everyone moving with their nice tempoed up beat music of them covering classic songs and overall everyone seemed to truly enjoy themselves winning prizes, dancing and most importantly expanding their taste diversity.
For next year, make sure to renew your passports because you wouldn't want to miss the next trip around the world.
Leilah Bruno, a sophomore, studies English and Spanish. She is a staff writer for Le Provocateur.
0 comments