Pre-Columbian artifacts in Tsotsis
---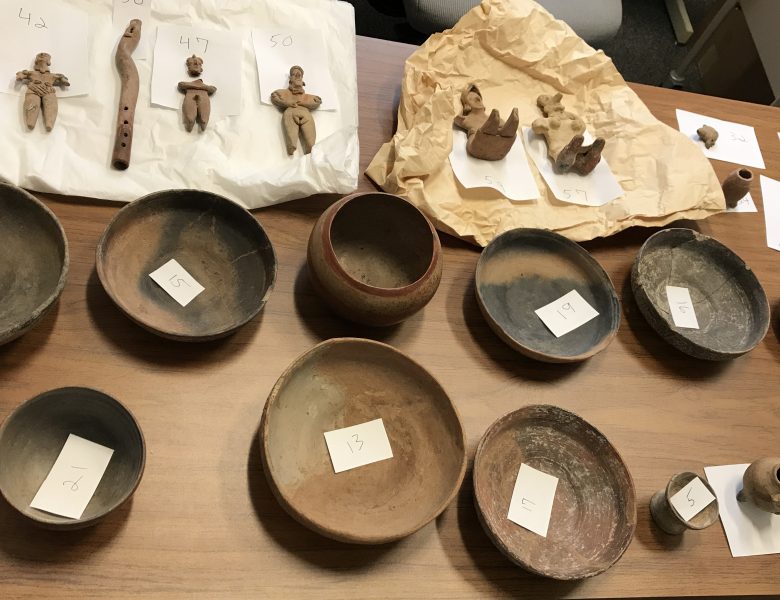 Within the new walls and halls of the Tsotsis Family Academic center is something very old, ancient, actually. Perhaps you have noticed the display cases bordering the classrooms, but have you ever taken a moment to stop and peek inside? One of these cases is home to 23 pieces of authentic pre-Columbian artifacts, a collection dating back to over 2 thousand years ago.
The various artifacts, given as a gift to Assumption's library, could not be easily identified at first glance. After the Library's assessment of the gift, Assumption History Professor, Mark Christensen, was called in to take a closer look. Christensen explains how when first hearing about the box of ceramics, he "thought it was going to be a bunch of the usual junk tourists buy." But upon further investigation and to his pleasant surprise, he verified that the collection was one of a kind and indeed, "the real deal."
Light was first shed on the mystery of the collection's origins, through a note from its prior owner, Father Michael C.J. Carey. The note, which accompanied the gift, indicated that between 1965 and 1972, Carey had acquired the collection from Colima in Ferndale, California. Following this lead, professor Christensen spent "weeks of pouring over books and archeological reports to locate the items as having come from western Mexico in the Colima region. Additional months were spent examining and curating each item."
The display of shaft-tomb burial offerings has been divided into four identifiable categories: pottery, figurines, musical instruments and metal objects. Both the design and former function of each object reveals the values and concerns of Colima's early inhabitants. These native peoples were concerned with family, prosperity, fertility and death. Because the displayed objects were used as burial offerings to the local elite, they hold religious significance as well. Professor Christensen explains that "history never repeats itself exactly, but mankind has always shared similar concerns and priorities throughout the ages. Knowing about them helps us find our place in a much larger world with a long history."
Katelyn Merrigan, a senior, studies English, marketing and graphic design. She is the online editor of Le Provocateur.
6 comments