Students swarm to farmers market
---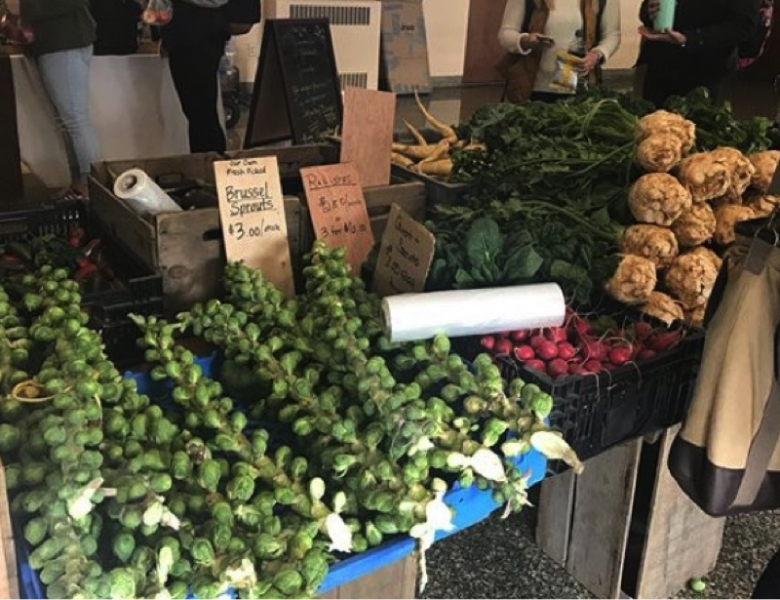 The Laska Lobby is usually a place that students pass through without stopping – on their way to lunch, coming from a class or heading back to their dorm. On Tuesday, November 7, the Greenhounds transformed the space into a place where students and faculty wanted to linger by hosting Assumption's first ever campus farmer's market.
The three-hour event was a huge success. Dean Conway Campbell stopped by to chat after he made his purchases: "The response today proved that we need this, and should do it again."
Bales of hay stacked by the doors invited people in, and crates of colorful vegetables enticed them to stay. Piles of squash, bright carrots, brussel sprouts and autumn's last apples were supplied by Dick's Market Gardens and Greenhouse – a family farm located in Lunenburg, Mass since 1944. Steve Violette, the farm's owner, happily manned the cash register, calling out prices and offering suggestions on how to cook some of the odder vegetables, like the knobbly celery root.
When students tried to fill a box with produce for $25, he would send them back if it wasn't full enough, congratulating them when they came back with overflowing boxes. After being asked how he thought the event was going by Greenhound officers, Violette said he'd be happy to return and work with Assumption College in the future, as soon as we could have him again.
"I love this! I'm really happy that the Greenhounds took initiative," said senior Tamara Adams as she waited on line to buy her stalk of brussel sprouts.
"I'm excited to see it taken further, with more vendors and outside when the weather is nice." Junior Emily Capasso also expressed her support; "This is exciting because there is such a variety. And it's not that expensive. I hope [the Greenhounds] do it again!"
Besides the huge amount of produce at affordable prices, there was also a specialty granola vendor – Giacomo's Granola. Located in Worcester, this is a family run business that has been making organic granola mixes and bars for over ten years. With chocolate and brownies along with at least ten varieties of granola, Giacomo's has also expressed interest in returning for future events.
Overall, the turnout was more than anyone could have hoped for. An informal tally taken by the Greenhounds counted 280 staff and students in attendance over the span of the entire event. "Having it during the common hour definitely helped with attendance," said Greenhounds president Lucas Foerster. There were even some Worcester residents who stopped by after voting to check it out and make some purchases.
But the hottest selling items of the day by far (besides the brussel sprouts, of all things) were the twenty loaves of bread supplied by BirchTree Bread Co. The Market opened officially at 11:30, although sales began ten minutes before that. The bread was gone in under twenty minutes, leaving many disappointed attendees. Professor John Hodgen said it best, "I love the bread, but I didn't get it!" He shrugged. "If you loaf around, you don't get bread." Don't worry, Professor, there will be more bread next time.
Not only are Farmer's Markets a great way to eat some healthy, delicious food, but they directly support families and small businesses in the community. What could be better than that? Plans are already in the works for a second Farmer's Market to be held just before Thanksgiving break, so keep an eye out for further details. Bring your family over when they pick you up for some last minute additions to your Thanksgiving feast, or surprise them with a box when you come home.
Aerin Toskas studies environmental science. She is a staff writer for Le Provocateur.
1 comment