Assumption dances the night away
---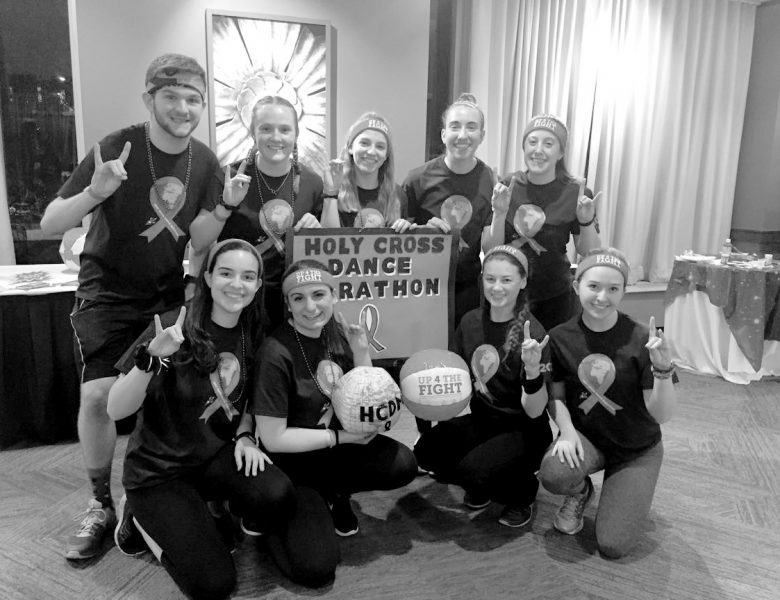 On Friday, January 26, a group of Assumption students partook in the Holy Cross Dance Marathon to support the Elizabeth Glaser Pediatric AIDS Foundation (EGPAF). During this event, students had to stay standing for the whole event which lasted from 8 p.m. to 8 a.m. Assumption had 10 students in attendance at this event including Kelliann Keaney '19, Izzy Camasura '18, Lauren Chapdelaine '19, Alyssa Dew '19, Maura Geoghegan '19, Emma Lang '20, Meaghan McCormack '18, Lauren Piette '19, Zachary Sneeringer '19 and Kara Sczerbinski '19.
Elizabeth Glaser, wife of famous TV star Paul Michael Glaser, contracted HIV from a blood transfusion in 1981 while giving birth to her daughter, Ariel. She gave the virus to Ariel through breastmilk and her son, Jake, through utero. The Glaser family soon found out that the drug companies did not know HIV could be contracted by children and therefore did not have the drug approved for children. Ariel passed away in 1988 at the age of six. In light of Ariel's death, Elizabeth took initiative and along with two other mothers, created EGPAF to raise money for AIDS research.
Assumption first heard of this event when Keaney, team capatin, was attended the National Orientation Directors Association (NODA) conference last year. One of the co-chairs of the Holy Cross Dance Marathon met her at this conference and invited her to have a group come to the event in 2018. Keaney along with her team of nine other Assumption students were able to raise over $900 for this organization. This year, the Holy Cross Dance Marathon had over 90 people participating and raised over $26,000 for this cause.
This money has substantially helped combat Pediatric AIDS. Since 1988 when EGPAF was created, the number of children infected with AIDS around world has gone down substantially to only 400 per day. The number of infected children from America and Europe is almost nonexistant today. EGPAF has focused their efforts on countries in Africa who do not have access to the adequate healthcare to combat AIDS. Though Elizabeth Glaser passed away of her AIDS in 1994, her cause has grown so much and will eventually see a day without AIDS.
 By the end of the night, three Assumption students lasted the full 12 hours: Keaney, Sneeringer and Sczerbinski. Keaney, the team coach thoroughly enjoyed her first experience coming to this event. "I learned how impactful a group of students can be because we raised so much and the people said we were saving lives and I didn't realize we could do that." Keaney hopes to bring even more students to this event next year in hopes that they can take something away from this worthy cause.
Zachary Sneeringer, a junior, studies math and music. He is a staff writer for Le Provocateur.
0 comments