94 percent of Assumption College's Class of 2017 secure post graduate plans
---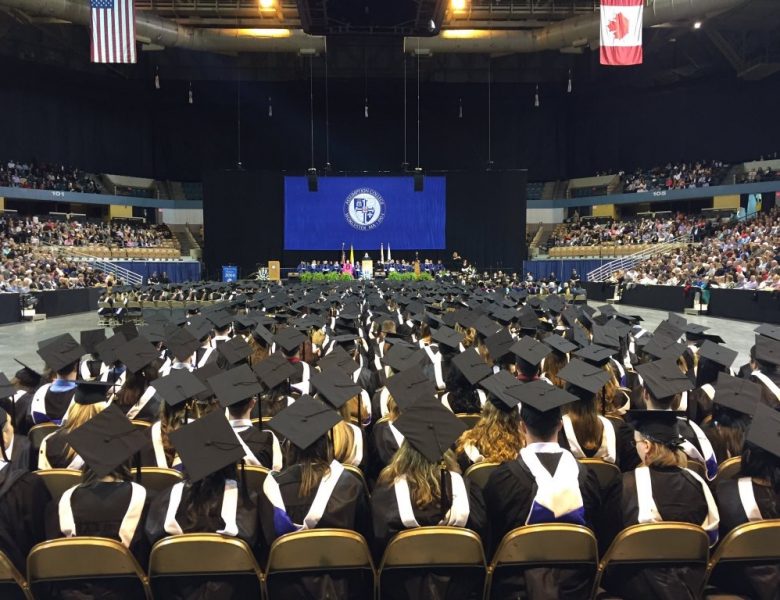 The Assumption College Community started the 2018 spring semester off on a positive note, as results from The First Destination Survey reported that 94 percent of class of 2017 graduates obtained favorable post-graduate plans.
Faculty, including the personnel from Career Development and Internship Center (CDIC) helped make the impressive figure possible.
Between May 14, 2017 and December 31, 2017, full-time undergraduate students from the class of 2017 were asked to take two surveys. The first survey was part of the College's annual Graduation Survey issued before Commencement to gain prospective on what the future held for the 2017 graduates, based off of internships they may have had in college and their post graduate plans.
In December, they took a survey called the First Destination Survey, which is administered by the private independent organization, GradLeaders. The First Destination Survey asked questions about all graduates' post-college plans, including the details regarding said outcomes.
The First Destination Survey compares with the National Association of Colleges and Employer's standards. All reporting was done in accordance with the National Association of Colleges and Employers' standards. Shannon Curtis, director of the CDIC, and her staff were instrumental in helping students develop post-graduate plans. Curtis explains how she and her dedicated staff at the CDIC assist in making post- graduate success become possible, "our staff provides individual advising to students starting their first day through graduation and customizes each conversation to the student's skills, experiences and career goals."
The CDIC and other faculty among campus facilitated students in gaining internships, both on campus and off campus. 80 percent of the class
of 2017 participated in internships, research and service opportunities or student teaching during their undergraduate years. 91 percent of the students who completed their internships found it very helpful for their post-graduate plans.
One member from the class of 2017, Marissa Smith, currently employed at Milton Academy in their Office of Development and Alumni Relations as the Engagement and Communications Assistant, shared her success in which she experienced throughout her internship on campus during her senior year.
"I worked in the Office of Communications and it taught me so much about pure communications. I wrote a lot, worked with WordPress and really came to understand a different field of higher education that I hadn't seen before," Smith said. "My supervisors helped me realize that I was actually good at writing and that I could have a career that was heavily involved with something I loved."
Smith went on to explain how not only her internship taught her important skills that she could carry with her after college, but also how clubs, such as the Campus Activities Board, did as well by giving her the skills of confidence, organization and reading people.
After reviewing the positive results from the class of 2017, the College is optimistic to survey undergraduate students from the class of 2018. Similar to the class of 2017, the class of 2018 will take the College's annual Graduation Survey to ascertain what they anticipate post-graduate plans to hold for them.
They will then take the First Destination Survey to share what they have achieved with their post- graduate plans later this year. Some of the post- graduate plans from the previous year include employment, furthering education, enlistment in the military, or participating in service.
Kaitlyn Friel, a junior, studies organizational communications. She is a staff writer for Le Provocateur.
16 comments