ALANA hosts first-ever N-word panel
---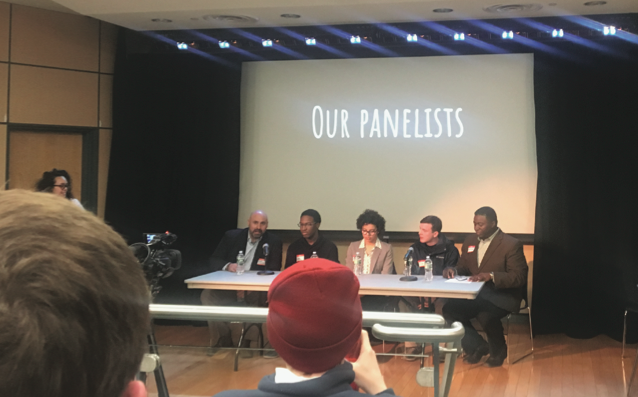 ALANA hosted its inaugural N-Word Panel this past Monday, February 5, as part of their string of Black History Month events. A diverse group of speakers made up the panel and offered different insights into the ongoing investigation on the n-word and its societal role. The event attracted over 60 people ranging from students to faculty to family members.
Resident Director for PSW, Judy Heersink, officiated
the panel discussion and began the night by stating a few intended goals of the event. ALANA wanted to create a safe space for people to actively discuss the use of the n-word and foster a conversation among students and colleagues. Heersink also hoped that the panel would address the recent and repetitive developments of the n-word being used in a derogatory tone.
The night began with surveys, music and, of course, pizza. ALANA's members were excited about the debut event and some talked about what they hoped to accomplish with the discussion.
Nisreen Yatim ('19) holds the community outreach position for ALANA and commented on how the club has run Black History Month events in the past. "We have always done Black History Month, [but] this is the first time we've actually done this particular event. I think it's really important to have this very…restrained conversation that people tend not to talk about because of the fact that it's a sensitive topic."
Gemaers Dorvil, ALANA's secretary, panelist and
main coordinator for the N-Word panel, wanted to "bring awareness to how the word effects people and how people respond to it." Dorvil understands that it is nearly impossible to control the way in which people speak, but his "goal was to talk about the n-word in a space where students could feel comfortable." Dorvil said that use of the n-word is "something that [has] attention but its not really talked about," especially on a college campus where the term is heavily used in students' language and music.
Panelist and Dean of Campus Life, Conway Campbell, said, "We're going to hope to have a civil conversation. We realize also that a lot of other people in the room will have different viewpoints as well, so I think I want people to think about… their use of the word, when they use it, why they use it, maybe why they don't use it and take that away and think about the connotations of it."
The rest of the panel included Human Services professor Robert Caron and ALANA members Oliver Bugbee ('21) and Kashmir Flood ('20). Speakers answered questions covering multiple areas of the use of the n-word in society.
Campbell and Caron both made excellent points in response to a question concerning the panelists' stances on the n-word. Campbell said that there are certain words, including the n-word, which should "go to the junkyard." He does not believe that anyone should use any derogatory terms and how changing the end of the n-word from an "er" to an "a" is like reclaiming the Confederate Flag.
Professor Caron mentioned the "war on political correctness" and how everyone should know not to use a derogatory term that has a long and hurtful history. He believed that there is a certain "license to say" that someone must possess in order to use direct terminology. In this case, white people should not use the n-word as it does not apply to them and often has a negative connotation.
Bugbee made a strong case about the role of the white majority and rap music impacting the use of the n-word. The student said that white people who listen to rap think the n-word is culturally acceptable and "they have a right to use it." Bugbee considers this a huge problem for those who believe they have this "free pass."
Dorvil followed up this argument by mentioning the media's impact on today's society and how it gives the n-word multiple definitions. As a result, Dorvil believes the meaning of the word has been "watered down" and people who are not originally entitled to the term now feel entitled – an ongoing struggle that has found it's away across many platforms.
Flood gave a powerful testimony about hearing the n-word used in Taylor Dining Hall a day prior to the event. Flood said that when she heard students using the n-word it took her back to her very first encounter with the term at five years old. Flood was playing in her aunt's front yard when an angry neighbor came out and yelled the term at her. Distraught, she ran back inside and asked her family about the significance of the word. This was Flood's first conversation about the n-word and for her, it was something that always stuck with her and even today on hearing the term, she freezes.
The panelists all had different points they hoped students would take away from the panel discussion. Caron wants students to know that political correctness has nothing to do with the n-word and people need to be more thoughtful and forgiving. He emphasized the Golden Rule standard to treat others the way one wants to be treated, to "spread the love," and to "just be kind."
Dorvil recognizes that there is no winning side in this debate and there may never be one. However he hopes that students learn the history of derogatory words such as the n-word and that non-colored students will find the courage to stand up to their peers who abuse such language.
The students who attended the N-Word Panel thought highly of the event. "I really thought that this was a different event that campus had to offer," said Junior SGA member, Julia Demkowicz. "It's something that you don't typically see, and I was just really interested to see what people had to say and what the reactions would be."
"I'm really appreciative of how many people came and the attentiveness of people," said Heersink after the event. "I think the questions really brought about a lot of great experiences and thoughts about how the n-word has impacted people's lives as well as people who aren't of color and also share their insight about it.
Heersink added that she hoped the event encouraged students to step up and become "change agents." "When they see an injustice happen, when they see discrimination happen, or… if somebody got into a car crash, people get
out of the house, make sure they try to get help and stuff like that. I would hope they would have that same kind of urgency…when it comes to words because words are very powerful things."
Flood felt that the event was successful and met the club's original need to spread awareness of racial injustices and diversity on campus.
"There isn't a lot of diversity here at Assumption and I know that Assumption is working on spreading awareness of diversity and getting students of diversity on campus…By this panel happening I hope that people take away to stand up when they heard these words and to really be a voice."
ALANA is already looking forward to hold this type of event in the future as well as the rest of their Black History Month events. "My goal is definitely to make new traditions at Assumption college" according to Dorvil. "We're already thinking about next year and how we can better the program," said Flood.
In terms of the student body, Demkowicz is all for another N-Word Panel. "I think that this was a really valuable event to have on campus and it not only supported our diverse students but it educated all of our students and that's something we need more in the Assumption community."
ALANA's Black History Month events continue with its 90's Kid Playhouse Party event on February 16th in Hagan Campus center, Hound'n'Out in Charlie's on the 22nd and a Mass with Father Warren Savage on February 25 in the Chapel. ALANA meets Thursdays at 7 p.m. in Hagan Campus Center.
David Cifarelli, a junior, studies English. He is a staff writer for Le Provocateur.
0 comments