Chorale Concert to feature N.Y. Met opera star
---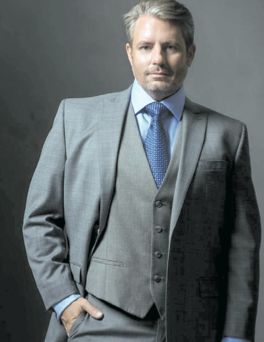 Acclaimed New York Metropolitan Opera tenor, Matthew Polenzani will perform as part of a concert of Assumption College's Chorale at 7:30 p.m. on Saturday, March 17, 2018 in the new Jeanne Y. Curtis Performance Hall. The evening will feature solos from Polenzani in addition to a number of selections from operas, operettas, music theatre and Italian and Neapolitan songs performed by the Chorale.
Proceeds from the performance will be used for the purchase and maintenance of a Steinway concert grand piano to be housed in the performance hall.
This special night will be elevated further by the "the acoustics of the Jeanne Y. Curtis Performance Hall, the most sophisticated of any college on the East Coast," said Richard Monroe '85, guest theatre director. Such a concert hall is fitting for Polenzani, "who is accustomed to performing in majestic venues such as Carnegie Hall or the Royal Opera House."
Guests are sure to applaud as Polenzani has been reviewed as "a wonderfully fresh and robust voice, with clarion top notes and a gift for sweet phrasing" by The San Francisco Chronicle. Opera News goes even further to describe his work as "the perfect marriage of splendid voice and unfaltering genuineness."
For his efforts, Polenzani was nominated for a Grammy in November 2017 for his performance in Bizet: Les Pêcheurs De Perles, the Richard Tucker Award, the Metropolitan Opera's Beverly Sills Artist Award, and an Opera News Award.
The Chorale is an auditioned choir who are versed in pieces that range from Gregorian Chant to modern musical compositions. Their international concert tours have taken the group across Europe to Austria, the Czech Republic, France, Germany, Hungary, Italy, Poland and Russia.
Additionally, the group has performed in a number of impressive venues including the great cathedrals of Notre Dame in Paris, St. Peter's Basilica in Rome, St. Patrick's Cathedral in New York, the National Shrine of the Immaculate Conception in Washington, D.C. and the Spaso House in Moscow.
Commenting on the evening, Richard Monroe stated that the "Chorale has a unique opportunity to share the stage at Curtis with an internationally renowned performer.
While Mr. Polenzani will be performing as a soloist in March,
the Chorale's selections will frame his offerings by singing operatic, international, music theatre and Irish music in honor of Saint Patrick's Day.
There's no doubt that there will be a special energy present that night!" Polenzani has starred in over 300 performances at the Metropolitan Opera, many of which were conducted by his mentor James Levine.
Originally from Illinois, the tenor resides in New York with is wife Rosa Maria Pascarella, a mezzo- soprano, and their three children.
Special $10 discounted tickets are available for Assumption students. To purchase tickets, visit https://www. assumption.edu/opera , click on the purchase tickets link and use the code ACSTUDENT.
This performance is one of many examples of Assumption College's commitment to the arts and will provide a culturally rich evening for the Greater Worcester community.
Julia Goyette, a senior, studies organizational communications. She is a staff writer for Le Provocateur.
1 comment