Reducing our footprints
---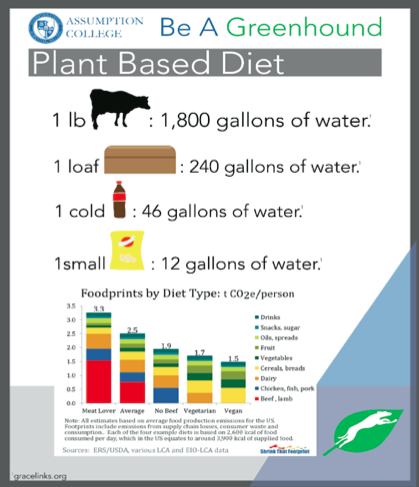 Catholic Relief Services (CRS) is a Catholic aid organization that "engages students, faculty and staff in tangible acts of solidarity to build a more just and peaceful world." Last week, the CRS Social Justice Ambassadors ran a fund- raiser at the Hounds4CRS Basketball games. Due to the generosity of everyone who attended, we were able to raise over 700 dollars for CRS. This money will go towards their campaigns. These include: "I Am Cli- mate Change," "I Am Global Hunger" and their Lenten Rice Bowl Campaign.
As part of the Catholic tradition, Fridays are obliga- tory days of fasting during Lent. This includes abstain- ing from meat. However, CRS has collected delicious recipes from around the globe in order to make meat- less Fridays more exciting. These can be found at www. crsricebowl.org.
With this in mind, have you ever wondered the impact that eating less meat during Lent has on the environment? Think about our planet as a giant farm. There are plots of fertile land separated by an intri- cate irrigation system. As on a farm, different pieces of the land are designated for certain crops. These crops include fruit, vegetables and animals. Altogether, 40 percent of the world is used for agriculture. Just as humans have carbon footprints, so do animals. In particular, the output of greenhouse gasses from cattle generates 20 percent of methane emissions in the United States.
This is illustrated by the chart that the Greenhounds provided. You can see that limiting the amount of meat you consume reduces a per- son's carbon footprint. This number drops significantly by cutting out only red meat from a person's diet. Imagine the impact that cutting meat once a week from your diet could have on your carbon footprint in the future. Are you willing to continue fasting after Lent?
Brooke Mega, a senior, studies human services and rehabilitation. She is a staff writer for Le Provocateur.
0 comments