Students from all over Worcester march to end gun violence
---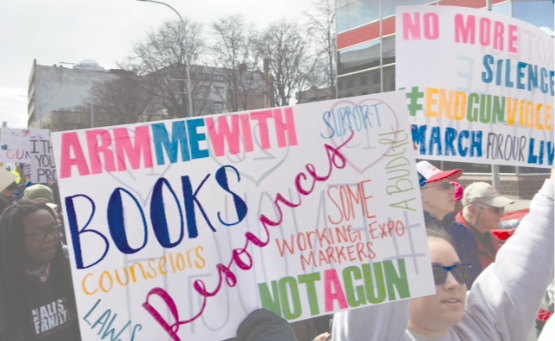 On Saturday, March 24, millions of people across the country gathered to march for the lives of those affected by gun violence everywhere. Here in Worcester, marchers began with a rally at City Hall, participating in chants and listening to student speakers voice their concerns and reasons for marching.
Senator Elizabeth Warren was one of the very few non- student speakers. She offered a short word of thanks and encouragement for the student organizers and took a selfie with the crowd.
Students from all across Worcester spoke, giving accounts of their experience with gun violence. The organizers explained that they were not going to have non-student speakers talk about the issue because "this is a student issue."
Caroline Williams, one of the student speakers, said, "I applaud the organizers of this [event] for putting youth in the spotlight and for giving students a platform to speak. We have enough love and energy to approach this issue facing us. We are informed and we are passionate."
Another student, named Piper, explained that her first experience with a school shooting was when she was 12, when 20 children and six adults were shot and killed at Sandy Hook Elementary School in Newton, Conn. Referencing the recent Parkland, FL shooting that instigated the national marches, "On February 14, I wasn't angry and scared, I was sick and numb. Why was this still happening?"
She went on to address the politicians that have said these students are "too young" to understand what needs to be done to prevent these shootings, saying, "Don't dismiss us, don't underestimate us. I have my voice, and in a few short months I will have my vote." Several other students, including Guisennia Colaco and José Ganon drew attention to the fact that gun violence is not just an issue in schools, but in communities as well.
"Why did it take the deaths of white elementary and high school students for something to happen when black people have been dealing with gun violence for decades," she asked the crowd.
Ganon, along the same vein, pleaded, "When did we start putting human lives second, when did we start putting America's youth second? Do you really want to sit back and say 'we've done all that we can?' Because we haven't."
After the speakers, a student from Clark University sang a protest song, explaining that these types of songs are meant to be a call to action and to inspire hope in those taking it. She sang "Quiet" by the band Milk.
The march then began, with the students leading the way. Upwards of 2,000 people walked along the main streets of Worcester, holding signs high above their heads and chanting that enough is enough.
The sun came out during the march, warming the walkers and giving that much more life to the fight against gun violence.
Julia Stevens, a senior, studies English and secondary education. She is a copy editor for Le Provocateur.
0 comments