A DJ's Perspective
---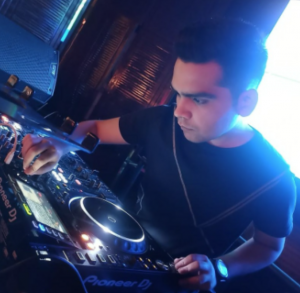 How's life treating you?
Life is just a crazy rollercoaster filled with ups and downs. But overall I think life's pretty good. Just hold on tight and enjoy the ride.
What has life been like as a music producer, composer and dj during these past few months?
This past couple of months have been crazy for all industries but as for the creative industries like the music industry has taken a huge hit due to this pandemic. As a music producer and composer for me these past months have been both pretty hard as well as pretty good. 
It has been pretty good in terms that I got so much time to work on my music, learn new things and grow as an artist. Also I feel in this fast paced life it was actually good to be home just relaxing and you take time for yourself and your metal health which I think is very important for everyone. In this lockdown I finished so much new music, I made tracks of so many new genres, explored so much that I think I never would have done if it weren't for this lockdown. On the other hand, it has been pretty hard because due to the lockdown there were no concerts, shows or requirements for musicians. There weren't a lot of projects we could get our hands on. With so much new music every musician would love to play it in front of a crowd but none of It was possible. 
Who inspires you, why?
I think David Guetta, Avicii and Martin Garrix are my biggest inspirations in the music industry. To be precise they are a huge reason why I'm in this industry in the first place. I have always been passionate about music and I think these legends proved to the world that everything is possible no matter where you come from or how old you are, all you need is hard work and love for the music.
Describe a typical work week.
My typical work week would be where I plant myself in front of my computer for at least 4-5 hours a day making music and learning new stuff. I also work as a freelancer for other audiovisual works as well so I pretty much have a lot of side projects as well. Apart from that I take out time for some entertainment like watching a movie or a show and playing some sports.
What do you see yourself doing in 5 years?
In the next five years I see myself playing at the best festivals and clubs around the world like Tomorrowland, Ultra Music Festival, ADE, Coachella, etc. And I definitely see myself in the DJ MAG top 100 DJs of the world. 
Could you tell me about a time you got tough feedback?
I literally get rough feedback and criticism on my music all the time. There have been times when most of them didn't like it and over the years I have gotten some quite rough feedback as well. I think not long ago last year I produced a track called 'Alright' in which I tried a bunch of new stuff but it wasn't well received by everyone. A lot of my audience thought of that track as a mediocre track. And I get a lot of negative feedback all the time on my tracks. The key is to not let the comments demotivate you but rather make you work harder to achieve your goals.
How do you respond under pressure?
I think I respond pretty well under pressure. I try to keep myself as steady and calm as I can when I'm in such situations, it's something I learned from my dad a long time ago.
What's your motto?
My motto is make music and enjoy the process. I want to make people unite, inspire, motivate, dance and most of all make them happy.
Who is your favorite artist currently?
My all-time favorite artist is David Guetta.
What does style and entertainment mean to you?
Style and entertainment are an integral part for me personally because I'm directly related to the entertainment industry and style is also somewhat related. And I think both style and entertainment go hand in hand.
What is your favorite music genre to remix
When I'm remixing a song I think I mostly incline towards House music. I really love it but I also try not to limit myself to one genre and try to be as versatile as I can be.
What genre do you gravitate towards when you make a beat for a single?
When I usually start a project I have a habit of leaning towards progressive house or future bass. I love these genres and I think they are my forte so I tend to lean a bit towards them initially but then you never know what I might end up with. As I said I try not to limit myself.
Who would you want to collaborate with in the future?
This is a very long shot but I have so many artists I dream of collaborating with. Some of those include Martin Garrix, David Guetta, hardwell, illenium, etc. and singers like Karra, Laura Brehm, Enrique Iglesias, Harrison, etc. and of course I would love to collaborate with indie artists from various genres and styles.
What has been your favorite song to produce?
My favorite song that I produced is called 'Tonight' which was released a few months back in December 2020. I didn't just produce the track I also wrote the lyrics for the same and I feel it's definitely my best work so far. As for the music, I have tried to blend in pop music with modern Dance music. And the creative use of vocal chops is what makes it stand apart.
To follow this individual's journey click the links below!
Instagram: (Click Here) | Twitter: (Click Here)
YouTube: (Click Here) | Spotify: (Click Here)
Website: (Click Here)
5 comments