Childish Play |The Talent From Durban
---
Joe Letizio Arts and En­ter­tain­ment ed­i­tor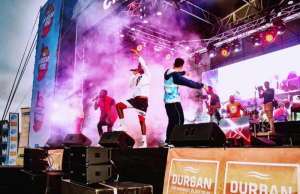 How's life been treating you?
Life is actually treating us well but obviously there are obstacles that we face which make life hard, to a point where by we feel like quitting what we love doing but because of the drive we have with the Motto " never give up " we always do our best to pick ourselves up making headway to greater heights. 
How do you respond under pressure?
To be honest doing something under pressure can only limit your creativity/intelligence to execute something, the best way that we respond under pressure is "silence" and to stay away from social media as we do not like rushing things as we prefer to give the fans satisfaction in everything we do, besides we are the type to get things done on time. 
[We do not have a bigger audience yet as in reaching global fame, but we will be always prepared to handle such situations] 
What are your strengths & weaknesses?
I believe that we as a hip hop group have similar strengths and weaknesses as we have been friends since first grade 2006, we all never give up until we achieve a goal we are passionate for even if it takes us years because our weakness is failure. 
When it comes to creative writing, where do your new ideas generate from?
There is a place at the beach which we go to, to get some fresh air and to just play some music and get to reminisce which is called the "gardens". When we are there we always open play beats just for us to actually create a song on the spot and due to the fact that we all have a different taste when it comes to music we fuse that together to create one hell of a sound that will accommodate all of us. 
So once we get something very good we starting putting nice lyrics and we go to studio to hear how it sounds, otherwise sometimes we just like having fun on the mic and if we feel something while having fun we record it, but the place called the gardens is the special place where we got almost every hit song of ours that trended in the city we live in. We are also fans of pop/rock music probably why when you listen to our songs you will hear rock instruments or hooks, same as Pop music. 
What does style and entertainment mean to you?
Style is art and art is style, so if you can understand those two you will be in the right direction in everything you do as you will grab peoples attention at all times especially if you are one that is part of the entertainment industry as its one place that you got to have your own unique style to be a trendsetter and gain massive followers. 
Entertainment is one hell of a platform which can open many doors for you but it is also a platform that can also make you hit rock bottom if you don't follow its criteria to stand out because once you in it people will look at you as an inspiration to them, on top of it all "always stay humble".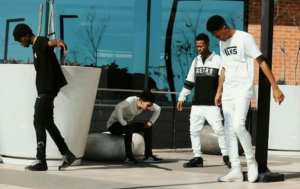 What platforms do you feel help project upcoming artists?
Get your music plugged on to digital platforms and by using promotions for your projects to reach a bigger crowd, you can use ditto music or any other platform with good promotional skills 
Where did the idea come from for "Bustdown" & "Something like a dream"?
The song Bustdown actually came about us talking about expensive jewelry and how we actually want to live a life that's worth of bustdowns " A Rich life " as to why we say " finna get me a bustdown, boy to fly can not wait to touchdown " as we believe we got what it takes to be out there as artists from local to global which will eventually result from being broke to Rich if we on the right path as we do not have any other option to make money besides making music which can definitely make us money if we do it right! Something like a dream – we came up with that title because there are things in our music career which we have dreamt of in our early stages when the group was formed which we have achieved now it might be not exactly what we dreamt of but it almost like it. If you listen to the Ep you will hear that we also talk about things that we want to achieve in the future so that we can look back and be like you remember we dreamed of having this and now we do. 
What is the music scene like in South Africa, Durban?
It's actually growing, as the music from here is also starting to go global crossing borders like crazy as people from here are very talented and can actually do everything and it's only about time the world gets to see and hear what we have got to showcase ourselves. 
What was it like to perform alongside Black Coffee, Cassper Nyovest, and Monique Bingham?
It felt like a dream! To even perform right after they leave on stage and to still get the crowd going crazy was amazing! We actually also felt like celebrities and that's where we actually saw that we really have what it takes to be big time artists in the making and we swore from then that we will be those artists! 
What are your goals for this year?
Our goal for this year is to definitely reach greater heights through our music and we will do whatever it takes to make that happen!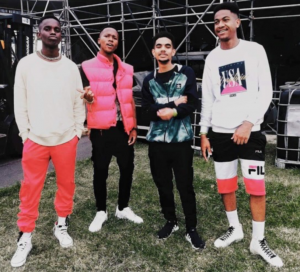 To follow this talented group, click the links below;
Instagram: (Click Here) | Facebook: (Click Here) | Twitter: (Click Here)
0 comments