Ms. Nasoni | A&R, Bass Player, Marketing Executive & Blogger
---
Joe Letizio Arts and En­ter­tain­ment ed­i­tor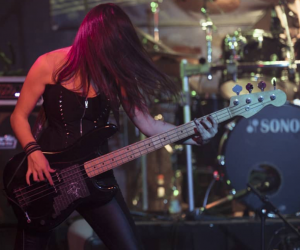 How's life treating you? 
Quite good at the moment I would say. It's a really busy period but I guess it's better this way rather than having nothing to do! 
What has been your experience with; Heaven's Basement Italia, Castel Monastero, The Cruel Knives Italia, Tequila For Breakfast, The Mess Mistress, CS Parsec Srl, and Volcano Records & Promotion? 
Well, that's kind of a long journey indeed! I joined the team of Heaven's Basement Italia back in 2013, right after the fan club was born. I was only helping with social media at first, but after a few months I ended up running it and I had the time of my life. We were following the band for real: going to their shows (abroad most of the time), doing good genuine promotion and there was always time to party with the band, I must say they have always been amazing with us all along. They had a huge success at the time and toured the world non-stop so I felt lucky and honoured to be able to witness and support such a talented rock band. 
Unfortunately, the band parted ways a few years later and when Rob (bass player) told me he and Sid (guitar player) were going to form a brand new band I was really excited and happy to know their talent was going to be heard again. So on the same day, they made the official announcement and so did I with a new Italian fan club which was now called The Cruel Knives Italia. They have published 2 EPs so far and I really think they are getting better and better; I have never, for one minute, doubted their talent and turns out I was totally right. Plus everyone in the band is a fantastic human being and I have the best time every time I have the chance to meet them. 
As for Tequila for Breakfast, it all started back in 2011. I was 15 and that was my first band which people might have perceived as a high-school band but which I took even further than everyone could imagine. I was a very ambitious young girl, angry and rebellious like most teenagers are. At 16 I used to show up on stage wearing corsets, fishnet tights and 4-inches heels. So many people judged me and tried to make me feel inadequate, they all thought I was a primadonna who would have failed miserably. I was no piece of cake, but I've never been a phoney and despite being that young, I knew more about the music business than my 30-year-old colleagues. 
The main issue with the band was its stability; every 6 months we had someone to replace and it was honestly all very frustrating as we could never get things done. We found our peace in 2015 when a huge opportunity came along: a dear friend of ours (owner of a club) decided to support us just like a label would have done. We were all students and surely couldn't afford to produce an album and all the promotion that would have followed. He introduced us to Ciccio Li Causi, bass player of a very famous Italian rock band, and he became our producer/coach. I remember we spent the whole summer locked in the studio, every single day from 10 am until 1 am and even if it was tiresome I think it's one of the best things that ever happened to me. I learned a lot and most importantly how to be a real musician. The dream quickly faded when a few months later, after a short tour abroad, our singer decided to leave the band. I was crushed and it hurt like a knife in the belly. 
We tried to carry things on, but the feeling wasn't just there anymore and when things don't work out you just need to be honest with yourself and accept it. Though we never parted ways officially, the band is inactive since mid-2018 and we are not considering a comeback for now. We all got new projects and new bands, so I will always look at TFB as one looks at their first love, nostalgic but without regretting one thing.
I started 2019 in a real bad shape, I took care of the band's business for years and suddenly that part of my life was empty. I'm not the kind of person who can stay still so I decided to start my own blog and to listen to all those who said my talent for writing shouldn't have been wasted. The blog took off very quickly and I was amazed to see people sending me messages to congratulate me for my articles. Step by step I have expanded The Mess Mistress into a real brand that now features also my bass performances as well as my burlesque acts, which merged into one sole thing "Bass & Burlesque". I couldn't be prouder of all the support I'm getting and I have no intention to stop.
The bad shape I was in in 2019 got worse in June when I suddenly decided to leave my job at Castel Monastero, a luxury resort in Tuscany. I got the job in 2017 when I was about to graduate from University and got it just because it was very hard for them to find someone with the same fluency in English as I had. One of my English professors at Uni got me an interview and I got hired as PA to the general manager and got slammed in a business that I didn't know at all and didn't even understand. Most of those already working there probably wanted me dead because I got a position they weren't able to get in 10 years of slaving and ass-kissing. 
I also had a couple of guardian angels but it was a backstabbing war every single day. If there is one thing I'm good at is learning how to survive in a hostile environment and I managed to quickly build my armour and a reputation. In six months I got promoted to Reservations Agent and then to Reservations Coordinator. The main issue with crazy lunatic management though is that one day you're a star and the next you're treated like dirt, with no actual reason, just for the fun of it. So the minute I was told I should have left the wedding ceremony I spent one year working on (with the bride's father asking for my assistance at any minute) I literally stormed the office, grabbed my things and never looked back. When I left I realised what a weight I got off my shoulders; no more fake smiles, no more skipped vacations, no more unpaid overtime. Yes, sometimes you really need to sink low to know how to swim.
And I did figure out what I wanted from my life. I swore to myself that I wouldn't have never again accepted a job that didn't allow me to have a life, to spend time with the ones I love. I finally reached the conclusion that a life without music wasn't worth living and if I wanted to move forward I had to get up and get it. This is when I got in touch with Volcano Records & Promotion and got a fantastic position as A&R, a dream coming true for me. I absolutely love the label and its vision which is totally innovative compared to all the others, but what really stands out is the hard work that lies behind every little and big success. 
I feel blessed for the warming welcome I was given and I'm so very lucky to be working side by side with incredible professionals, all providing such an inspiring environment to work in. Being involved in the career development of an artist allows you to learn a lot, it can be exciting and also frustrating at times, but it's safe to say that anything that makes you live music at its fullest is worth experiencing. 
About the same time I started my collaboration with Volcano, I also got a job as Marketing Executive at Parsec, a software development company that was in much need of a youngster to spin things around a bit. So I took all my knowledge and experience in digital marketing and started to plan campaigns while revolutionising the brand image. Results came on quickly and every day is a crescendo of high hopes for this company. It's hard work, but the satisfaction and the support that I get on a daily basis make me realise how lucky I am to get a paycheck for what I like doing, to wake up in the morning without anxiety and to have all the time I need to take care of all the other million things I do in my daily life.  
I can proudly say I'm finally in a good place both physically and mentally and that's what really matters at the end of the day. 
When it comes to brand development what do you feel is the most important aspect? 
Deep knowledge of brand identity is what is indeed the most important aspect. You can't develop something you don't know inside out, you can't tell a story without knowing the main characters and you definitely can't fool anyone if you're only faking to know what you're talking about. Knowledge, confidence and authenticity are the winning combo when developing a brand.  
What's your definition of success? 
Being the right person doing the right thing at the right time. 
What is your creative process like? 
I don't have a standard process when it comes to songwriting, I basically let inspiration strike whenever it comes. I can spend months without writing a single note but when I get inspired I could write a whole album in two days. When I write I tend to picture the song in my head and then try to write down the bass line and the lyrics, not necessarily at the same time. I only play bass so what I find most hard is to tell my bandmates what they should do with their instruments. I found though, that if chemistry is there, things always have a way of working out and it is very exciting how the initial mental draft I had might end up being something completely different!
What is the music scene like in Tuscany Italy? 
Music in Italy is not the easiest topic of discussion, we have a tradition of pop songwriters and that's what predominates the scene. The underground scene is pretty interesting though and as for Tuscany in particular, we have many fresh talents waiting to be discovered. It's safe to say we are one of the best areas concerning the number and quality of underground clubs and venues, plus it makes me super glad to see such places populated with young people and young bands, something which is pretty rare to see around. 
The biggest issue with artists though is how little they know about the music business. That's an enormous danger, especially when they want to act super-men and take care of all the aspects of their career by themselves. Let me tell you something: DIY might work if you're repainting your fence, but when it comes to music and suddenly you need to take care of songwriting, production, promotion, legal aspects, booking, public relations, merchandise (and I could go on and on), maybe asking for professional help is the only way to avoid instant failure.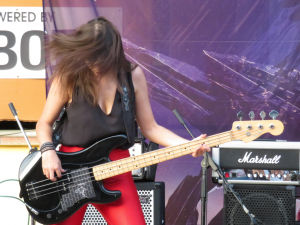 What's your go to food? 
Definitely pizza. I'm actually easy-peasy when it comes to food, I eat pretty much everything (except for awful smelly kinds of cheese) and I absolutely adore sweets of any kind, but pizza is the one thing that I would always eat, no matter how stereotyped it might look for an Italian!
During these past few months what have you learned from COVID?
I learned that we should never take simple things for granted, like going out for a drink with friends or going to a concert. We live such rushed lives that we tend to forget we need those moments, we need to recharge and socialise with other human beings before anything else.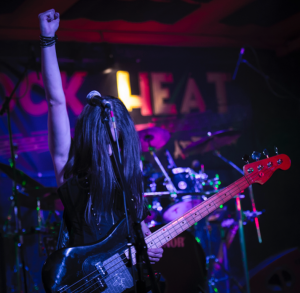 To follow this individuals journey click the links below:
Facebook: (Click Here) | Instagram: (Click Here)
LinkedIn: (Click Here) | Website: (Click Here)
Youtube: (Click Here)
0 comments