R.U.A.
---
Joe Letizio Arts and En­ter­tain­ment ed­i­tor
How's life treating you?
You caught a very interesting time to ask this very special and beautiful question.
Life treats us always with surprises and the current reality brought up some hard to handle emotions but at the same time rewarding personalexperiences. It was and still is a mix of feelings regarding where do we head and what the real mission is.
I personally try to go back to my roots and start discovering myself as an artist and person again. A lot of introspection. As for my reality nowadays I am blessed to have a safe place around my healthy family and bandmates and all I need to "keep on rocking" as best as I can.
How did you create the songs; I Wanna Be The Light, Love Is All, So Stupid, and Break Down The Rules?
Walking down the memory lane is beautiful especially when it comes to songs that were released on Transcendent Love – R.U.A.'s first album.
I wanna be the light came years ago among my first song writing sessions and was rewritten lyric wise and reproduced 4 years later but the main phrase was kept. In the first place it sounded as a Morcheeba kinda track and it suffered quite a big transition to what it is today. It was dedicated to one of my life partners and our story.
Love is all apparently had a love message but in fact it reveals what I felt about our political life, our respect for our own Earth expressing the feeling that we have no free speech possibilities, no love for each one of us, no respect, we are raised to follow rules and be machines that bring huge amounts of money to the powerful.If I go out on the streets on my own being a metaphor for being one only voice that is shut by the ones that do not encourage true believers and creators. Only followers.
So stupid and Break down the rules are songs that express my younger version. Typical for a young girl that was naive, rebellious but shy in the same time. They where not quite my favourite tracks but I grew to love the live versions of these songs when we united as a band. They have a little piece from each other so I guess it is not that much about the main message but how they made us and our audience feel.
Who inspires you, why?
Inspiration comes from all and nothing. People mostly and emotions but there where times when my mind created realities or basically self sabotaging or self raising fictions of who and what I am and feel so songs came up between my 4 walls.. My family was a huge inspiration and also the people I loved and still do. On the other hand experiences are also a huge source of self expression.
If you ask me musically than I will have to pass naming some fellow artists, great musiciansor a specific genre of music. I was raised to love music in all its forms. I listened all my childhood to world music, jazz, blues and mostly rock so my melange was made out of all this luggage of diversity.
Describe a typical work week.
Now this will be hard since the current times allow us do almost nothing that means seeing other people.
For now it is only studio work. We backed off for a while from all social media and it is all concentrated on finishing our new album. Back in the good old times we where rehearsing almost every day, we where performing in the weekends or touring and we had our training classes individually on week days. We also got to do all the press and interviews and every organisational aspects. Agreements, meetings, photo shoots and all.
What do you see yourself doing in 5 years?
5years is a long time but definitely our musical path will keep on rocking and rolling. We were born this way, we will die hopefully this way if God will be kind to keep us close to what we love most.We really hope to break our territorial bareers and export our music in the USA.
I would love to see myself on stage as often as I can cuz it is probably the most rewarding feeling there is. I hope we'll gig showcases from around the world, festivals from around the world and share our journey with fellow artists. It is a time when finding the best team to join you is really hard but I have faith it will happen for us and a breakthrough will come as we dreamed.
How do you respond under pressure?
I respond well. I think I respond even better than usually when it comes to work and stress to finish a task or a musical project. I am a hyperactive person and when adrenaline kicks in I feel good. I am quick and resourceful. I do not get beaten until things are done at best. But well this depends on the situation. When it comes to personal life I usually freak out when things are hard. I am definitely some sort of master of chaos.
What is something about you that people don't know about?
I don't think people know I wear glasses, and have been since I was 4.
What's your motto?
Share love for love is that you are.
Who is your favorite artist currently?
Currently I love to listen to all the new upcoming artists and songs . It's interesting to analyse what is the current. On the other hand when I want to relax I listen to Akua Naru, Fatima Diawara, Oscar and the Wolf, Tash Sultana, Jungle, Tom Greenan,Anderson Paak, Snarky Puppy and many others.
What does style and entertainment mean to you?
Style always meant for me – everything you wear, wear it with attitude.It is a form of energy that translates into visuals and that is all. Style means personality and transparency and elegance. The industry ….I am not quite a connoisseur.
[Entertainment is making people lose themselves in a world, in a message in a story]
It is always important to leave a feeling behind whenever you act, perform, say a joke or build up a moment.The industry forgets to empower and support artists with strong sayings. It is hard for the people to just enjoy and listen nowadays. They are lost in superficiality because of our global lifestyle.
We are always on the run so we do not afford to take the time to live meaningful experiences. We always look for the next moment instead of being wide open for the present. I am many times personally caught in this battle and I am ashamed of it.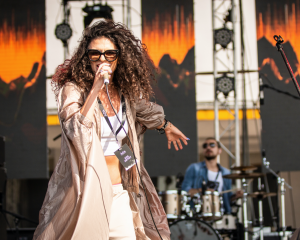 Who would you want to collaborate with in the future?
As a dream come true I would love to perform with Pink once in my lifetime. I would love to also work with Jessie J, Kaleo, Ed Shereen, Coldplay, Arctic Monkeysandwow so many other again.
What has been your favorite song to produce?
I think every song was the favourite at the time we worked at it till the other one came up. To name one that I am really attached to let's name Four Walls, Lights get low and two unreleased songs yet I'm the one and Sail away. Can't wait for you to hear our second album.
What is the music scene like in Romania?
The music scene in Romania is shut for the moment and this will bring change and effects that we cannot anticipate or maybe never repair. Beautiful festivals will probably never be kept again and we had quite a lot in the last years opening doors to newcomer bands. I still have hope though. Generally Romania vibrates with electronic music….we have a huge market on this genre and many great dj-s playing worldwide.
The mainstream is a kind of pop / latin pop and dance and the underground is definitely alternative rock. We also have quite a large rap, trap scene but well It's not my cup of tea. Festivals that brought music and the full experience like Electric Castle, Summerwell and Untold are probably the biggest and known already worldwide and for electronic music lovers definitely Sunwaves.
For now though everything gets to be online and we are not used as people to experience these kind of online concerts with tickets so these are very rare. Beautiful artists will probably look for other ways to cope with change and I really hope and send everyone the message to stay strong.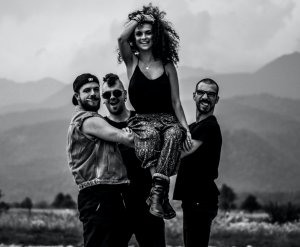 What has been your favorite festival to perform at?
It was not a festival but it was our festival, we had the most amazing times as a band on our first European tour in 2019 – I know you're listening. The energy that took over us, the friends that we had the privilege to know and keep them close, the experience itself was mind-blowing. Living for one month together in a tour bus was something so special.
It was a lot of stress before and during but the outcome was something that we could have never gained at rehearsals and usual performances. It was all about being together and being ther for each other and supporting and relying on each other no matter what. The concerts were all indoor besides one festival but they where all wearing a special flavour.
We encourage bands to invest in their first tour. Nothing can compare to what can be built on an artistic level when all that pressure and tiredness overwhelms us. It was unique. We can't wait to tour again.We will be showcased this year in Sweden at Live at Heart 2021 so if anyone is there come join us!
Walk me through your time during the North American Song Competition in New Orleans?
The North American Song Competition was a nice experience and we earned the second place with the song called "It's Life".People had to vote for their favorite song andwe are grateful they did vote us.
There where artists from all over the world that where also included in The Cutting Edge Music Business Conference. We encourage fellow artists to show up and register to international showcase festivals as they are an amazing way to promote your work.
What is your favorite song from; Pink, Jess Glyne, Jessie J, Sia, Imagine Dragons, and Katty Perry?
My favorite song from Pink is Family Portrait, Queen by Jessie J and Sia's song The Greatest.
What is the process like for your compositions to be registered at ORDA?
ORDA is dedicated to copyright owners that distribute and exploit diverse copyright titles commercially. You need to be registered as a company, pay a certain annual fee, prove your repertoire so you can distribute physical works.
The procedure is quite easy so publishers are privileged Album holograms are issued by ORDA but unfortunately physical albums are an endangered species.
2 comments