Q&A with former Assumption, current LSU kicker Cole Tracy
---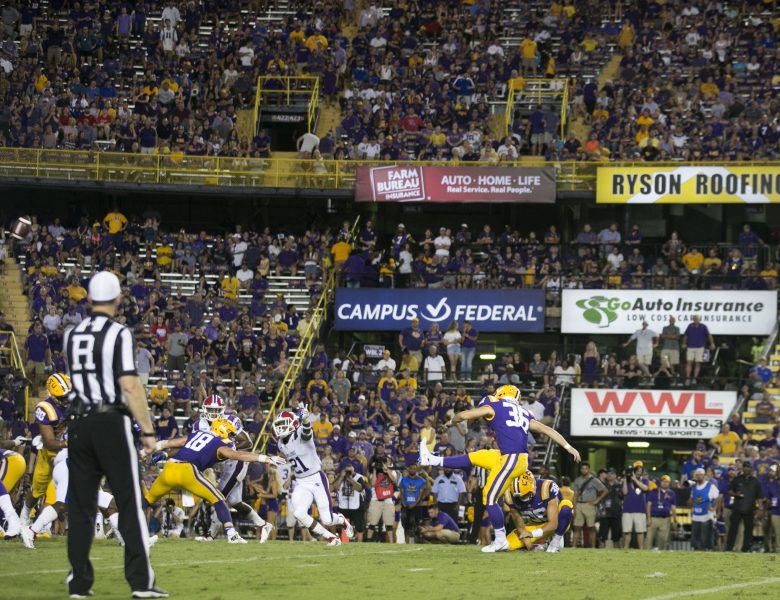 David Pepin
Sports Editor
Former Assumption football great, placekicker Cole Tracy, has been on fire for Division-I LSU this year, helping to lead them to upset victories against some of the top ranked teams in the country. In his first game he tied a LSU school record with a 54-yard field goal to help upset Miami (FL) and hit he a game winning field goal as time expired to sink, at the time, number seven Auburn.
He has been one of the most consistent placekickers in college football, going 20-20 on PAT's and 12-14 (85.7 percent) on field goals with a long of 54-yards.
Recently I was able to have a phone interview with Mr. Tracy and conduct a Q&A about his recent success on the national stage. Here are excerpts from our phone conversation.
DP: Last year you kicked in front of just over 2,000 fans at Assumption, and this year your first game vs. Miami was in the Dallas Cowboys Stadium. How much of a difference did you feel?
CT: "It's obviously a different venue and [a different] amount of people and a different environment, but the game itself really wasn't a whole lot different. Something I kept telling myself this offseason as I was getting ready to come out here was, there is no difference, the game of football hasn't changed, kicking hasn't changed. I was really able to believe myself, to believe what I had been preaching to myself. I had a really good warm up and I was still kicking em and they still felt the same, so why does the outside environment have to change?
And after I had my first field goal, I really settled in, and I hit a few PAT's (point after touchdown) after that and I turned down to my holder and was like 'man, I've kicked a lot of these in my career and that didn't feel any different.' So I just tried to soak it in and enjoy the moment and not worry too much about thinking 'hey you're playing in the Dallas Cowboys stadium."
DP: You tied an LSU school record with a 54-yard field goal, how did that feel when you found out that you tied a school record with that kick?
CT: "I didn't even know until we got in the locker room. Right before they had me do a press conference. At my time at Assumption, I've had multiple four field goal games; I've had big games before. As the game went on, it didn't really hit me at all, it just felt normal and after the third or fourth field goal I was like 'hey, right on, you're having a good game' and I didn't really think about the magnitude of a four field goal game in my first career LSU start or anything like that. It wasn't really until I got back to the locker room when I saw the Pat McAfee video and, to be honest, I joked that that was actually cooler than the field goal."
DP: What was going through your head as you lined up for the game-winning field goal against number seven Auburn?
CT: "I just wanted to stay as calm and composed as I could and kind of just enjoy it. I feel I've found a lot of success if I can keep myself invested in the game. What I mean by that is sometimes you can let yourself drift away from the game, sometimes you know this field goal is coming up, but you're not really emotionally attached, and I've learned that if I just stay focused and engaged in the game that it helps me kick better.
So that was something I wanted to do, stay engaged, but also remember that the environment doesn't change, the field goal itself doesn't change. I've kicked plenty of 43-yard field goals, so not a whole lot is going to change from that.
Once we started to get a drive together, I could see what was about to happen and kind of just focused on my routine, trying to stay cool and calm and not really worry about it too much. I think by doing that I was able to stay in the moment. After, when I talked to the media, they were saying I was laughing and smiling during the kick, which is true. I was just seriously having fun, enjoying it and kind of thought that it was ironic because I had been talking about it the entire week, and saying to myself I was going to have a game winning field goal. So it sounded funny up until it played out."
DP: What are your thoughts on the donations Assumption has been receiving from LSU fans?
CT: "It's great, I'm glad I could bring some attention because Assumption has really given me a lot, they definitely gave me my foundation, they gave me a whole lot of experiences and memories and friends. People are always asking which one is better, and you can't really compare it because Assumption has given me so much. So I was just happy that I could bring as much attention to the school as possible and kind of help give back to what the school gave to me.
The money, I didn't think it would ever take off as much as it did, the fans we have down here are pretty crazy. When I talked about it in a press conference, I just thought it was funny. I was just like 'oh yeah, a few people have donated to my school,' and next thing I know the USA Today reporter came up to me and was asking me questions about it. And, next thing I know, I wake up the next morning and it's all over social media. It's been fun to follow the donation increase. Right now it's kind of hit a wall, but hopefully I can help increase it a little bit more. I've been keeping up with it with Tim Stanton. He keeps me updated just about every night, it's been fun."
DP: Do you think Assumption football prepared you for the spotlight that comes with kicking for LSU?
CT: "Absolutely. Something I asked Coach Chesney (former Assumption football head coach) my sophomore year was to do whatever he could do to prepare me the best that he could. I feel like he was always putting me in situations and environments to do that. He always had games to make [practice] challenging on us and kind of put something on the line every single day. he made the best pressure he could [during practice]."
DP: In the past few weeks you've become relatively famous, not just on campus, but nationwide. How does it feel to go from a Division II kicker to LSU's newest star?
CT: "I wouldn't say famous, I think there's definitely been attention around the story because it's kind of a fresh and unique story. It's been fun. It's been a lot to try to keep everything where I want it, but it's been a really enjoyable experience, and part of the reason why I wanted to pursue this type of situation."
DP: When you're down there [at LSU], how often do you get asked about Assumption?
CT: "Actually quite often, I'm constantly wearing my Assumption gear. Seriously, I will always go into the training room with an Assumption football something on. You have to remember where you came from. People know the name 'Assumption College' down here, which is the craziest thing for me.
The day after the Auburn game, I was getting pizza and a gentleman comes up to me and asks 'hey can I take this seat next to you?' and I go 'yeah of course.' [He's] an older gentleman, and he saw that I was wearing an LSU shirt and he goes 'oh what a game yesterday,' and I go 'yeah that was awesome.' And he starts talking about the kicker not knowing what I looked like, he had no idea it was me. So that was great to get a natural response to how the game was. He goes 'yeah it's just great, that kid came in here from Assumption College.' And I was like 'oh my god, this random guy in a Baton Rouge pizza place, without knowing who I am, actually knows the name 'Assumption College,' which is the most rewarding part and the best part about it, being able to bring attention to the school."
DP: What was the recruiting process like?
CT: " Very fast, I got my papers on Monday, and by Wednesday, I had already been talking to a lot of different schools and exploring options. The following weekends I was on recruiting trips to Oklahoma State and LSU and once I was down here [at LSU], I kind of just felt that this would be the spot. [I] ended up committing on the recruiting trip and two days later, it was early signing day, so everything happened in a matter of 10 or 12 days."
DP: What were your first thoughts when you realized you were going to play Division I football for LSU?
CT: "It was just crazy, I never really thought that it was going to be at such a big school or such a big opportunity. That was something I was talking to Coach Chesney about that Monday, we were just kind of hoping for any Division I school. I never thought it would be in the SEC or anything like that.
I was thinking maybe a smaller Division I school. I didn't really think that a whole lot of people would be interested in the whole 'Division II kicker thing', but once I started to talk to coaches, they were totally cool with it. I didn't really find any coach that was saying 'oh no we're not going to consider you because you're from Division II.' When I got an offer from Oklahoma State and LSU, I was just surprised and was trying to enjoy it. The whole situation is a once in a lifetime opportunity."
David Pepin, a junior, studies English and Marketing, He is the Sports Editor of Le Provocateur
15 comments