Una noche para recordar
---
Lily O'Connor 
Staff Writer
Thursday night's Latino Festival hosted by ALANA turned the Tsotsis Ballroom into a colorful celebration of culture. The yearly festival highlights Latino culture and shares the celebration with not only Latino students, but the Assumption College student body as a whole.  Incorporating a presentation, live music, food and, of course, dancing, the lively and beautiful Latino culture could be experienced by all at this event. 
The Tsotsis Ballroom was covered in colors and decorations—with every detail considered and thoughtfully planned out from tablecloths to a stage—which transformed an academic building to the perfect backdrop for this party. On his initial thoughts upon walking in and seeing the décor, Senior Mark San Clemente states that he was, "very intrigued. ALANA does a great job setting up for events like this!" This left him, "excited to see what's in store for the Latino festival." 
The décor was only the tip of the iceberg. Once the festival began, hosts for the night were introduced, as were the Coordinator, Sophomore Justine Otanez, and Co-Coordinator, Junior Feldano Francois. Their hard work in planning the event was evident, as there was great food from local restaurants, a live all-female band, the Latin dance club ready to teach any eager student to dance, an informative video on Latino culture and PowerPoint of famous Latinos that was constantly playing on the big screens.   
Otanez and Francois are involved in more than this event, as they dedicate a lot of their free time as Treasurer (Otanez) and Public Relations Coordinator (Francois) for the ALANA Network.  It was their first time working together, but they seamlessly planned this event. "It was different working with Feldano, he's very special," remarked Otanez about her partner, with Francois responding that they, "got really close working on this event." 
As a Latina, Otanez felt that this event was very special. "It means a lot to have an event like this at my college. We get to show everyone what the Latino culture is really about and bring everyone together, which is really what it's about. It's fun and inclusive and brings together friends and family." She was very grateful that "the school lets us put this event on every year" 
The theme they kept underlining was that the night was for bringing people together. Francois states that "this isn't just about one Latin-American country. We have people from Cuba, Brazil, Portugal. Some people speak Spanish, some speak Portuguese, and they're all here tonight." Otanez strengthens that statement by saying that "the Latino music brings everyone together. What can you not transmit through music?" Francois remarks that this "all-female band from Boston, all graduates of Berklee. . .were one of my favorite parts of this event coming together." 
Students received this event positively. Senior Julia Demkowicz states that she loves events like this because "our student body is so diverse and it's great that we can all come here and celebrate culture.  It's something that I'm very proud of." Junior David Pepin said that he loved "the energy. The band was incredible, the food was good, and now everyone is dancing. It's a lot of fun here." Sophomore Chloe Amour finds this event important, as, "it allows students to learn more about the ALANA Network, and the different ethnicities that make up our student body, as well as try new foods and listen to some great music." 
This was a night to remember, or una noche para recordar. The colors, music, food and overall spirit of the student body was unforgettable. 
If you are interested in joining ALANA, Francois says to, "stop by our office in Hagan!"  General meetings are held every Thursday at 7p.m. on the second floor of Hagan.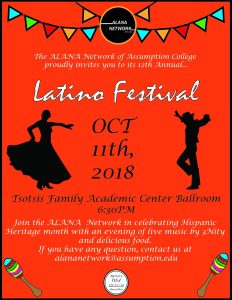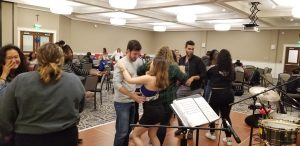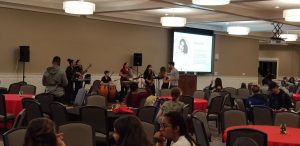 Lily O'Connor, a sophomore, studies English and Spanish. She is a staff writer for Le Provocateur.
0 comments