ALANA Hosts Multicultural Day
---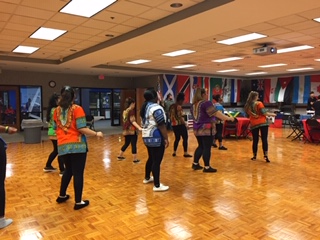 Skyler Hesch – Staff Writer
With flags representing a variety of countries on the walls, music playing and the smell of flavorful food in the air, Hagan Hall was transformed into an entirely new atmosphere as the ALANA Network hosted their annual Multicultural Day on Thursday, November 1st from 6:30 to 8 p.m.
At the event, student leader groups, other campus clubs and even some individuals provided food from a various country of their choice. As students walked around Hagan, they could learn more about the food and culture of each country represented.
Campus Ministry represented Mexico, serving Mexican Sweet Bread, PAWS represented Brazil, serving brigadeiros. RHA provided eclaries, a favorite French dessert, and SGA represented Lebanon, providing a variety of Lebanese food, like baklava, falafel, grape leaves hummus and various salads. Jamaica was represented by the African Dance team as they served curry chicken and assorted vegetables. The Chinese Club was also present, serving dumplings.
CAB represented Italy, providing gelato and homemade anganettes, while Porshia from ALANA represented Ghana, serving a type of rice called jollof. ALANA members also had several other tables, one of which represented Vietnam, which veggie fried rice. Faith from PAWS was inspired by her family's heritage and her grandfather's time in Poland, and provided galumpkis. America was also represented, with the table serving an American favorite, Apple Pie.
As attendees entered Hagan, they received a "passport" to use as they visited each country. After trying some food, learning about each country and completing their passport, attendees were entered into a raffle for t-shirts and water bottles from the Hound Store.
Student Nicole Bruno commented, "I recently studied abroad last spring in Rome, and coming to Multicultural Day and being re-exposed to different cultures brought me back to being in Europe and reminded me a lot of what I was already immersed into." Nicole also said she appreciated walking around to each country and getting a "small taste of what they have to offer."
The event also included a lively performance by the African Dance Club and a show by the Martial Arts club, providing attendees with diverse entertainment while they enjoyed new foods and chatted with friends.
ALANA member Nisreen Yatim said, "Multicultural Day is really just the opportunity to bring awareness to different cultures from all around the world, and diversity on this campus." She also talked about the benefits of Multicultural Day being beneficial because it "allows students at Assumption to experience what Worcester has to offer and what its own students at Assumption have to offer."
12 comments