Greenhounds Open Mic, Open Air
---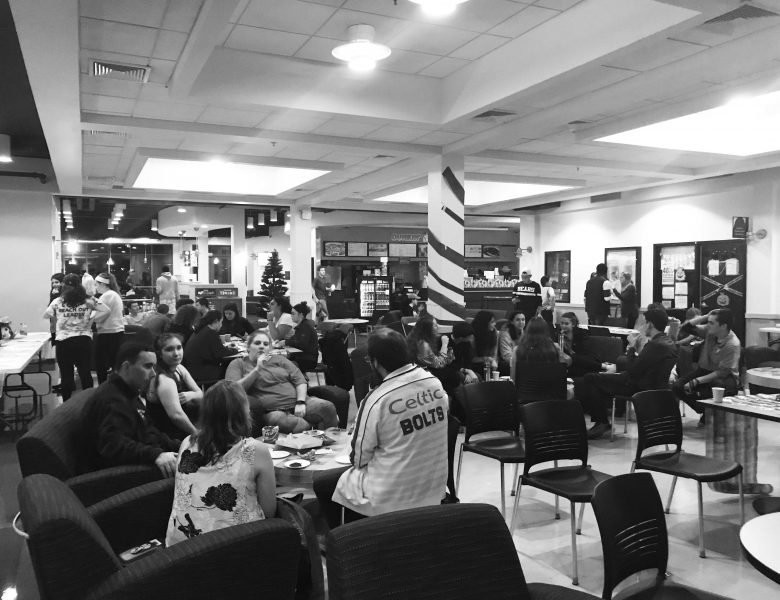 David Cifarelli – Editor-In-Chief
Candy and sustainability go together, right? What about raffle prizes and song performances? All these things and more came together during Greenhounds' first late night event of the semester.
The Greenhounds Open Mic Open Air took place on Friday, November 2nd at 9 p.m. in Charlie's. The event space was adorned with creative fall décor on every table, including recycle stickers, information on reusable water bottles and foam leaves. All was to spread more environmental awareness in multiple ways.
The candy and snacks that were offered were all Fair Trade products with information on the sustainable organization and where to find their products on and off campus. The club also collected donations to fund research for Crohn's Disease.
On the same table as the donations, a line of raffle basket prizes covered the length of the display. There were seven different baskets students could put their names in for a chance to win. These ranged from Healthy Living and Nature Pack to Water Wellness and Movie Night. There was even a chance to take home a drone at the end of the night.
With the prizes at stake and plenty of candy to eat, student performers took the stage to display their talents in front of their peers. The night was ushered by co-treasurer of the Greenhounds, Riley Sipp. Sipp provided high energy and excitement for performers that were both contagious and comforting. One could tell that students felt accepted into the space.
The set list for the Open Mic Open Air included Greenhound members and nonmembers. A group of friends opened the show with a rendition of Elvis Presley's classic hit, "Can't Help Falling in Love." That same group came up later in the show to sing "Happy Birthday" to one of their companions, who also took home a raffle prize.
Oliver Bugbee, a sophomore, took the stage twice as well. Once to sing "Location" by popular, R&B singer Khalid, and second to sing Sam Smith's "Stay With Me" alongside Waylin Walls-Parker, also a sophomore.
Two performers at the show represented contemporary R&B singer Daniel Caesar. Junior Steve Kinsey and first-year Eduardo Rivas sang "Japanese Denim" and "The Best Part" by Caesar, respectively. Both renditions were perfect companions to a relaxing night filled with incredible student singers.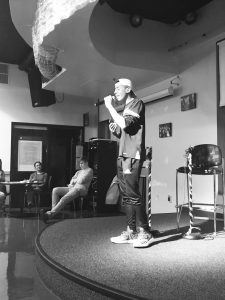 The Open Mic Open Air allowed the Greenhounds to spread environmental awareness in a relaxed environment, while exploiting the many talents of students at Assumption College. While this marks the club's first late night event of the year, more is to come from this creative team of individuals who want to share their knowledge with the rest of the college community.
David Cifarelli, a senior, studies English and Italian. He is the Editor-In-Chief of Le Provocateur.
1 comment