Why YOU should watch "You"
---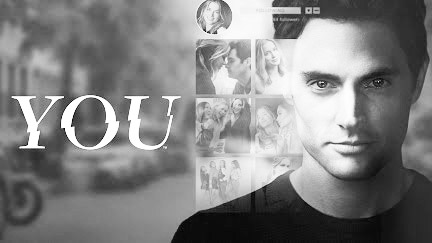 Samantha Suroweic – Staff Writer
Netflix has done it again. Right on the tail of the success of their movie "Birdbox," a new show on Netflix has gained immense popularity very quickly. Based on a novel by Caroline Kepnes of the same title, which was published in 2014, "You" is a ten-episode psychological thriller following Joe Goldberg, a seemingly average guy, as he stalks the unsuspecting young writer he has fallen in love with.
The show stars multiple familiar faces for those that are avid watchers of teen dramas. Penn Badgely is well-known for playing Dan Humphreys on "Gossip Girl." Elizabeth Lail was Anna on "Once Upon a Time," and Shay Mitchell was a former "Pretty Little Liars" star. The dark mood of this show fits perfectly with these actors' former roles and they portray their respective characters perfectly. Although each of them is obviously flawed, the viewer cannot help but feel empathy for the three, maybe even like them.
Badgely plays Joe Goldberg, a charmingly nerdy bookstore manager who possess a lot of dark secrets about his past and former relationships. Not only is he a stalker that seeks to control and manipulate the object of attraction, Guinevere Beck (Lail), but he turns into a murderer in order to keep her under his influence. Poor Beck is mostly oblivious to Joe's stalking and murderous tendencies, and she even tragically falls in love with him, not realizing just what he had done so that he could be in her life. Beck's closest friend, Peach (Mitchell) attempts to split the two before Joe develops too much of a hold on Beck.
Many people have assumed that "You" is a Netflix original, but Lifetime would beg to differ. The show first aired on Lifetime in September of 2018 with only moderate ratings. But once the show was sold to Netflix, it became insanely popular and even has gained a second season. Right now, over 40 million people have watched the series. It is classified as a thriller, but from the moment the two main characters meet in the first episode, there is an instant feeling of imminent doom for poor Beck. While the show draws you in quickly, the intrigue is less around what will eventually happen to Beck, but more so involving what lengths Joe will go to secure his hold over her as she repeatedly does not live up to his expectations.
Following the recent surge in popularity of the show, Badgely has been receiving outpourings of affection for his twisted and deranged character on social media, since many viewers have found Joe, although a cold-blooded killer lacking remorse, to be oddly attractive. Both the writers of the show and Badgely do a respectable job of humanizing someone as deranged as Joe, but his obviously creepy traits and serious delusions overwhelm whatever decent qualities he possesses, or whatever seemingly romantic gestures he makes in Beck's honor.
While watching this show, it is unmistakable that Joe is good-looking and appears innocent enough to Beck, but do not forget that most of his sweet and thoughtful things that he does for Beck were only possible because he broke into her apartment to look through her laptop, stalked her to a Dickens Convention with her family or obsessively scoured through he social media.
In the last few weeks, there has been a great deal of hype around "You." The show is engaging and easy to binge-watch, yet it also serves as a haunting, realistic example of just how dangerous seemingly normal people can be, especially with access to social media. While it certainly will not make my list of favorite shows, I definitely think that it is worth giving a watch, even if it is just to distract yourself from a little schoolwork.
17 comments