A walk to remember: Martin Luther King Jr. and civil rights through the decades
---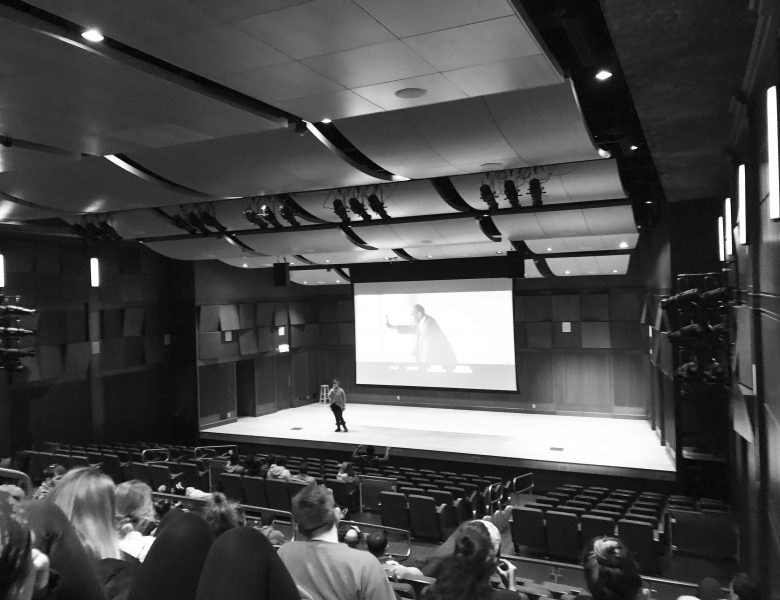 David Cifarelli
Editor-In-Chief
"Our lives are not fully lived if we are not willing to die for those we love and what we believe in." Actor David Oyelowo, in the 2014 film "Selma," recited this quote from civil rights activist Dr. Martin Luther King Jr. The film provides an emotional testimony on the 1965 Selma to Montgomery voting rights marches of which King participated. In addition, "Selma" paired perfectly with Assumption's Cross Cultural Center's (CCC) MLK Event
On Monday, January 21st, the college community was invited to attend "a walk through of why we recognize and celebrate MLK Jr." (as advertised in the poster for the event). The CCC hosted the event on the third floor of the Tsotsis Family Academic Center. Attendees were guided through a series of classrooms showcasing different time periods of racial oppression in the United States, concluding with the showing of "Selma" in the Curtis Performance Hall.
"Our goal in this program was to do something different where everyone can read, hear, see, talk and watch a variety of social justice moments in time that still have to do with the work MLK did." Judy Heersink, Coordinator of the Cross Cultural Center, commented on the executive team's goals and impact the event would have for Assumption Students.
Heersink wanted to provide answers to individuals who question the celebration of King's work to this day. "I see MLK's call to do something all the time when I wake up reading the news of another injustice…I felt that I wanted to sculpt something that challenged that thinking and pushed folks to challenge how there is still so much work to do and how serious and impactful MLK's work was and still is."
Each of the classrooms helped embody Heersink's vision of participants reading, hearing, seeing, talking and watching a variety of social justice moments. Clips from documentaries were shown from the 1992 Rodney King Riots in Los Angeles, California as well as the Black Lives Matter Movement from this current decade. Audio recordings of speeches from civil rights activists, including King, were also played in multiple rooms.
On the whiteboards, images and descriptive information of historical figures, movements and events were on display. These ranged from the 1968 Olympic's Black Power Salute, to the 1966 Black Panther Party, to a full replication of King's most famous "I Have a Dream" speech. Students were also encouraged to step into the processing room to reflect on their thoughts and emotions from the exhibit. Participants could share their thoughts with others through discussion or by writing them down on a reflection sheet. This allowed attendees to consolidate their experiences from the exhibit and help realized Heersink's goal of why we still study King's work and how it is relevant today.
In addition, the event was unique for a number of reasons. Typically, the CCC will invite a guest speaker. However, Heersink decided to remove the speaker for this year's event. "I was noticing that students weren't always given a safe space to flesh out what they were hearing." This was Heersink's motivation for the processing room. She also came across the idea for the event in a very interesting way that, in fact, many people get their creative ideas. "I was scrolling through Instagram one night – no lie – and 29rooms popped up with Lena Waithe's pop up room about what it's like to be black in America. It was a black and white film with Whitney Houston singing the national anthem and clips on the number of injustices happening in America. It was like an answered prayer!" From there, Heersink began brainstorming the concepts and ideas surrounding the event – and it appeared to have a heavy impact on students.
From room to room, participants were transfixed on television and laptop screens and whiteboards with paper cutouts. The strength of the presentations was enough to silence students for long periods of time, sometimes for the whole length of a YouTube clip. It seems that the Cross Cultural Center provided the Assumption community with the education Heersink had hoped for.
Educating the Assumption community about the stories of racial injustices is a continued mission for the CCC as well. ALANA will be working off this momentum from the MLK Event on future events coming soon. With Black History Month just around the corner, ALANA has a number of upcoming programs.
On February 7th at 6:30 p.m. in the Tsotsis Ballroom, ALANA will host their Black History month meeting focused on various topics. The club's second annual Hound'n'Out Event will be on the February 8th at 9:00 p.m. in Charlie's. Lastly, a panel on protesting and police brutality will be held in Hagan on February 20th at 6:30 p.m.
While not all events will focus on the work of Dr. King, Heersink has ideas on how to have more MLK Day-style opportunities on campus. "Till then," she says, "I encourage all students to join our ALANA meetings on Thursdays at 6:30 p.m. in Hagan this semester. We'd love to have you."
David Cifarelli, a senior, studies English and Italian. He is the Editor-In-Chief of Le Provocateur.
3 comments