How to get your Greyhound Pride this year
---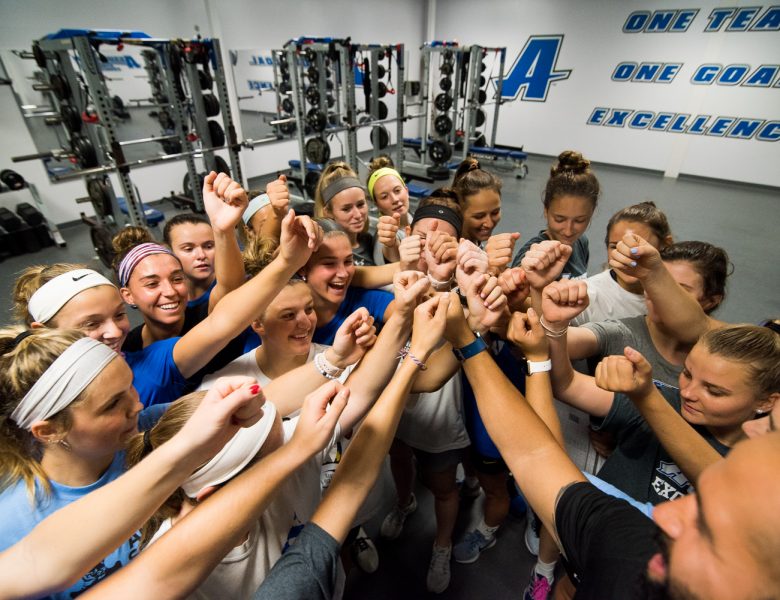 Alyssa Jalbert
Staff Writer
The life of a student athlete is not an easy one. Along with challenging academics, student athletes dedicate a great amount of time to their teams. From early morning practices to late night homework, it's amazing how they handle it all. Anne Guadalupi '21, member of Assumption's women's swim team, says, "Many people don't understand how emotionally draining the non-stop routine can be: morning practice, classes, studying during free time, afternoon practice, homework, sleep, repeat. Student athletes need to work extra hard to excel in the classroom and on their team."
Student athletes' lives may be busy, but alumni, friends, and family help to ease some of the challenges that they face. One of the ways they do so is through generous financial contributions to the Greyhound Club. Stephen Connolly, class of '91 and a member of the hockey team, continues his support because he understands the life of a student athlete through his own firsthand experience. He believes that Assumption prepared him well and gave him a great experience, and he wants to do the same for today's students and athletes. "We all have busy lives as graduates and we can't always get to campus and the games, but we can still give our support to the student athletes through financial contributions," says Connolly. "This demonstrates support and commitment to the school and the team."
Student athletes at Assumption are very lucky to have supportive alumni like Steve. Life as a student athlete wouldn't be possible without them. In fact, every team benefits from the support that Assumption receives from alumni, coaches, family and friends of the college because it motivates and provides them with needed supplies and equipment. 
Mike Rocco, Assumption's head baseball coach, says that every donation goes right back into the program and funds important things for the team such as trips, equipment, batting practices and more.  "I can't say enough how important giving back is, not only to the baseball team, but to every program," says Rocco. "It shows pride in the program." Rocco truly believes this and continues to show his commitment to his own former team by giving back to his alma
mater to this day.
Stuart Cromarty, head coach of the women's swimming and diving team, says that donations from alumni have helped fund swim equipment such as a vasa swimming bench, power tower, GoPros and compressions boots. The team relies on the support of alumni and without generous financial contributions from alumni, the swim team would not be where it is today.
Along with each individual sports team, the entire athletic department benefits from support of the Greyhound Club. Director of Athletics, Jamie Marcoux, says "By supporting the athletic program with financial contributions, alumni and athletes build the legacy of Assumption Athletics and become a part of the overall vision for the College." Through any type of support, alumni can feel a sense of fulfillment by knowing that their contributions enhance the program and helps athletics to grow and flourish.
At the end of the day, as hectic as their lives may be, student athletes enjoy what they do. Student athlete Colleen Kurtz '20 loves being a member of the women's swim team and says, "Being a member of the team makes me a part of a great group of girls who always have my back. I couldn't imagine getting through college without it." The support that the athletic department and sports teams receives helps to make this possible.
Assumption's athletic department, student athletes, and even the entire student body are very grateful for the support that Assumption receives from its alumni. No matter what type of gift, big or small, it makes a difference and shapes the college and student athletes into what they are today. Swimmers Anne and Colleen speak on behalf of the entire student body and athletic department in saying, "To alumni and friends who help to fund our teams, thank you. With any type of gift, no matter the size, you help to support the growth and strength of every student athlete at Assumption."
Alyssa Jalbert, a senior, studies Marketing. She is a staff writer for Le Provocateur.
3 comments