Maroon 5 and the Super Bowl flop
---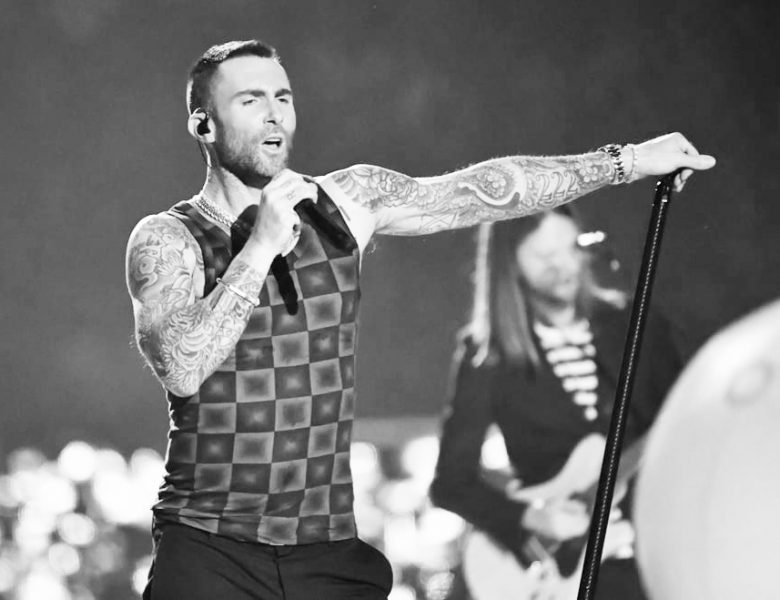 Julia Petrillo
Staff Writer
Maroon 5's Super Bowl halftime performance was one of the worst in the event's history. At least, that's what critics are saying.
The band played the halftime show at the New England Patriots versus Los Angeles Rams game at the Mercedes Benz Stadium in Atlanta, Georgia, on Sunday, Feb 3.
Adam Levine, who fronts the band, sang some of their hit songs including "This Love," "Girls Like You," "She Will Be Loved" and "Sugar." They also welcomed rappers Travis Scott and Big Boi to the stage.
After the show, audiences and critics took to social media platforms, like Twitter, to weigh in on Maroon 5's performance. Much of the feedback was negative.
"So that was by far the worst #SuperBowl halftime show I've ever seen. The Maroon 5 guy couldn't sing due to being out of breath and the rest…soooooooo bad," tweeted user The Market Man.
"I'm demoting Maroon 5 to Burgundy 4," tweeted another user by the name Jarvis Perkins.
Even before their performance at the halftime show, there was much controversy.
According to NBC 5 Dallas-Fort Worth, artists like Rihanna and P!nk were asked to perform, but refused because of the Nation Football League's new policy.The NFL's new policy states that it would fine any league or team personnel who refuse to stand and show respect to the United States' anthem and flag. The policy was implemented following former NFL player Colin Kaepernick's kneeling during the national anthem to protest police brutality and racial inequality.
Other artists, including Cardi B, also refused to perform in support of Kaepernick and in objection to the NFL for banning players from kneeling during the national anthem.
Maroon 5 committed to performing after the NFL made a promise to donate $500,000 to the organization Big Brothers Big Sisters of America, according to NBC 5 Dallas-Fort Worth.
Travis Scott committed after the NFL promised to make another donation, this time of $500,000 to Dream Corps, which is a criminal justice reform group.
In addition, Maroon 5 raised controversy regarding representation. Global News writes that many people, including Atlanta residents, were upset that Maroon 5 was to play at the halftime show at all. For one, the band is from California, not Atlanta; there are many artists that are from Georgia that could have performed.
"I think for the Super Bowl, you should have someone from Atlanta representin' Atlanta. Just 'cause the Super Bowl here, we can give them that spice. I think they should have someone like Migos, Future or somebody. I could come play Hard in da Paint. They need somebody from Atlanta in it, it's only right. It's not fair, but it's the NFL we're talking about. They're not fair. They're insensitive to people with feelings," said rapper Waka Flocka.
Atlanta's music executives and influencers also spoke out. Like many others they were both shocked and disappointed in the NFL's choice, reported Rolling Out.
"Atlanta is an entertainment mecca with a new stadium hosting a mega event. The general consensus was it would respect the city more to have talent from here. Maroon 5, a pop band, doesn't come to mind, nor do you associate the excitement of halftime shows with them, " said award-winning music journalist Christopher A. Daniel.
"The Super Bowl Committee's choice for halftime brings light to a twofold problem. Everyone understands that there is a clear lack of representation for people of color within brands [and] the NFL is a brand. Everyone knows that, and usually, that statement is made time and time again when the brands drop the ball on execution. The other elephant in the room that no one talks about or understands is that Atlanta has two problems. There aren't enough people of color in the room. There also aren't enough people who speak on behalf of Atlanta. When brands decide to activate campaigns, Atlanta is never in the conversation," said associate director of creative services at the American Society of Composers, Authors and Publishers Jason Reddick.
Before the announcement was official, Maroon 5 was urged not to perform, a petition was even made.
As reported by CBS News, Adam Levine responded to critics on Instagram following Maroon 5's performance:
"When we accepted the responsibility to perform at the SBHTS, I took out my pen and just wrote. Some of the words that came to me in that moment eventually made their way onto the incredible lanterns that flew high and low tonight. We thank the universe for this historic opportunity to play on the world's biggest stage. We thank our fans for making our dreams possible. And we thank our critics for always pushing us to do better. One Love."
34 comments