Lagerfield's legacy on the world of fashion
---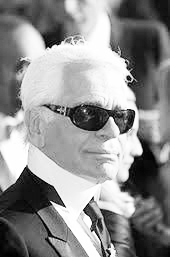 Julia Petrillo
Staff Writer
Karl Lagerfeld,one of the most famous fashion designers of the 20th and 21st centuries, died on February 19 at the age of 85 in Paris.
"It is with deep sadness that the house of CHANEL announces the passing of Karl Lagerfeld, the Creative Director for the CHANEL Fashion House since 1983," posted Chanel to Instagram.
Before his death, his health was rumored to be in poor condition, reports CNN. Lagerfeld was absent from his Chanel show in January due to fatigue.
The designer, is known for his work as the creative director of the French fashion house Chanel. Lagerfeld also designed for Fendi and for a label named after himself. Not only did he design for various fashion houses and brand names, but he also modernized the luxury fashion industry.
"Thanks to his creative genius, generosity and exceptional intuition, Karl Lagerfeld was ahead of his time, which widely contributed to the House of CHANEL's success throughout the world," said CEO of Chanel, Alain Wertheimer.
Despite his professional work at Chanel, Lagerfeld is also known for much more. This includes his appearance, he was rarely seen without his sunglasses, a white ponytail and fingerless gloves. Lagerfeld was also known for his outspokenness. That, and he was also a video game character, a DJ in Grand Theft Auto IV according to CNN.
In addition, Lagerfeld was also a photographer. The New York Times states that his work was exhibited at the Pinacothèque de Paris. To continue, Lagerfeld was also an author- in 2002, Lagerfeld published diet book about his weight loss entitled "The Karl Lagerfeld Diet."
In 1933, Lagerfeld was born in Germany. Though, his career began in 1954 when he won a womenswear design competition. He then worked under Pierre Balmain. His name really became known when he became creative director for Chanel in 1983.
"When I took on Chanel, it was a sleeping beauty. Not even a beautiful one. She snored. So I was to revive a dead woman," said Lagerfeld in 2007 documentary "Lagerfeld Confidential."
Chanel was turned into not just a fashion house, but a power house because of Lagerfeld and his business savvy. Not only did he bring back Chanel and its name, but he also collaborated with other companies.
From high fashion to high street brands, Lagerfeld designed a collection for H&M. Other designers then followed this business opportunity, like Stella McCartney, Comme des Garcons and Versace writes CNN.
His work at Chanel paved a new path for designers such as Tom Ford (Gucci), John Galliano (Dior), Riccardo Tisci (Givenchy and Burberry) and Tomas Maier (Bottega Veneta), according to The New York Times.
"The greatest tribute we can pay today is to continue to follow the path he traced by- to quote Karl- 'continuing to embrace the present and invent the future,'" said Director of Chanel's Fashion Creation Studio and Lagerfeld's closest collaborator for 30 years, Virginie Viard.
Even in his 80s, Lagerfeld was still designing and working. As reported by CNN, Karl Lagerfeld was designing approximately 14 collections a year. Not to mention, he was also working on special projects and collaborations from couture to high street fashion.
All of his collections and designs attracted celebrities from Rihanna, to Princess Caroline of Monaco and Julianne Moore, states The New York Times.
Celebrities paid tribute to lagerfeld shortly after his death.
"Karl your genius touched the lives of so many, especially Gianni and I. We will never forget your incredible talent and endless inspiration. We were always learning from you," posted Donatella Versace to Instagram.
"One of the greatest designers in the history of fashion. He has exerted an incredible influence over the fashion industry over the past six decades," said the editor-in-chief of British Vogue, Edward Enninful.
As Vogue reports, Virginie Viard has will be in charge of the creative work for the collections at Chanel to carry on Lagerfeld's legacy.
14 comments