Busy winter break for SEND
---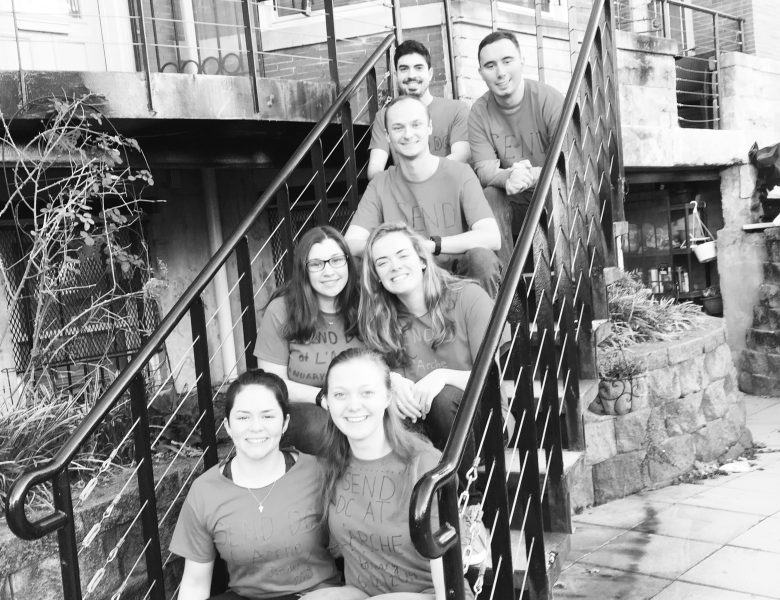 Mark San Clemente
staff writer
Something that people tend to lose sight of these days is being present with one another. Everyone is so busy, especially on a college campus. Whether you have work, a meeting, a group project, student teaching, or reading to do, people are always rushing from one place to another. We often forget to breathe and open our eyes to our surroundings. Living in the moment is something that is difficult to do at college, but it was simple when I embarked on a service trip.
Through Campus Ministry, students have the opportunity to participate in SEND service immersion trips. They occur in the winter, on spring break and in the summer. SEND trips allow Assumption students the opportunity to travel around the country and help various communities directly through volunteer work.
A small group of us were fortunate enough to travel to Washington, DC this winter break on a SEND trip to a community called L'arche.
We had the pleasure of being able to live in one of the three communal homes for the week and visit the other two communal homes during the days and evenings. At L'arche, people with intellectual disabilities are referred to as "core family members" and those who care for them are referred to as "assistants." We were welcomed with open arms to their homes and taken care of as if we were family.
We completed what seemed like tedious and redundant tasks such as cleaning the homes and vans, organizing cabinets, taking down christmas decorations and scrubbing toilets. Yet, these tasks made a huge impact for those who lived in these homes and utilized the vans. The assistants are too busy to do these tasks on a regular basis, so we were able to ease everyone's stress by stepping in to help out. In the evenings, we were able to get to know the core members, the assistants and the outside community better by having coffee at the local McDonald's, watching the core members' favorite TV show, Sanford and Son, with them, singing classic Elvis and Beatles songs together, or playing games such as pictionary. It was an incredibly fun and inclusive environment where people lived in the moment and thoroughly enjoyed other's company. 
There are three activities that L'arche, and in particular its founder, Jean Vanier, cherish. Jean Vanier stated, "There are three activities that are absolutely vital in the creation of a community. The first is eating together around the same table. The second is praying together. And the third is celebrating together. By celebrating, I mean to laugh, to fool around, to have fun and to give thanks together in life. When we are laughing together with belly laughs, we are all the same." All three of these activities are very much present in the lives of those who live within the L'arche community, and we were able to partake in it all. 
Every night, each member of the L'arche community came together after their busy days and we all ate, talked and enjoyed each other's company. No technology, no distractions; just being present in the moment with the people close to you. We also were invited to pray together after the meal we shared. Each prayer was special and meaningful. In addition to our prayer, we celebrated special moments together, like a family.
At the L'arche community in DC, they have what is called "celebration Tuesday." Every Tuesday night, the core members and assistants take time to celebrate something. It could be someone's birthday, their anniversary at L'arche, or just some reason to be grateful. We were lucky to be able to celebrate the birthday of one of the core members. We were once again welcomed as if we had always been a part of the family. We were divided into groups and had to perform a song and dance that showcased the core family member's gifts. While it was certainly out of most of our comfort zones, we all performed and had a great time laughing with one another. No one cared what you looked like, if you were being too silly or not putting in as much effort as others. It was such a comfortable, judgement-free zone where people could be themselves.
This experience at L'arche in Washington, DC made me realize that the best way to get to know someone is by being present and showing genuine care in conversations.
There were no screens to distract us from one another. There was a pure essence of being present and the desire to get to really know others.
Coming back to Assumption, it has been a challenge to embrace all that we learned and experienced with the L'arche community and bring it back to our everyday lives. Distractions are very prevalent, but I know I am trying to focus on living in the moment, observing all around me. I do not pull out my phone as I walk around campus anymore, as I want to fully embrace the sights and sounds around me. I want to have more roommate family dinners where we are not glued to our phones and just talk about life or nonsense. But, perhaps most importantly, I want to continue to pray for those who are less fortunate than I am, and remember all of those who we had the absolute pleasure of encountering during our SEND trip.
Being a senior, I wish I had decided to go on a SEND trip earlier. If you have the opportunity, go for it. You will begin to see things in a new perspective, become more self-aware of your surroundings and begin to live in the moment. You will receive many gifts, make new friends, strengthen old friendships, recognize how blessed you are and hopefully find a love for helping others and living in the moment. If you would like to learn more about SEND trips, contact Campus Ministry's Director of Volunteer Outreach, Vinnie Sullivan-Jacques, or visit the Campus Ministry office in Charlie's
Mark San Clemente, a senior, studies Human Services and Rehabilitation Studies. He is a staff writer for Le Provocateur.
6 comments