Patriots add to Boston's championships with Super Bowl LIII
---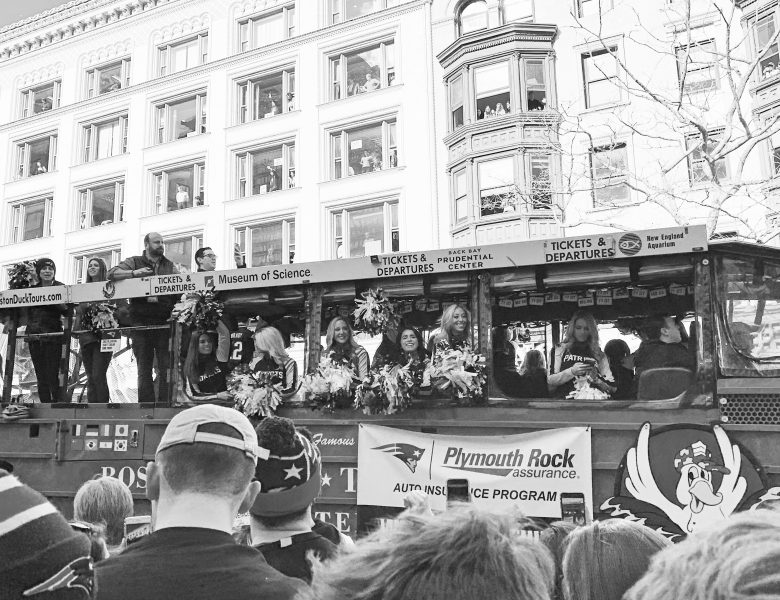 Samantha Surowiec
Staff Writer
Ninety-eight days after the Red Sox won the 2018 World Series, the New England Patriots kept the ball rolling, becoming Super Bowl champions once again. While the game itself was extremely boring and very low scoring, the lowest in Super Bowl history, the Patriots 2018-19 season itself was full of ups and downs.
The team lost numerous big players during the off-season and had a worse record than years past of 11-5. Wide receiver Josh Gordon stepped away from the team amidst mental health issues and a failed NFL drug test. The defense struggled all season, and people even began to question Tom Brady's competence to lead the Patriots.
However, the team took all the hate and doubt, using it to drive them to their sixth Super Bowl victory in just 17 years, all of which have been under quarterback Tom Brady. This win fully cemented TB12's notoriety as the greatest NFL quarterback of all time, as well as holder of the most rings out of any NFL player.
Another Boston win equaled another parade this school year. For me, it meant another early morning to get into Boston before crowds got too dense. The parade route began by the Hynes Convention Center on Boylston St. and finished up at City Hall. The train I took departed Union Station at 6:22 a.m., and only a few stops later, it was packed full of Patriots fans heading towards Back Bay or South Station.
I got into Boston around 8 a.m., and there were already quite a few people milling around Boylston St. A DJ had set up on the balcony above the entrance of the Lenox Hotel and was keeping the growing crowd entertained. Spectators were throwing foam footballs and tennis balls back and forth from opposite sides of the street, occasionally hopping the barricade to retrieve a stray throw. Even some of the Boston police officers were participating, throwing the footballs and dancing in the street and taking selfies with the crowd.
The parade was supposed to begin at 11 a.m., but in typical Patriots fashion, they kept us waiting. Confetti did not start floating through the air until almost 11:30 a.m. Of course, it was well worth the wait as Robert Kraft himself rolled past us in his duck boat, Lombardi trophy in hand, repeating "Thank you" to the crowd. Bill Belichick followed, waving his hat as the crowd roared.
Most of the players were joined by their significant others and families. Tom Brady screamed "Let's go" and held up the number six with his hands while his three children gazed out at us. Chris Hogan and his wife waved as they held their daughter and son.
Everyone appeared to be having the time of their lives, singing to the music that was blasting from the speakers. Rob Gronkowski was shredding an air guitar; Julian Edelman was dancing at the head of his boat, while others were waving flags and shot-gunning beers thrown to them from the crowd.
Seeing all my favorite players up close, rather than from my TV, makes the whole experience even more amazing. Nothing evokes more pride for a team, and a city, than a victory parade, and I am thankful every day that I am from Boston. But now I think that the time has come for another Boston team to step into the spotlight and onto the duck boats. That's right Celtics and Bruins, I am looking at you.
Samantha Surowiec, a sophomore, studies History. She is a staff writer for Le Provocateur.
1 comment