Senior retreat reflection
---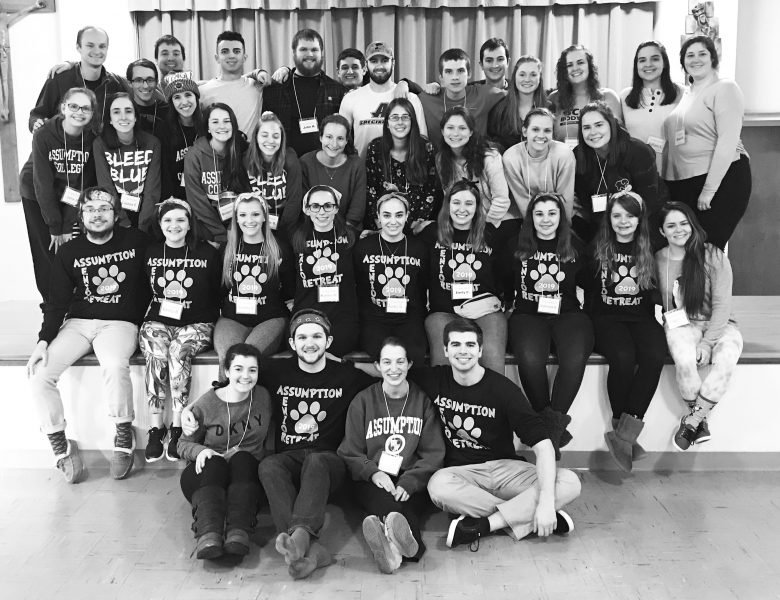 Deirdre Gunning
Staff Writer
"And no matter where we go, we always find our way back home."
I signed up to be a senior retreat leader, thinking I knew everything about God's plan for me and how I would finish my last semester at Assumption. Senior Retreat was the perfect opportunity for me to let down that guard and allow God to break my heart and put it back together in the most beautiful and necessary way possible.
I am student teaching in a first grade classroom this semester so I sprinted to Tinsley after school to pack up the van with the rest of the team. We laughed about how we would just be continuously crying the entire retreat which although we did cry (and we did cry A LOT)… There were even more laughs and memories made. We got to the retreat center in Putnam, Connecticut and ran around trying to set things up for the retreatants. I took a moment in my room and asked God to reveal Himself to all of us in a way we had not known before and for the Holy Spirit to guide the retreat for the glory of God. My prayers were certainly answered.
The retreatants arrived and we began playing ice breaker games. The games were enjoyable because although we knew majority of the people there since we had been in classes with these people for the past 4 years, there were still some new faces. The retreat allowed me to connect with old friends and new ones. These ridiculous games continued throughout the weekend with even a very competitive round of musical chairs that I swore was being played at an Olympic level. Although, an Olympic level consisting of jams by the Jonas Brothers and Jesse McCartney.
We heard four talks, comprising of two alumni and two seniors in our class. The seniors were open and honest about their experience at Assumption and how they feel right now which made their talks very relatable. The alumni shared some tips and tricks on how to make every moment count for our last semester and some advice on post-graduation life. These talks were not only inspiring but comforting.
My small group was an all-girls group and we shared similar experiences in that we thought we knew what God wanted from us but were perhaps uneasy with the unknown of post-graduation life. However, there's a saying that goes like this, "If you want to make God laugh, tell Him your plans." This rang truer for me than ever. I think God was in Heaven not just laughing but having a field day, hearing me talk about what I thought was my plan. The retreat opened my eyes and heart to listen to God. I felt God call me to think beyond my tunnel vision and realize there are plenty of opportunities out there. I just had to trust in Christ that a job will not only bring myself closer to Him but also all those who join the journey with me.
I left the retreat not being able to fully describe all the graces that encompassed the weekend but there was one word I felt could describe how I felt: Fulfilled. I feel very full of God's love and grace and feel ready to explore His plan for me. I have spent the past couple days post retreat, in the chapel, praying for God's plan to be revealed or in the prayer room, writing my resume and searching for jobs. The Senior Retreat has comforted me with Jeremiah 29:11, "For I know the plans I have for you," declares The Lord, "Plans to prosper you and not to harm you, plans to give you hope and a future." I do not know what life after Assumption looks like quite yet but I do know that we will always find our way back home at 500 Salisbury Street.
Deirdre Gunning, a senior, studies Elementary Education and English. She is a staff writer for Le Provocateur.
2 comments