Everyones favorite band of brothers is back…
---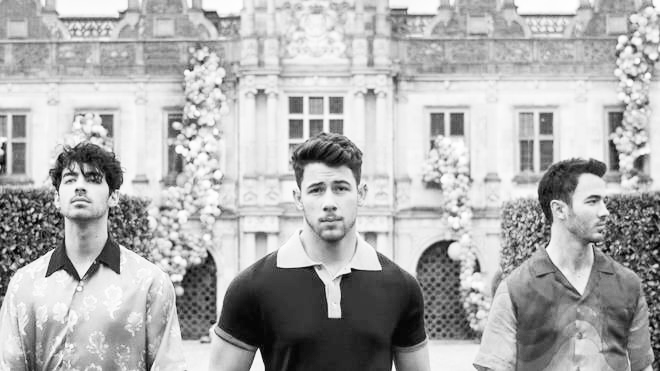 Lauren Fitzgerald
Arts & Entertainment Editor
The year is 2007. "High School Musical 2" has just finished it's premier on-air on Disney Channel. Before anyone can change the channel, three boys appear on the screen. They call themselves the Jonas Brothers, and they introduce the premiere of their music video for their song "Hold On." This was the start of everything for them. Afterwards rose their numerous hits, such as "Year 3000," "Love Bug" and "Burning Up." As a young pre-teen girl, I was captivated. I certainly was not alone.
The Jonas Brothers were a worldwide sensation for years after. The group composed of three brothers: Nick, Joe and Kevin Jonas. Their posters occupied millions of people's walls. Everyone, and I mean everyone, wanted to be their muse. They took hundreds of cities by storm during their world tours, with spinning stages, rain effects, and celebrity team-ups. They ruled Disney Channel with "Camp Rock," "Camp Rock 2" and their own show, "Jonas." Their boyband career came to a halt after 2010, and they each went their separate ways.
Now, all of their grown fans are wondering if this year is 2019 or 3000, because they have come back in to the spotlight completely out of the blue. In the past few weeks, there has been speculation about the Jonas Brothers reuniting. This was only a rumor, until February 28, when James Corden announced their coming back together in a Carpool Karaoke snippet, dedicating a week of his show to them. Then, that night, they released their first single since 2013 called "Sucker."
In the song "Sucker," they have finally found their muses and, unfortunately, it's not any of us. The song itself is upbeat, much like their pop-rock genre prior, though a little less intense. The tempo is catchy and unique, but also fun. They managed to make the song stick to their usual style, but styled it to be more relevant to today at the same time. They have never had a problem harmonizing each other's voices, and this song continues to prove such. The song was released as a music video as well that same night. They shot the video in England with their wives, as it shows them dancing, singing, dining and having crazy fun. For their breakout song, this was the perfect hit.
Them reuniting again came as a surprise for many, due to the fact that they had tried once prior. In 2013, they released a single, "Pom Poms," and promised they would reunite after having been inactive for a few years. Instead, that year they announced their official break up right before what was supposed to be their tour. They explained on Good Morning America that the cause was disagreements with music style, music videos and opportunities. "We've reached a place where we feel like we're best suited to do our own individual things, all things we're passionate about, and choose to be brothers first," explained Nick Jonas.
Then came more from their solo careers. Joe started a band called DNCE, their multiple hits skyrocketing the charts. Nick began his solo career, releasing an album with hit singles like "Jealous" in it. Kevin, well, who knows. For a while, it seemed like the "JoBro's" were a thing in the past. To them, it was worth keeping their relationships in check.
While I am certainly happy that the Jonas Brothers are back, I also can't help but wonder if it will be the same as before. Maybe they have settled on an agreement for their music in the future, or maybe they are just riding the wave. I am sure many people share these same questions with me. Will the Jonas Brothers get through a tour without fights this time? How long will they be sticking around? Will Kelly Clarkson really be on their seventh album? Where in the world is One Direction?
63 comments