Agape Latte speaker shares key to "Falling Up"
---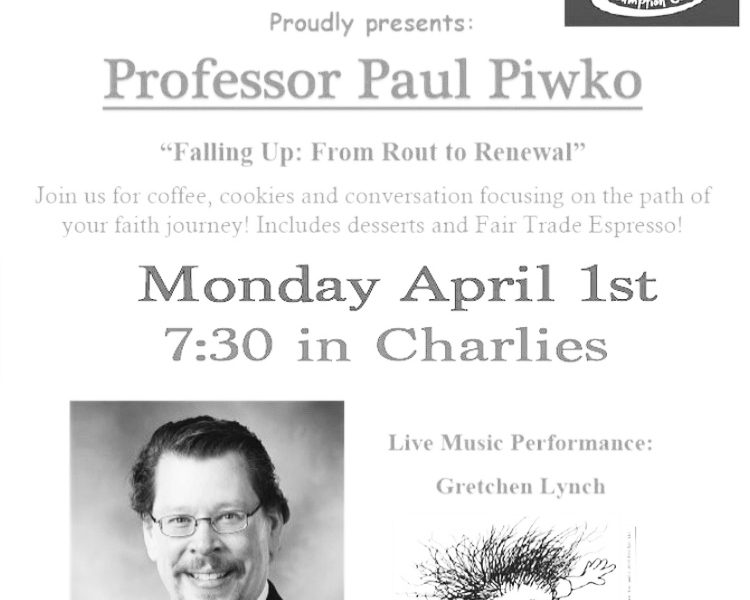 Skyler Hesch
Staff Writer
On Monday, April 1st, Agape Latte hosted their second event of the semester in Charlie's. Despite having to cancel their event many times, due to illnesses and conflicts, Agape Latte was finally able to reschedule their event.
This event's musical guest was Gretchen Lynch, a senior majoring in Human Services & Rehabilitation Studies. She is very involved on campus, serving as an Orientation Leader, Admissions Ambassador and co-founder of the college's second A capella group, Greytones.
Her love of singing and music began at a young age, when she was just a young elementary school student singing on the school bus. Her first song was Calum Scott's, soulful piano ballad, "You are the Reason," which talks about the ability of true love to override doubts and problems in any relationship. She closed with Kacey Musgraves' "Rainbow," another emotional piano ballad about maintaining hope, even in the darkest of times.
Gretchen said, "I was really glad that Emma reached out to me because I've always admired the Agape events, so I'm glad I got the chance to sing at one."
The event speaker was  University of Massachusetts at Amherst graduate, Professor Paul Piwko, who is in his fifth year teaching Accounting here at Assumption. He can be found in the Business department, mentoring SOPHIA collegians, or eating lunch in Taylor Dining Hall at 12:30 on Monday, Wednesday, and Friday.
He is a believer that "falling up" is what leads us to a new way of looking at life. This mantra was reflected in his talk, called " Falling Up: From Rout to Renewal."
Unlike most Agape Latte speakers, Piwko wanted to start his time on stage with an ovation, like one would usually get at the end of a speech or musical performance. He got exactly what he asked for, as over 60 students and faculty members clapped, cheered, and rose to their feet.
After admitting how nervous he was to give this type of talk, he started talking about the nature of the words "rout" and "renewal." Most commonly used in a sport context, "rout" may be defined as an overwhelming defeat, a humiliating loss, a state of confusion, or a state of being totally vanquished. In direct contrast, Piwko defined renewal as the act or process of making changes to improve something and make it more successful.
Although being in a state of rout may seem undesirable and something most humans would run from, Shel Silverstein's poem, "Falling Up," talks about how being at a low point isn't necessarily a bad thing.
To relate this to his own life, Piwko described three specific stories in his life in which he has seen others, or experienced himself, a time of "falling up." First, in October of 2008, Piwko's college roommate and close friend Nick passed away. When the phone rang at 7:15 that morning, Piwko immediately knew his friend had died.
At his funeral, Piwko watched Nick's wife, Christine, reach a breaking point of sadness, but in this time of extreme need, her South Carolina community reached out and surrounded her, giving her a sense of home in a hard time. While married to Nick, Christine lost her faith, but after his death, it was restored.
Second, Piwko's  grandfather grew up poor and had to drop out of school at 15 years-old to help pay the bills while he watched his older brother go to seminary, only to drop out a few years later.
Though enraged and clearly upset, Piwko's grandfather continued to put his faith and belief in the importance of education first, and ended up falling up, even when circumstances were against him.
Last, Piwko related the concept of "falling up" to his own life, describing how he left Assumption to pursue his dream job, only to find out he missed the place with the cross on the wall – Assumption, the place he could call home.
Though we often avoid the times of rout in our own lives, Piwko talked about how these hard times are what become our foundation and ground us as we fall up, along with grace, forgiveness, and acceptance and purpose. Piwko said, " I'm pretty good at falling down. I'm trying to fall up instead."
Skyler Hesch, a junior, studies English. She is a staff writer for Le Provocateur.
2864 comments