Civil Rights Activist advises Students to keep Fighting
---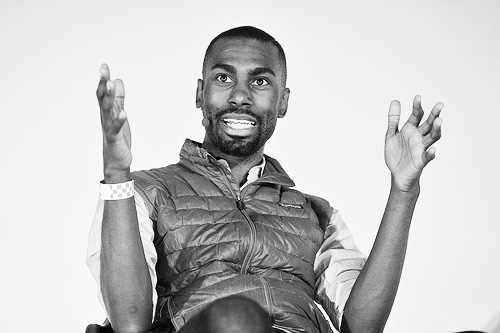 David Cifarelli
Editor-In-Chief
As a keynote speaker for the College of the Holy Cross' Unity Week, civil rights activist DeRay Mckesson gave a talk about racial injustices in the country's legal system. The talk was held at 8:00 p.m. in the Hogan Campus Center ballroom on Tuesday, March 19th. The talk came amidst a time where students recently conducted a massive sit-in protest.
The quiet protest, held outside President Reverend Philip L. Boroughs' office last month, was designed to show disapproval of the administration's handling of sexual misconduct allegations made against two of the college's faculty.
Some are calling this sudden rise in activism at the historic for the institution. Therefore, Mckesson's talk offered opportunities for future activists to gain insight from a prominent figure in the field.
Mckesson has long been involved in the activist world since he graduated from Bowdoin College. A Baltimore native, he began his career in education through Teach for America where he found his love of working with children. However at the same time, he had been very active with staying informed on developments in the Black Lives Matter movement.
After spending nearly every weekend in St. Louis, amidst racial injustice riots and protests involving the lives of children, Mckesson quit his job at Minneapolis Public Schools to follow the movement full-time.  
From there Mckesson got directly involved in the movement; taking part in protests, organizing riots, being imprisoned and even having numerous death threats posed against him. However he rose above the ranks and became a lead activist for Black Lives Matter.
Mckesson also launched his own campaign, known as a policy platform to end police violence called Campaign Zero, and currently hosts a podcast series called "Pod Save the People."
According to an article from the Worcester Telegram & Gazette, one of his own testimonies, that specifically struck students was Mckesson's involvement in the Ferguson riots where he took part in protesting against the unlawful killing of Michael Brown by police.
"Once we got the attention, we didn't need to be in the streets anymore," the source reported him saying on his own experience, "sometimes confrontation doesn't have to be the flashiest…the grind after the big thing is showing up to all the meetings.   
Aside from his own personal anecdotes, the activist's conversation focused generally on key facts and statistics about police brutality and training in the United States. He mentioned the 48-hour rule, where officers are given this time frame before sharing details of their violent encounters.
Mckesson continued to explain how this flawed perception of better cognitive memory overtime threatens the credibility of officers in the criminal justice field. The concept also ultimately impacts the sentencing structure and conviction of criminals.
Tied to this, another concept Mckesson brought up was unconscious bias. This concept states that human beings, even those in law enforcement, possess certain views on other races without even presenting them as biases. They stem from a psychological background of not directly involving oneself with another race.
When put all together, how can the public accurately justify these convictions in the South if their law enforcement officers are predominately white and incarcerating predominately black criminals? This was one of the many points Mckesson was attempting to clarify and present to these activist students.
Another interesteing statistic Mckesson offered was that less than 10 percent of prisoners in America are convicted of violent crimes. Even less so are reported. Why is it then that the increasing number of violent crimes being is tied to the arrests of black men? Mckesson also mentioned that if an individual's name is not in the papers, they theoretically do not exist.
Most police departments do not process these cases or information unless they are brought to a national field. So one can imagine how much information has not been pursued.
"We're always trying to fight at the system level – we never let the system off the hook," Mckesson said, "There really is a set of laws and practices that almost guarantee police officers won't be held accountable…we always want to fight at that level."
Mckesson's talk also touched upon strategies to make activism more effective. e He stated that by creating "entrances and on-ramps" and educating and recognizing one and others on the connections between social issues will get more people involved.
The activist also introduced a term known as "sharing the cognitive burden" of social justice. He uses this term to challenge people to explain their positions on social issues.  
The end of Mckesson's talk was open to questions and discussions. Most of the questions revolved around the education of students, with multiple students asking for advice on how to become better activists.
Mckesson's advice for students was to "follow your heart as far as you can without hurting yourself," hinting at the fact that the fight against the system never ends.
David Cifarelli, a senior, studies English and Italian. He is the Editor-In-Chief of Le Provocateur.
29 comments