I left my heart in Admissions
---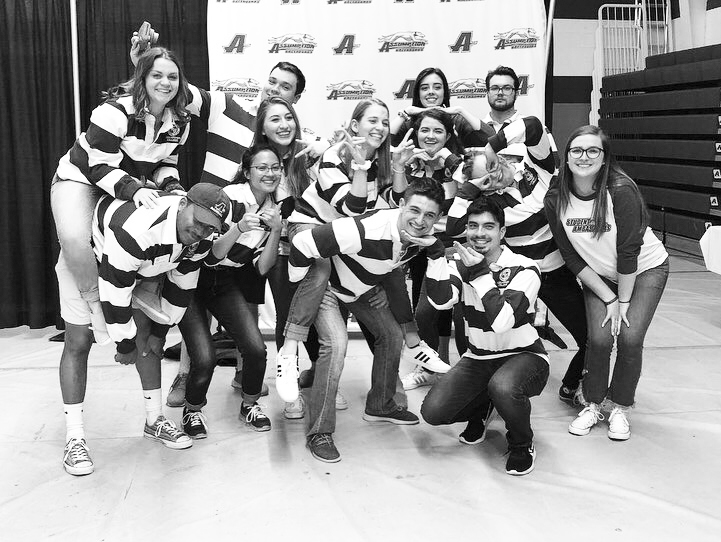 On Sunday, April 7th, I worked my last Accept Assumption event at the college. As I sit back and write this I am overwhelmed with the emotions stemming from the short, but amazing, experience I have with working in the Admissions House as well as alongside some of the best coworkers known to man.
I was gazing at all my past photos from my Accept Assumptions over the years and ended with looking back at the photos taken at the end of the event this past Sunday. It makes me incredibly sad that this experience is essentially over, but I also am incredibly grateful for what is has taught me. So for the rest of my column, I'd like to talk about some of the highlights from this experience as well as greatest lessons learned.
Number One: I love working with students. It was not until this year that I realized my strong passion for working with students. I have been an Orientation Leader and involved in Orientation multiple times now as well as tutor in the Academic Support Center, so I've had my fair share of experience working with students. But there is something special about helping and guiding students through the college search process that really sticks out. I love hearing about their interests, their experiences, what brought them to their school choice and how they like or dislike their college. There is just something about this business that will have a hold on me for the rest of my life.
Number Two: A team is a team…no matter what. Going back to orientation, I formed immense bonds with not only one, but also two teams. To this day I consider some of these individuals the best and closest acquaintances of my time here at Assumption. That same tightness transfers over into my work in Admissions. We as an ambassador team are quite the bunch – ask any of us and we'll let you know. We play off each other's strengths and weakness, get each other coffee, lift each other up, create handshakes, reference Vines, co-lead tours while throwing in inside jokes. Everything good about a team exists with the many other ambassadors I have been able to share my time with – and I love each and every one of them in their own way. I just hope I impacted their lives as positively as I feel they impacted mine.
Number Three: I am very good a crowd control. If there were a major for directing and corralling people I would exceed all expectations. It's really quite impressive when you see a whole flood of people move by your command. A number of people from work have even pointed it out to me. So I must be doing something right in that aspect.
Number Four: You are making an impact. All my life, I have wanted to make a positive impact in people's lives. Whether it is a friend who's going through a breakup to a family member who just wants to spend time with me, I really do try to positively change lives. That is why this line of work supports that endeavor. I did not realize how much of an impact I had until I started working with students. Now it's at the point where people are making their deposits to Assumption because they decided the school was right for them from their experience. Students are coming up to me to say, "Hi, do you remember me?" from a tour I gave them this past summer. They are also coming back continuously to see the school again and I get to ask them how they are doing. It's all about their success and finding their future home – and I always hope they find what they are looking for, I just hope I can be the one who puts them in the right direction.   
Featured Quote: "Once you carry your own water, you will learn the value of every drop."
Featured Song: "Snow White" by Roy Woods
Featured Image: One last "Hound Yeah"
David Cifarelli, a senior, studies English and Italian. He is the Editor-In-Chief of Le Provocateur.
4 comments