Assumption hosts its 3rd Annual Veterans Day Observance Ceremony
---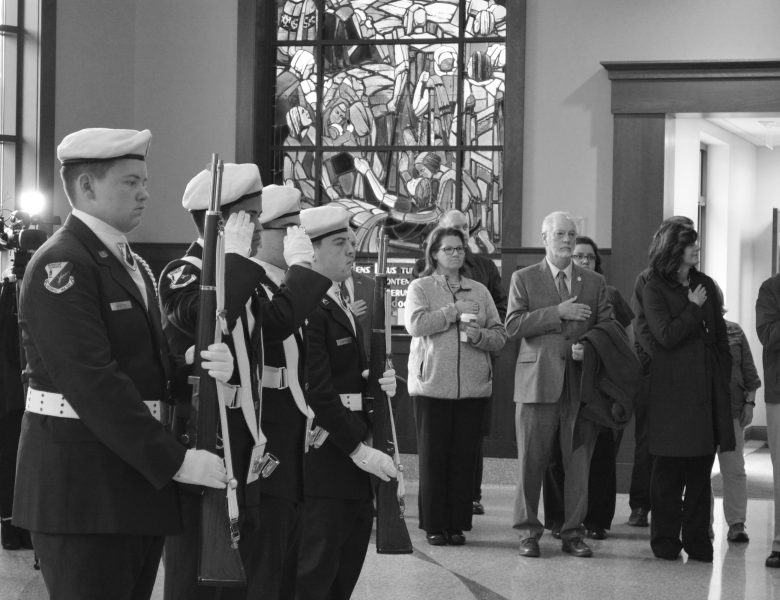 Morgan Maddock, STAFF WRITER
The night before Harold P. Naughton Jr. left for his first tour in Iraq in the summer of 2006, his father took him out to a bar in Clinton, Massachusetts. Naughton went into the evening thinking that they would talk about his father's war, but his father instead spent the night telling him stories about the various people in the bar. Naughton said his father knew something about each and every one of them; he knew some struggle they had overcome and how.
"As we were leaving that bar later in the evening, knowing I wouldn't see him for close to a year he looked at me and he said, 'Here's the deal. Remember those people in that bar and the stories of their lives.'" Naughton said. "'That's what you're going away to protect.'"
On Thursday, November 7th, Naughton, a legislator in the Massachusetts House of Representatives and Iraq and Afghanistan veteran, was the featured keynote speaker at Assumption's 3rd Annual Veterans Day Observance Ceremony. Those in attendance included both students and staff of Assumption, as well as members of Naughton's staff, members of the Worcester community and local veterans being honored.
The ceremony began with an opening from Burncoat High School Junior Air Force ROTC as they presented the colors. Following them, members of Assumption College's acapella group, Voce, sang the national anthem. Freshman member of Voce, Leah Scontras said, "I appreciated that they took note of Veterans Day and I liked being a part of it, because then you're a part of something bigger than yourself."
Assumption President Francesco Cesareo introduced Representative Naughton with pride, as Naughton is a member of the Assumption Class of 1982.
"Hank has dedicated his life to serving the community, the commonwealth, and the nation," said President Cesareo. The bulk of the ceremony was devoted to Naughton's reflections on not only his service, but the impact Assumption College had on his perspective on service and life.
"The tradition of this college is to form graduates known for critical intelligence, thoughtful citizenship, and compassionate service," Naughton said. He expressed his gratitude to the college for inviting him to speak on the importance of Veterans Day, and more specifically, the importance of Veterans Day to our nation's veterans.
Naughton shared how his journey to service began on September 11th, 2001 after he dropped off his son for his first day of preschool, only to arrive at his office just in time to watch the second plane hit the South Tower of the World Trade Center.
"The protection of this country and the wars to be fought for this country should not just be left to the young or the poor or the childless," Naughton said. This was the reason he joined the United States Army.
As the oldest member of his basic course by 17 years, Naughton had a different experience of the war than his brothers in arms. He felt that his understanding of what he was fighting to protect and his passion to defend it was well-defined by then. This was not only due to his age, but also the values instilled in him by his faith, his father as aforementioned, and what he learned at Assumption College.
"The warmth that I always feel upon returning to Assumption is very special," Naughton said of his alma mater. Following Naughton's speech, he and President Cesareo presented all present veterans and current servicemen and women with challenge coins. "You earn them," Assumption freshman Christian Cotton of the Marine Corps Reserve explained. "It felt like we were being recognized by the school which is an honor."
Following the presentation of the challenge coins, members of the Burncoat High School Junior Air Force ROTC retired the colors, and all present were invited to a reception directly after the ceremony.
The ceremony was an excellent reminder of what Veterans Day is all about. "To those of you who have served, have those conversations," Naughton said, speaking of the talk he was supposed to have with his father about his experience in World War II. "How will the kids know what brought them here today? What sacrifice created the opportunities for them?"
Although Veterans Day itself may be over, the opportunity to talk to a veteran and learn their story has not passed by. Celebrate them this month, by learning their story, and thanking them.
Morgan Maddock, a first-year, studies English. She is a staff writer for Le Provocateur.
10 comments