Campus Police Continue to Work Hard to Ensure Safety on Campus
---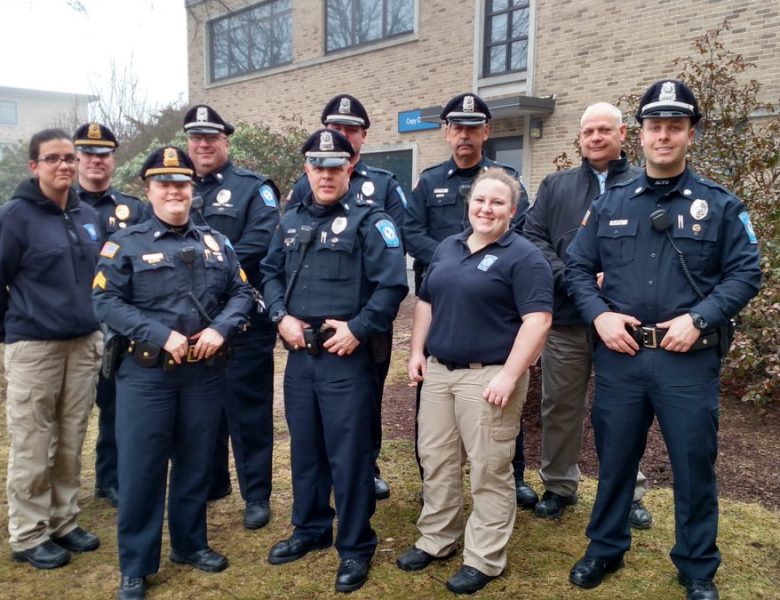 Maria LeDoux, STAFF WRITER
Located in the lively city of Worcester, Massachusetts, Assumption College is set apart on the West side of the city. As soon as you turn into the gate on Salisbury Street, visitors are greeted with a smile, as well as, the vigilant eyes of the workers on duty. A friendly 'hello' is exchanged between the driver and the gatekeeper, meanwhile the gatekeeper is able to see what visitors are coming onto campus.
The Department of Public Safety is staffed 365 days a year, 24 hours a day. With around the clock police officers on duty, the campus is always being protected by the selfless individuals who work tirelessly to ensure the safety and productivity of all students, faculty, and administrators on campus.
The 21 officers and dispatchers employed through the Department of Public Safety are always readily available for any concern or situation that may require their attention. There are two officers on duty at all times. The officers are constantly on guard while they visibly patrol campus, monitor visitors and guest passes, and offer Rape Aggression Defense (RAD) training. "I have been teaching this program for six and a half years and we have had hundreds of students. They have used their skills and reported it to officers. The girls involved build this network during the class and during the program", says Sergeant Gagne.
Equipped with 77 cameras around campus, Campus Police are able keep an eye on what is happening. Along with the RAD program, which is offered twice a semester provided through the guidance of Sergeant Rebecca Gagne, Assumption College was the first institution to have a campus assault advocate. Being the pilot for this successful resource that proved extremely useful, other colleges and universities quickly followed suit. The duties of campus police officers are to be alert and on guard for credible situations, to give out information deemed necessary to keep the public safe, and to be aware of those around us.
It is imperative for the public to be vigilant of their surroundings and aware of the possibilities of the actions of others. Education is crucial to being informed and being able to stand up when things go wrong. The RAVE Guardian app is strongly encouraged by Campus Police for all students to download. The app is an active blue light in your pocket. It allows students the ability to report tips anonymously, have friends track you so that they know you are safe, and give you the option to call campus police in case of emergency.
Chief Steven Carl and Sergeant Rebecca Gagne echo the mission of the Public Safety Department in their words and actions. "Be an active bystander! Don't be afraid to call the police. A lot of people come in with the perception to not talk to the cops", says Chief Carl. Campus Police encourage active participation and being aware of your surroundings. "We are here to help and we want to build these relationships", says Sgt. Gagne.
Campus Police officers enjoy being with students and interacting with them. These officers could get a job in a city or town police department, but instead they choose Assumption College. "In a city or town you don't get that sense of community. We have that time to do that", says Gagne.
The Assumption Campus Police do everything in their power to investigate all activity and situations dealing with crime, along with providing support and resources. Sergeant Gagne works with all survivors of sexual assault on campus and works to ensure their privacy and safety. "They are going to be in the driver's seat to see how far it goes. I have an obligation to them.", says Gagne. Ethics do not change and by making people uneasy about campus police, it may deter victims from feeling comfortable going to the officers who have dedicated their careers to service to the community and for the Assumption campus. Survivors are encouraged to self-report and be assured that it is not their fault. Sgt. Gagne's reassurance and intellect into these situations is impeccable. She is trustworthy, dependable, and strives to keep every student safe.
Chief Carl repeated the phrase "Be your brother's keeper… Be your sister's keeper". Look out for your fellow Hounds and be vigilant of your surroundings. "We are educating you for the real world", says Carl. Take the advice and knowledge of your professors seriously, both inside and outside of the classroom.
Campus Police enjoys interacting with students. "I have a good relationship with SGA. A lot of chief of polices don't want to deal with it. I have been doing everything else for 31 years. What's exciting is dealing with the young people. They have different ideas and view things differently", says Carl.
"I enjoy the community. Every student on this campus is great. They really are great people. Everybody stumbles, but we work through it and I have been able to develop a rapport with them. It makes me feel good coming to work every day because I feel like here I am actually making a difference in people's lives. I have a sense of purpose in doing this job. I am fulfilled. I do these things because I love to do them", says Gagne.
As college students, we are learning how to be fulfilled in not only our careers but our lives. The Assumption College police are an inspiration. They work tirelessly everyday of the year to keep us safe. As we continue our education and move into a new community after graduation, we must always remember to always say 'Thank You' to our police officers.
Maria LeDoux, a sophomore, studies English Writing and Mass Communications. She is a staff writer for Le Provocateur.
14 comments