In A Bubble: How does the Assumption community compare to the world outside 500 Salisbury Street?
---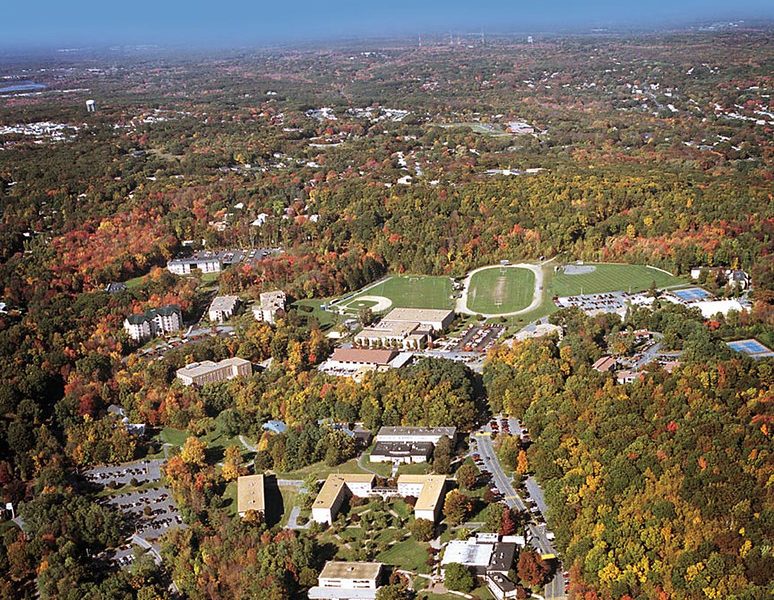 Lily Raso, STAFF WRITER
Tom Angell, STAFF WRITER
Last week, as I was driving around the corner where the new speedometer has been placed next to Taylor Dining Hall, I started thinking about how beautiful our campus is in the fall. The leaves here in suburban west side Worcester seem to be brighter every year, and I take note of this as the hill behind the football field comes into view. That one observation spiraled into another and another, eventually leading to the realization that we, the students of Assumption College, are living in a small bubble that spans 185 acres wide. Having one entrance both in and out surrounded by a small stonewall only goes to be a physical reinforcement of this fact. I would like to point out now that this reflection is not intended to shine a negative light on Assumption or the small school community, but rather I am using it to positively prepare myself for wherever I may go once I leave 500 Salisbury Street in May.
Inside our small bubble, we have resources galore. These resources support our personal health, academic growth, safety, social life, religious life and much more. Some examples of these resources include that we are protected by our campus police department, we are cared for by our health and counseling centers, there are three different places for us to enjoy a meal at, we are supported academically by our professors who host a minimum of six office hours a week providing direct feedback, we have student tutors who are available to assist us with any classes we are taking, there are over sixty clubs and organizations that we can be a part of, we are offered a free gym membership that we can use and quite a few more. These resources are all placed here for us to use so that we can focus on our future. However, you only get out what you put in. This is something I did not realize until after sophomore year began when I joined my first club. I had so much fun doing it that I started to explore what else I could do around campus in order to enhance my experience, and was able to find activities that I continued to get involved in each year.
At Assumption, we are all running our lives around the exact same rotating schedule. When one class gets out, every other class gets out. The campus floods for the 10-minute change between your 11:30 and your 12:30, and then empties at 3:00 when most classes have finished. We all revolve on similar schedules here in our little bubble and are all like fake plastic snowflakes floating in unison around a snow globe.
Socially, our culture is different than other larger schools. This is not only due to its small size, but also the similarities people have with one another. Yes, every Assumption student has their own lifestyle, but many of us all have similar goals. These goals can include things such as: succeeding in our various academic fields, being a student leader to others, being the best athletic team, volunteering as an intern to boost your resume and eventually graduating with a degree from a liberal arts college. When you walk through campus, it is likely to see a friendly face that you just saw yesterday, but you are also likely to see someone you share history with, whether that be a good or a bad thing. Here, everyone knows everyone else's business. I am someone who can handle that, but that does not mean I prefer to know everything about someone that I do not even know. This makes it difficult to ignore pre-judgments that you have heard from others when meeting someone new. Personally, I have learned that the "reputations" about my fellow classmates have always been inaccurate once I have gotten to know them. No one is the same person they were freshman year, and that is just a fact.
Having the opportunity to receive a college education is a privilege. Attending Assumption College is also privilege, whether you realize it or not. As students, we are given an endless amount of opportunities that we can take advantage of while we are here. I believe that many people, including myself, do not take enough time to stop and realize how grateful we are to be able to go here. When we received our acceptance letters, we were not just accepted to a college, rather, we were accepted to a four-year liberal arts school that provides us with a door-holding community where someone will always be cheering us on. Yes, this cheerleading squad can be some of your favorite peers, but it can also be the professors or staff members that make Assumption the place that it is. The staff that I have encountered here have been amazing. From Sandy and the Tays/Chucks staff, to Kostanza and the Dunks ladies busting out coffee orders yelling "Hi, you?" in a warm voice, to Joe my favorite janitor who never fails to make my day better, to each Professor that I have had throughout my four years here, I have never felt so welcomed. These people are the ones who believe in our journey so that we can believe in it ourselves. If you go to a larger school, the staff may be just as supportive, but you have to find that support. You need to make yourself memorable by reaching out, and that can be challenging due to how large the student body is.
As a senior, I am constantly being told: "Do it all while you can, it's all downhill from here." Although it sounds like sarcasm, it is true. The reality that I will eventually face is that college does not accurately represent the real world whatsoever. There, I will have to go through the motions of life, with no hands to hold and definitely more bills to pay. But this real world is life, and we must be prepared to live it. This attitude is something that I will keep in mind as I move forward, helping me appreciate all that Assumption has given me. Assumption has made me realize even more deeply the power of genuine human interaction, and this lesson will be with me for the rest of my life. As I leave college the best unsolicited advice I can give to an underclassman would be to listen to other people's stories. Everyone has his or her own unique journey, and oftentimes listening to someone else's story can help guide you through your own difficult times.
Lily Raso, a senior, studies Marketing. She is a staff writer for Le Provocateur. Tom Angell, a senior, studies History and Education, He is a staff writer for Le Provocateur.
0 comments