Tall Grass Tom's Country Music Corner: Eric Church concert and Luke Combs album review
---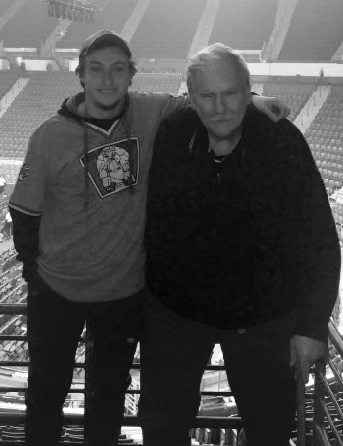 Tom Angell, STAFF WRITER
Country music is in the midst of a neo classical revival. Guys like Luke Combs, John Pardi and Midland are bringing traditional country back into the mainstream. Real instruments and substantive lyrics are back in vogue as the cliché pop drum beats and "Bro Country" are being left to hangout with the proverbial tumbleweeds. One artist who has consistently put out country music that is genuine and powerful is the North Carolina native, Eric Church. I got the opportunity to see him live on his Double Down tour with my dad not that long ago, and wow. His performance was truly worthy of a poorly written college newspaper article. If you are just here though for the Luke Combs Review, skip the next two paragraphs.
To set the stage, we saw the show down in Hartford, Conn. at the jam packed, falling apart XL center. The tickets were a Father's Day gift for my dad and we had this date marked on the calendar for months. We even had a World Series bet going to see who would buy drinks at the show, which I won (thank you Nationals). To go from song to song describing the show would be unprecedented and tiresome. What I will do though is mention some of the highlights of what was an incredible night. He opened his set dramatically walking out to an up-tempo, electrified version of "Damn That's Rock and Roll" off of his 2013 album, "The Outsiders." The stage was set up with three triangular screens that moved forward, backwards and up and down above a hallow rectangle stage with room for VIP's in the center of the carved out middle section. He then transitioned to an energetic rendition of his title track from his latest album, "Desperate Man." With two songs in, my dad and I looked at each other and without saying a word we knew this would be a great night.
What was great about this concert is that there was no opener. It was two sets with three plus hours of music from a country music legend, and boy did he give everything he had. As someone who was once kicked off a tour for playing too long, Church surely lived up to that reputation down in Hartford, Conn. He broke this up into two sets with a brief intermission. At the beginning of the second set, one of the more intriguing parts of the concert took place. During his performance of "Record Year," a song off his 2015 surprise album, "Mr. Misunderstood," Church stopped singing while the music in the background kept playing. He started to grab vinyl records from the excited audience and hoisted them up victoriously explaining their significance before he signed them and returned them to the lucky VIP's in the front. Some of these records were his, like his 2006 debut, "Sinners Like Me." Others though were albums such as AC/DC's "Back In Black" or Bruce Springsteen's "Born in the U.S.A." To each of these explanations for each album, the crowd went bonkers. One of the consistent treats of the show was backup singer Lauren Cotton, who came on stage quite a bit to help with a couple duets and offered a powerful and boot stomping performance of "Mixed Drinks about Feelings." My dad's and my favorite part was deep into the second set when the familiar Church played his new hit single, "Some of It." As the familiar picks of the acoustic guitar strum blared over the arena speakers, my father and I immediately turned to each other and shouted, "It is our song." Screaming the opening lyrics, "Beer don't keep, love's not cheap, trucks don't wreck themselves" at the top of my lungs with my dad is something I will never forget and I know it was an experience he cherished.
Now what many of you have long awaited: Luke Combs, "What You See is What You Get" album review. As a disclaimer I will come out and say, I like this album a lot. To get the negatives out of the way first, I will start with the obvious. It is a bit too long. At 17 tracks, there is a lot of music to be had here. Personally, I believe most good records are between 9-14 tracks with a few exceptions. Unfortunately, another flaw is that some of the charm of Combs has worn off a bit now that people are used to his style and descriptive lyrics. He mostly plays it safe on this record keeping to similar themes, catchy lyrics and songs that sound similar to each other. The only major flaw is the track "All Over Again," which seems out of place lyrically and musically thin, finds Combs closer to pop music than any of his other tracks to date.
Now that I got the necessary objective criticism out of the way, it is time to tell you why I really like this record and really like what Combs is doing. He continues to raise the standard of radio country with every hit song. He is a big improvement on the wasteland of Thomas Rhett's and other mindless wannabe pop stars that take advantage of country radio to get played. The first five tracks of his latest album, which had already been released as an EP this summer, are all diverse and bring something different to this album. However, asking the question of whether these five songs were necessary to put on the album is a valid question, and some would argue they serve to detract from the album. Of these first five songs, "Refrigerator Door" is my personal favorite, as I feel this vignette is highly relatable as someone who equally has a messy fridge with magnets galore. The album for the most part continues along this same realm of consistency.
Combs does a good job sprinkling in good features with the rocket speed beer drinking anthem, "1,2 Many," featuring Brooks and Dunn and sentiment filled "Does To Me" featuring Eric Church. The lyrics on this album are equally as descriptive as his major label debut back in 2017. The title tracks have some of the most humble lyrics on the record and serve as his self-proclamation of who he is, which is a simple guy who has nothing to hide. One of my favorite lines on the whole album is on the track "Blue Collar Boys." Combs simply puts, "We're the white paint peeling off a picket fence, the rust stains covering a craftsman wrench." This lyrical simplicity, which as someone who has used a rusty craftsmen wrench can relate to, is echoed on the closing track. This song is a love song called "Better Together" which has simple piano keys as the only accompaniment. Overall, I definitely enjoy this album. I would love to see Combs expand his sound a bit, explore some new topics and maybe throw in a female duet or two. Combs and Church have produced some of the best country music recently and have drastically raised the stakes for a genre in need of redefining what it is.
Tom Angell, a senior, studies Secondary Education and History. He is a staff writer for Le Provocateur.
10 comments