This Beautiful Game: An Intramural Kickball Story
---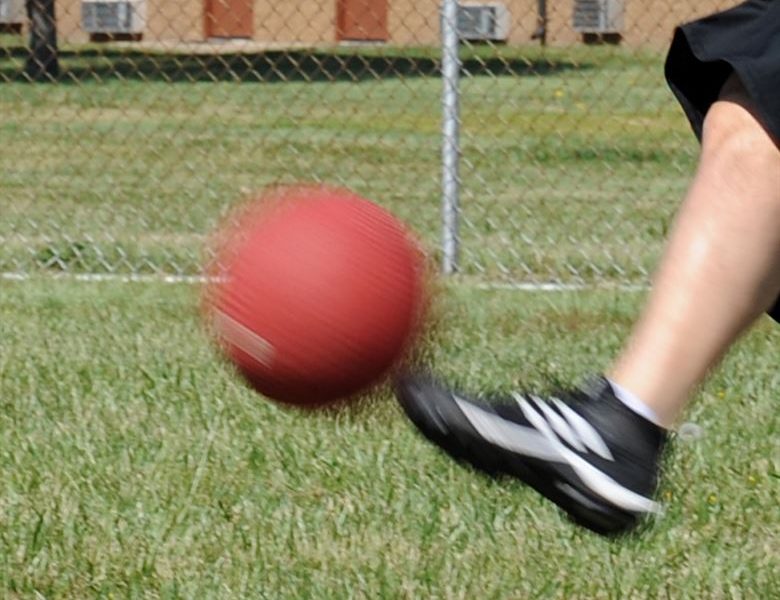 Kyle Delorey, STAFF WRITER
With two outs and the bases loaded in the bottom of the 5th inning of the Assumption College Intramural Kickball Championship, Ears Out shortstop Cullen McMurray stepped up to the plate. With his team currently down 6-2 and only one more inning left to comeback, McMurray knew that this was the teams last chance to turn the tides. McMurray's team, "Ears Out", was in the midst of an undefeated season; touting a gaudy 9-0 record the team was hunting for the chip. The championship was against the team's self proclaimed rival "Practice Squad." Practice Squad had previously defeated Ears Out in last year's finals, and by the 5th inning of the 2019 championship, the same result looked imminent. McMurray turned to his team on the sideline before stepping to the plate and said "I'm not losing again." As the pitch rolled towards the plate, McMurray wound up his kick and blasted the ball deep into centerfield. The second the rubber ball was launched into the air the Ears Out bench erupted. With every base runners' legs churning as fast as they could, McMurray cleared the bases and rounded into third with a 3-RBI triple. With the score now at 6-5 Ears Out snapped back into their undefeated season form and appeared as bulletproof as ever. The inning didn't end there either, as the next 5 kickers would all get on base. With this stellar play, Ears Out began moving the chains to make it an 8-6 ballgame, with the team leading by the end of the inning. Ears Out would then go on to win the game with the final score staying at 8-6, completing their undefeated season with a perfect 10-0 record. A season full of blowouts, big kicks, and stellar pitching all amounted to the glorious Plourde T-Shirt ceremony. As they were handed their Intramural Champion tank tops, members of Ears Out were seen smiling ear to ear, pun intended. But how did they get there? When did the run begin? Let's dive into the story of Ears Out's perfect season.
In late August, team co-captain Caroline Leonard began her recruiting process. Leonard, no stranger to intramural success, has multiple intramural championships under her belt and the coveted "Team of the Year" award for her team's 2018-19 season. Leonard knew what it took to win. However, with the bitter taste of defeat still fresh in her mouth from the finals loss a year prior, she knew the team needed more. Leonard began an aggressive recruiting and scouting process to assemble the best talent that Assumption College had to offer, while still managing to keep the core that made the team successful in years prior. With returning members Cullen McMurray, Caroline Leonard, Madison Doyle, and team ace Taylor Santry, Ears Out touted an impressive roster stacked with new and old faces. One key addition was left fielder Nathan Lowell, who is deserving of a Gold Glove award if Assumption were to give one. Lowell made several key defensive plays throughout the season, with multiple impressive catches in the championship game. Lowell recorded the final three outs entirely by himself, catching three deep bombs in a row to end Practice Squad's season.
I would love to say that things weren't always hunky dory for Ear's Out, but they were. Right out of the gate the team began to shutout their opponents. When I asked the team's catcher Brianna Rondeau about their strategy for winning she replied: "We always just go out and try to have a good time, and usually, it lead to wins!" I also got a chance to sit down with Practice Squad's second baseman Sean Bannon, to get his opinion on their defeat. Bannon said:
"Ears out is like a well oiled machine and reminded me closely of other rival teams I've seen in previous years such as "Hound Ya" and "Manchesthair United." They were a different bunch though, as this team was actually able to finish strong when they needed to most. Practice Squad, as long as I've known them, has not necessarily been a star studded or consistently rostered team from year to year or game to game, but we've always burned brightest when the moment called for it. This reversal in team fortune will sadly be the potential final chapter in an otherwise back and forth rivalry that ended in a climactic, Hollywood type victory only possibly explained by some Angels in the Outfield type of shenanigans. To say that I slept well since would be a lie."
Clearly still hurt from the loss, I was unable to get much else from Bannon, other than a bit of trash talk aimed at Ears Out third basemen Mike Murley. Bannon said that Murley "Wouldn't stand a chance one on one" with the second basemen. How one can play kickball 1v1 is beyond me, but Bannon was insistent that he'd win.
I was also able to catch up with Ears Out co-captain Cullen McMurray. When I sat down with McMurray he was still wiping the celebratory sparkling cider from his eyes. I asked him about the team's season and their performance in the final game. McMurray stated that the team's win was large in part due to the performance of their pitcher, who requested to remain anonymous. McMurray added: "He was throwing pepper up there. I never thought it would be hard to hit that big of a ball, but he was making it look impossible."
Ears Out put on a kickball clinic like no other this past season and at the perfect time as much of their players plan on retiring after this season and riding off into the sunset. While they may graduate, the name "Ears Out" will ring in the Plourde rafters for years to come.
Kyle Delorey, a senior, studies Graphic Design and Marketing. He is a staff writer for Le Provocateur.
17 comments