Winterfest: A Winter Festival
---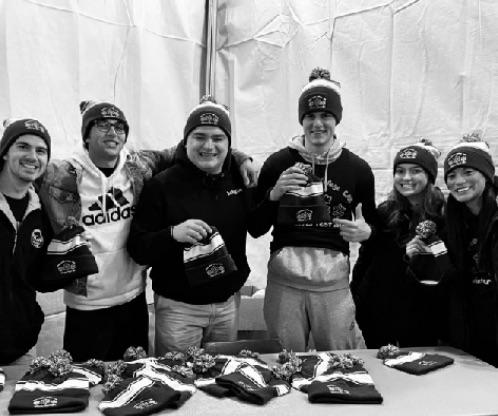 Skyler Hesch, Campus life editor
With the drop in temperature within the past week or so, students around the Assumption College campus have been breaking out their winter coats, bean boots, wool socks, hats, scarves, and mittens. And any cold weather after Halloween can only mean one thing: Christmas is coming. While some students are not quite ready to think about Christmas before Thanksgiving is over, others have already started celebrating. Students are revamping their Christmas Spotify playlists, wrapping and buying gifts and decorating their apartments for their favorite time of year.
In order to help students get into the holiday spirit, the Campus Activities Board (CAB) hosted Winterfest on Saturday, November 16th from 7-11 p.m. in the Plourde parking lot. Despite being able to see their breath, students started lining up for the event at around 6:30, eager to get inside the heated tent and collect the holiday and winter themed novelty items inside. As the students waited in line, Christmas music played and the CAB executives made sure everything was in order before the 7 p.m. event kick off.
Many students entered the tent and headed straight toward the The Student Government Association's table. SGA purchased and handed out the blue and white striped pom-pom beanies, which have already become a staple winter wardrobe item for every Assumption student. Not only do they show school spirit, but these limited edition beanies will keep students warm on their walk to class.
Other students went to the other side of the tent, where CAB was handing out the Winterfest shirts. While most free shirts are usually your typical short sleeve, cotton t-shirt, the Winterfest shirts were long sleeve and waffle knit, perfect for staying cozy and trendy this winter.
The event also featured Stuff-a-Bear, provided by the vendor Party People. This event has been very popular in the past and the same can be said for Saturday's event. Students raved over the adorable winter animals with sparkly blue eyes and quickly grabbed huskies, polar bears, and penguins to stuff. With stuffing covering the ground, students walked away smiling and cuddling their new stuffed animal, dressed in a tiny Winterfest shirt and made with love.
Party People also provided a snow globe photo opportunity. In the age of social media and iPhones, every student loves an artsy picture with their friends. After taking photos of the students, still smiling despite the cold, Party People printed the photo and inserted it into a miniature snow globe, the perfect decoration this holiday season.
Other clubs and organizations from campus were also present, including Class of 2022, Social Justice Ambassadors, and Orientation. Each group provided some sort of activity or novelty for students. In typical Assumption fashion, Pierre walked around the event, taking pictures with event attendees and giving high-fives.
Lastly, the Campus Activities Board handed out reusable bags to each event attendee. Not only were the bags great to help students carry all of their novelty items, but they are perfect for grocery shopping, going to the mall, or anything else someone might need a bag for.
Outside the tent, students could visit three food trucks. The first, Dough Boy, handed out fried oreos, funnel cakes, fried dough, and pretzels. The second, Coffee Cabin, had hot and iced cider, coffee, tea, and hot chocolate. Lastly, Friskie Fries provided a large assortment of gourmet french fries, with flavors ranging from plain to buffalo, parmesan, chilli, garlic, bacon, chicken, cinnamon sugar, poutine, and more. The line for this truck was the longest, but the fries were entirely worth the wait.
Instead of waiting in line, students could ice skate on a synthetic ice rink. Using the provided skates, students slipped and slided around the ice, some doing better than others at their attempt to skate.
CAB Advisor Isabella Zaccardi said, "Being new to Assumption I was interested to see how a newer style to the traditional Winter Bash event would work in the rebranding of Winterfest this year. I think all of CAB could not be more happy with the turnout to this redesign, as it was a great success and reached a larger population of students on campus." She is excited to see how Winterfest may become a new Assumption tradition in the years to come.
Executive chairperson Chloe Amour also commented, "As a CAB team, we took a chance on the route of a winter festival. We were thrilled to see hundreds of people walking around in their beanies, holding stuffed animals, and enjoying gourmet fries. It was definitely a feel good moment."
Event planner, sophomore Emily Finnegan said, "I thought Winterfest had a great turnout and was very successful for the first year hosting an event like it." Both Zaccardi and Amour expressed how proud they were of Finnegan for doing such a great job planning the event.
Congratulations to Emily and the rest of the CAB Executive Board for an awesome event and great turn out.
Skyler Hesch, a senior, studies English Literature and English Writing and Mass Communications. She is the Campus Life Editor for Le Provocateur.
3 comments