A Very Taylor Thanksgiving: Taylor Dining Hall Hosts Annual Thanksgiving Celebration
---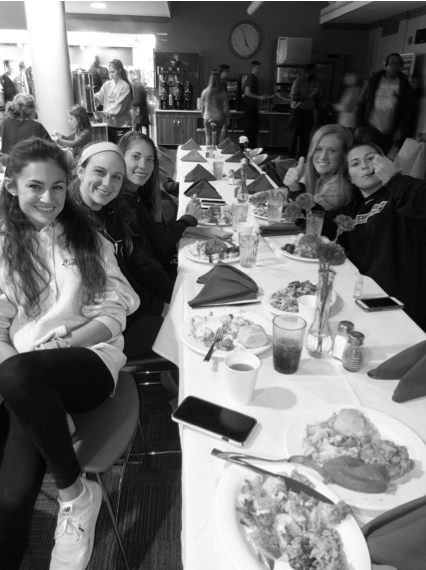 Gabriel Barbosa, Staff Writer
Thanksgiving in Taylor is a beloved, long-standing tradition at Assumption.  Though well attended by faculty and staff, it's the students who line up early in the evening to experience one of the best dinners of the year.
"The food is amazing," said Rachel Berthiaume '20, who went to the dinner with a group of 20 friends. "Everyone in the school goes, so it is a lot of fun."
On Thursday, November 21, Taylor Dining Hall hosted its annual Thanksgiving meal, in which more than 1,100 people attended.  For students, Taylor's transformation from regular dining hall to grand restaurant is their favorite part.
"The dining hall looks so nice," added Berthiaume. "The tables are covered in white tablecloths and students are seated like in a restaurant."
Kathie Hanwell, who has been general manager of dining services at Assumption for nearly seven years, has put her own spin on the event, including incorporating a jazz duo to play in the background and putting fresh flowers on the tables.  In order to ensure the event is open to all, Hanwell also modified the menu several years ago to cater to those with dietary restrictions and allergies. Instead of turkey, the main course for vegetarians is a quinoa-stuffed delicato squash, and of course, the staff continues to adhere to the guidelines of and offer its Simple Servings menu that night, exclusively preparing food without common allergens such as milk, eggs, wheat and more. "We want everybody to be able to enjoy their experience there," she said.
Dinner features "a full Thanksgiving meal with all of the fixings," said Hanwell, including turkey, stuffing, mashed potatoes, green beans, squash, rolls, cranberry sauce, and an array of specialty salads. There is also hot apple cider and a variety of desserts, including the student-favorite chocolate cream pie.
Lines are wrapped around the dining hall throughout dinner hours, with students going back for thirds and even fourths to get their Thanksgiving fill. Berthiaume and her friends, who look forward to Thanksgiving in Taylor every year, said they wanted to go back twice, but were too full.
"It's something to look forward to during the crazy end of the semester," she said.
1 comment