Assumption Choirs's Awaken the Voices of Women Through Centuries of Music
---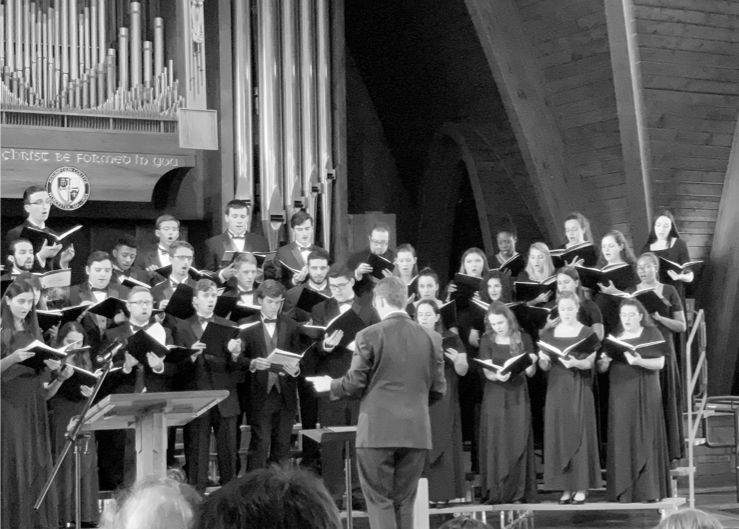 Sing About It: Voices of Women features student-picked music written by women
Jasmin Veerapen, Staff Writer
The Chapel was filled with the heavenly sounds of the Assumption College Chorale and VOCE Chamber Ensemble at the "Sing About It: Voices of Women" concert on Saturday, Nov. 23, during which students  performed music written  by female composers ranging from the 10th century German mystic St. Hildegard von Bingen to the 1970s American singer-songwriter Carly Simon.
The concert was centered on music written by women and the selections were chosen by students in the choir. Performances included a 20-minute piece by Canadian composer Sarah Quartel's choral work "Snow Angel," which explores the themes of love, rebirth, and beauty through the eyes of children and angels. The chorus carried the audience to a mystical realm of African beats, cello performance by local cellist Ariana Falk, and piano accompaniment by collaborative pianist Brett Maguire.
A theme of female empowerment was highlighted with Alexandra Olsavsky version of Artemisia's song "What Happens When a Woman" from the debut album Sounds Like Us, which celebrated the power of the female voice to hold positions of leadership. Artemisia is a Chicago-based vocal trio of women who actively performs newly composed songs by female composers.
"While this concert was focused on voices of women, we also wanted to tie in several other themes," said Brad Dumont, who is in his first year as director of Chorale and VOCE. "The historical struggle of the women's right movement was highlighted in our opening numbers, the tranquil ruminations of several contemporary composers were represented by our chamber choir, and the series of pieces focused on the winter season rounded out the program. The hope was for the audience to leave not only having enjoyed themselves, but to also have felt that they had heard something new, something that might have changed their perspective on what classical music or choral concerts have to be."
Traditionally, the Chorale presents its annual Sounds of the Season concert prior to Thanksgiving break to celebrate music of Christmas themes, but instead the choir decided to present this event as an outlet to share a unique perspective of music to an audience of friends, family, and community members. "Classical music is a field primarily dominated by male composers," said Dumont. "To present a concert of all female identifying composers was not only an exciting challenge, but in some ways a responsibility for us to make sure that we are presenting music from numerous and varied perspectives."
"Being able to represent them years and years through their music is like retelling a story and keeping it alive and heard very well," said Arianna Pereschino YOG, a member of the choir. "It reminds us of where we have been and helps us to reevaluate our experiences now, to look for those similarities and differences. It was something I never had the opportunity to think about before this concert and I owe that to our director Brad Dumont."
The Assumption College Chorale and VOCE are two audition-only concert choirs comprised of undergraduates who share an interest and demonstrate vocal excellence in choral performance. The Chorale often includes students who serve as leaders, such as Resident Assistants and Student Government Association officers, as well as high-achieving singers who have competed in District and All-State Choruses in high school.
The Voices of Women concert is one of the many wide-ranging musical works collectively prepared and performed by the Chorale. The group has performed on radio and national television, and traveled internationally to ten European countries, performing at historic venues like the Notre Dame Cathedral in Paris, St. Peter's Basilica in Rome, and at the Vatican where they had the privilege of singing for Pope John Paul II.
Chorale and VOCE will present more of the "Voices of Women" works mixed with familiar holiday carols at the Worcester Art Museum on Sunday, December 8 at 2 p.m.
475 comments