Student Internship Experience: The Lowell Spinners
---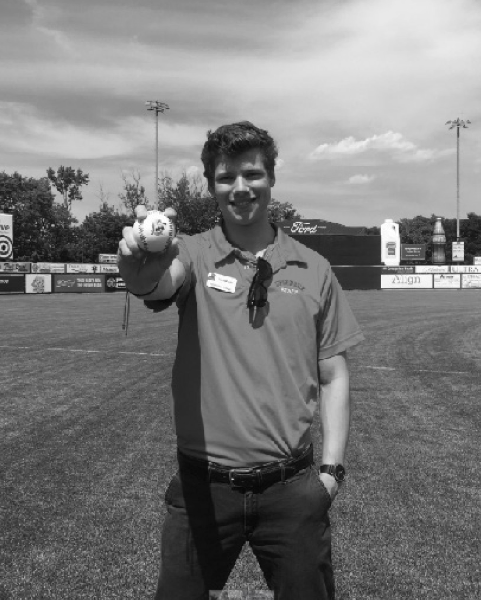 David Pepin, Editor-in-Chief
The funny thing about baseball is that you never know what you're going to get with any given game. You may know some things about the game when you decide to watch it, such as rosters, or the lineups or even the starting pitchers, but once the first pitch is thrown, you don't know what is going to actually happen over the course of the game.
This summer, I had the opportunity to work as a video content intern for the Lowell Spinners baseball club, the short-season Class A affiliate of the Boston Red Sox. Much like a baseball game, I knew sort of what to expect when I decided to take this internship, but also like a baseball game, I quickly found out that there was no way to predict what would really happen.
My main duties as a video content intern were to help create graphics and videos that would be shown on the left field scoreboard during games, and to create graphics for social media advertisements and in-game graphics.
As a lifelong sports fan, this internship was a new way for me to experience sports. I had experienced sports as a player, a fan and even a coach, but never had I been a part of the management and operational side of a professional sports team.
I had always been fascinated with attending sports games, but I had never experienced being a part of the production of a sports game.
I started off my summer by creating advertisements for all of the themed games and promotional giveaways that would be happening throughout the summer. Most minor league baseball teams have to use theme nights and giveaways to draw a larger crowd, so I needed to create advertisements that the team could use on social media and during games to promote them.
After those were complete, it was time to make all the other graphics that would be shown in games, download all the music to be played and download a bunch of video clips that we could use as reaction clips whenever anything happened in the game, such as a home run or an out.
During the games, I had one of two jobs to do. I was either controlling the live camera from inside the home team dugout, or I was in a box seat controlling everything that appeared on the video board during the game. I switched off every game with the other video content intern.
There were some odd jobs in there of course; these were the experiences I was not prepared for. I was not prepared to have to spend an entire day cutting corn at a random farm in preparation of the "Field of Dreams" day, or to be standing in the outfield as hundreds of kids swarmed around me for the annual candy drop, where 1,000 bags of candy and marshmallows were dropped from a helicopter, and I definitely wasn't prepared to spend a day at Fenway Park, walking around the stadium in the Spinners mascot costume.
Those were all just a part of the job, though, and they were what made the job fun. All the random cool moments I had, like standing five feet away from Stephen King playing catch on the field, watching former MLB player Bronson Arroyo perform with his band before a game and even almost getting hit by the bat of the 2018 World Series MVP Steve Pearce, were all memories that I'll remember forever.
As a lifelong baseball fan, this was an incredibly cool environment to work in. I worked closely with the players, the fans and the front office, and even though the summer was incredibly busy, I wouldn't have wished to have it any other way.
David Pepin, a senior, studies English and Marketing. He is the Editor-in-Chief of  Le Provocateur.
3 comments