Students Celebrate the End of the Semester with Midnight Breakfast
---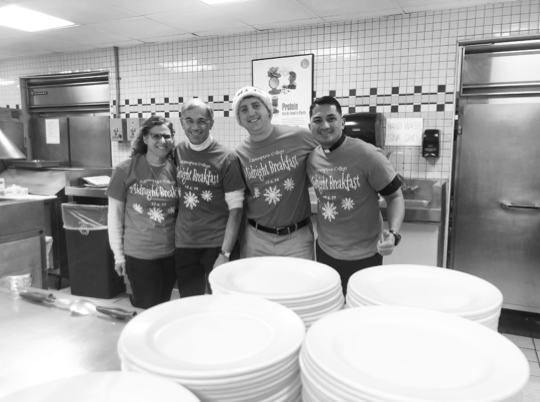 Rachel Berthiaume, Staff Writer
To celebrate the end of fall semester, Assumption's Student Government Association (SGA) hosts the annual Midnight Breakfast at Taylor Dining Hall the day before finals began. Midnight Breakfast is an opportunity for students to take a break from one of the most demanding times of the year and to come together one final time before the semester is over.
An estimated 500 students attended the late-night breakfast. Though doors open at 10 p.m., students were lined up outside Taylor l in hopes to be one of the first 100 students to receive a free T-shirt. To keep students warm while they patiently waited outside Taylor, this year SGA added a campfire over which students could roast marshmallows and make s'mores.
Inside, the students were treated to  favorites, such as chocolate chip pancakes, tater tots, sausage, two kinds of scrambled eggs—plain and southwestern style—fresh fruit, and an array of pastries. "It's the same menu every year," said Hanwell, who added that Midnight Breakfast has been held annually since the early 2000s.
Though students get excited about the event, so do the staff, despite the late hours. "Even though it's a weird time to be here, the staff love to see the students," said Kathie Hanwell, general manager of dining services at Assumption.
During Midnight Breakfast, nearly two dozen Assumption faculty and staff were on hand assist the Sodexo staff in serving the students. According to Hanwell, members of the College's residential life staff, student activities, campus recreation, and even President and Mrs. Cesareo.
6223 comments