CAB welcome back week: rewind edition
---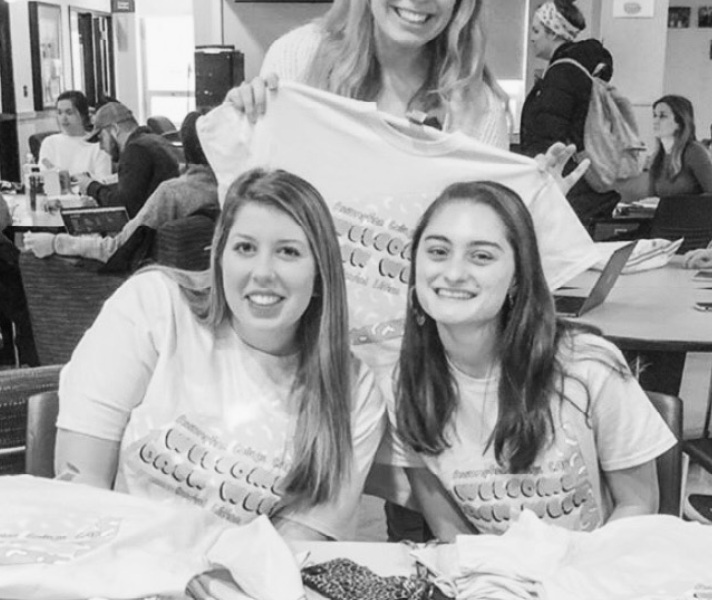 Lauren Andre, Staff Writer
Assumption College's Campus Activities Board took initiative by starting off the spring 2020 semester with a successful Welcome Back Week: Rewind edition. To kick off the week, CAB executives Madeline Iassogna '20, Lauren Salerno '20, and Erin Moynihan '23 held a Welcome Back Giveaway event in Charlie's on Monday, January 13th. During this daytime event, free t-shirts and donuts from Boston Donuts were given away. Students who attended this event were entered into two raffles for Dunkin' gift cards. The neatly designed t-shirts were designed by Kyle Delorey '20 in collaboration with Lauren Salerno '20.
Continuing the schedule of CAB events from this past week was an event planned by Skyler Hesch '20, James Randall '21, and Emily Grillo '20 on Thursday, January 16th. This daytime event, called New Year New DIYcorations offered free bagels from none other than Bagel Time, muffins, breakfast bread, and a medley of cream cheeses. Not only did the event feature free food, but DIY paint canvas magnets and "year in review" mason jars were available to decorate. The raffles for this event comprised of some Assumption College apparel and gift cards to Uber, Amazon, and Target.
To launch the first weekend of the semester, Lauren Andre '20, Kayli Berardinelli '20, and Jared Curci '23 held Free DAPS freestyle rap show on Friday, January 17th in Charlie's. This late-night event consisted of free food and raffles once again. Along with the performance by the freestyle rappers from Florida, the event extended free Papa John's pizza, Insomnia cookies, and throwback-style snacks and drinks including Fruit Roll-Ups, Kool-Aid jammers, and Yoo-hoos. A waterproof speaker along with a free Showcase Cinemas movie ticket was raffled off, as well as a gift card pack that included gift cards to Stubhub, Doordash, Chipotle, Dunkin', and Chick-Fil-A.
Last, but most certainly not least, the Free Money Game Show was held on Saturday, January 18 in Charlie's by Madeline Lawlor '20, Lauren Healey '20, and Silvana Gatto '21. Hosted by Adam Ace, the show resulted in some lucky winners walking away with free cash prizes of up to $100. Each round of the game show featured a series of questions mainly on the topics of TV shows, movies, and music. Aside from the winners of the game show, two lucky winners won raffles for a pair of Airpods and a $100 Target gift card. The food for this event consisted of free Chick-Fil-A nuggets, mac n' cheese, and cookies.
Along with the successful events held on campus throughout the week, the media aspect of CAB played a significant role as well. Through the duration of the week, several more giveaways were awarded by the Campus Activities Board Instagram account. The winners received prizes that included Assumption apparel and gift cards to things such as Starbucks, Uber, Chipotle, or AMC cinemas.
Congratulations to all of the winners from the events and raffles that occurred this week. CAB encourages all students to attend the biweekly general meetings in the SARR at 6:30 pm. Follow the Campus Activities Board on social media @AC_CAB to stay updated on future events, giveaways, and meetings.
5 comments