The mystique of the opal
---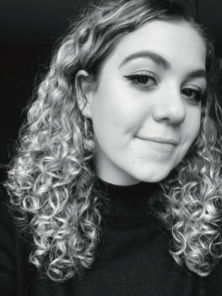 Sarah Ardolino, Arts & Entertainment Editor
I wear the same five rings every day. Three on my left land, two on my right. I honestly do not feel like myself if I am in a rush and forgot to put them on in the morning or if I have to take them off before a night out. The majority of them have special meaning to me, four out of five of them to be exact.
I wear the same two on my left hand. One of them is a thick gold band with a small circular blush colored gem in the center that belonged to Gramma. It is a daily reminder of her. Next to it, always have on a moonstone wrapped in copper was a gift from my Aunty for my 21st birthday. A moonstone represents femininity and strength, and the copper ring is supposed to amplify those properties.
I also wear the same two on my right hand. When I studied abroad, I bought a gold ring in Barcelona, Spain for five euro at a flea market I stumbled upon. The open aired market was filled with a random assortment of beautiful, vintage objects yet somehow, I found this funky ring. My favorite ring of the four is an opal set in gold that my great aunt gave me. It is the most gorgeous and mysterious stone I have ever seen. She was cleaning out her jewelry box to give away some of her jewelry to family members, and the stone reminded her of me; opal is my birthstone (anyone else a libra?), and the simple nature of the ring is similar to my style. She told me that in the '70s, her mom, my great grandmother, bought this ring in Italy and brought it back for her. She wore it for years before deciding to gift it to me. Now, I wear it proudly every day on my right index finger.
I have only lost my favorite ring once; it was during finals week last semester. My roommate, Lily, was driving a few of us back to our dorms after stuffing our faces with chocolate chip pancakes and tater tots at Midnight Breakfast when I felt my heart sank. The opal that usually sits on my finger was gone. Apart of me was missing. I had no idea when I lost it or where it went. Immediately, I started tapping all my pockets frantically in search of it. When I realized it was not in my pockets, I got my iPhone flashlight out, and started flashing the area around me in the car. To my dismay, it was not there either. At this point, Lily offered to drive us back to Taylor. We searched the parking lot together, but with no luck.
Throughout the week, I called Assumption College Campus Police multiple times and asked if a gold ring was returned to lost and found, went back to Taylor Dining Hall and inspected the floors for it and continued to look in my room to see if I misplaced it in the sea of jewelry that I own. However, I could not find it anywhere. The opal ring was officially gone.
Finals week was a hard week, I am not going to lie. Between final exams, papers and projects, as well as going through a breakup, I was stressed. A lot of tears were shed during that week, and to make everything worse, my ring was gone. By the final Thursday night of the semester, I submitted my last paper, and the only thing I had left to do was to pack, then wait for my father to pick me up Friday afternoon. Somehow, I survived finals week and I was ready to go home.
In the mist of packing up majority of my things for winter break that Friday morning, I noticed something sitting on my couch in my apartment in the 5's. It was my gold opal ring, just displayed there. I legitimately did a double take. Who, what, where, when and most importantly, HOW? Confusion was an understatement.
From my stellar investigative skills, I concluded that the ring was in my backpack the whole time. I found it next to my backpack, so I think it fell into one of the side pockets, then fell out while packing. I guess I was carrying it around with me during the week with no idea, which is kind of wild to think about. It could have fallen out anywhere around campus that week, but it didn't.
I took it as a sign. God / The Universe was trying to tell me that everything is going to be okay. That terrible week is now over. The ring I was missing during that period of time is now found. Next semester is a fresh start, a new beginning. Everything is going to be okay.
Song of the week: "Everything All At Once," Local Natives
39 comments